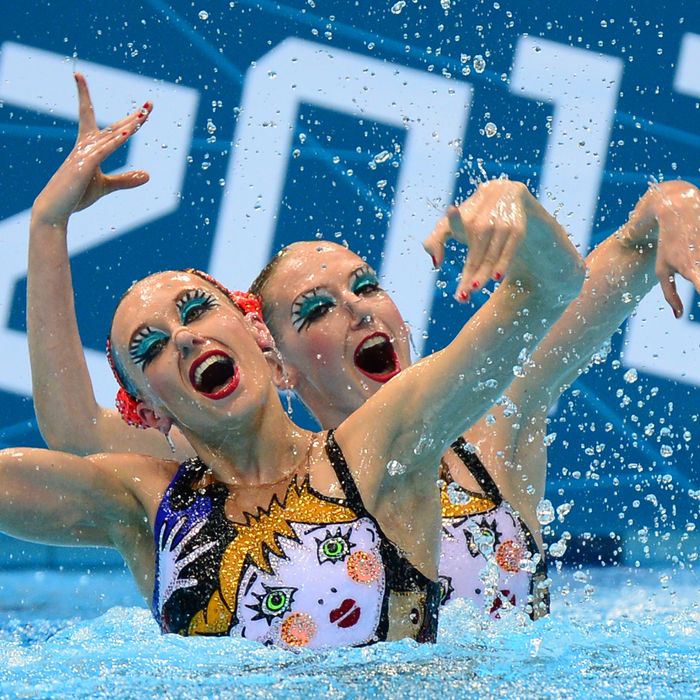 Natalia Ishchenko and Svetlana Romashina.
What on earth would cause Fangoria, the magazine dedicated to horror and slasher movies, to start covering Olympic sports? The unexpected, unbridled delight a fan of the genre might get upon recognizing the insanely terrifying score from Dario Argento's 1977 horror film Suspiria as the background music for a Russian synchronized swimming duet.
Honestly, everything about yesterday's duet finals was dramatic and amazing. (The better-known six-person team synchronized swimming events start tomorrow.) Each routine begins with the duo walking out, synchronized, in a line like ducks, then dancing on the edge of the pool, striking various vogue poses before jumping in. The duo from Great Britain used ominous music from the Chemical Brothers that began with a couple of raven caws. They told the Times they were trying to look like "the ravens in the Tower of London" hunting for prey. The team from Italy fashioned their routine after Frida Kahlo's descent into insanity. The Ukranians wore swimsuits with a bejeweled owl in a tuxedo on the front. The Brazilians performed a piece to a song called "The Human Body" wearing delightful red, blue, and turquoise costumes depicting the human circulatory system, if we were all bedazzled on the inside.
But it was the Russian team of Natalia Ischenko and Svetlana Romashina who had horror nerds aflutter. In the technical round, they performed to Michael Jackson's "They Don't Care About Us," with costumes featuring the singer's silhouette. In the final artistic round, they came out with costumes decorated with creepy white doll faces and outstretched hands, like the dolls were trying to escape. Their eye makeup (waterproof, of course) was drawings of giant eyelashes, stretching from their actual eyelids up to their eyebrows. Their hair was in red-wrapped Princess Leia buns. They walked out and did a deck dance like demented marionettes. And then, of course, there was the music. It was a mixture of bits of scores from Amélie and Tim Burton's Sleepy Hollow, but mostly Suspiria. In case it's been a while since you've seen it, the movie is about the new girl who realizes her ballet school is being run by a coven of witches. The soundtrack gets even bigger nerd points for having been composed by the Italian prog-rock group Goblin, while the Russians got actual points from the judges for an incredibly fast, difficult routine filled with slasher (heh) kicks and creepy neck movements.
NBC doesn't have a clip of the routine available (shocker), but here's a version they performed at the London Aquatic Centre in April.
Also, look at these photos. You'll get the idea.