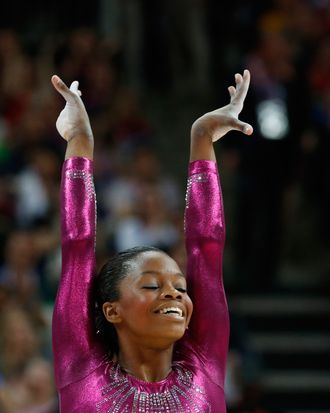 Gabby Douglas is the best gymnast in the whole world. Pretty good for someone who, as NBC often reminded viewers, wasn't expected to even be in the finals. The broadcasters sounded wary of Douglas's ability to win gold, even though she was in first place the entire event. America loves Gabby Douglas, NBC. You should, too.
Douglas is the best story yet to come out of these Games yet. Underdog? Check. Appeal? Huge. She's a beautiful girl who makes you feel good just looking at her. Significance? She's the first African-American woman to win gold in the all-around event, a welcome, necessary element of diversity in a traditionally white sport.
So why wasn't last night the Gabby Douglas show?
Maybe NBC can't deviate from preconceived story lines, so Jordyn Wieber's absence from the individual all-around was just too confusing. If Wieber were in the finals, "I guarantee this would be a five-person race," insisted the insufferable Tim Daggett. The camera cut to Wieber after Aly Raisman's troubled balance beam routine, and Daggett said something about Wieber coming out to support the team, but she must really be thinking that she should be out there, not Aly.
Poor Raisman. She got even less attention than Douglas. Raisman's GIF-famous parents probably got more camera time. The broadcast team did little to explain the process of determining the bronze medal winner after Raisman tied for third with scary Russian Aliya Mustafina. Then Raisman was out, with nothing.
But not even a much-maligned gymnastics broadcast — though that Matrix-y replay camera was pretty sweet — could detract from Douglas's astounding performance. She's strong, not starving. She treated the balance beam as though it were a runway; the tumbling mat served as an antigravity zone. Much to Al Trautwig's consternation — how he loves to say the word tears! — Gabby Douglas didn't cry until she got the gold medal. And even then, her eyes shone.
Eyes cleared at the pool, where we met the most intelligent swimmers on the U.S. team. Prior to her race, NBC introduced Rebecca Soni in a quality package that discussed the mechanics of her movement instead of her backstory. Soni swam the 200-meter breaststroke in under two minutes and twenty seconds, beating her own world record. She moved beyond the bland "I swam hard" banality that poolside reporter Andrea Kramer encounters after every event, analyzing her performance in a clear and dispassionate way. But she even impressed herself. "I've been chasing that under 2:20 for so long," Soni said. "That was my career right there."
Tyler Clary, who won an unexpected gold medal in backstroke, was equally analytic about his performance, except for when the camera caught a triumphant "Fuck!" after comprehending his win. And he's only 23, compared to the hilarious Ryan Lochte, who at 28 seems to revel in his dopiness. NBC's attempts to create a rivalry between Lochte and Phelps flopped, because goof versus robot just doesn't stick. But Lochte's comfort in the spotlight (or is it a lack of self-, and spotlight-, awareness?) deserves a reality show about his post-Olympic career. This sounds like a job for Bravo. Get on it, Andy Cohen! (And call the show Jeah!)
Divers took Thursday off and compelled NBC to air an exciting rowing contest at the top of the broadcast. Inspired by this risky programming change, you'll find a new prime-time recapper on The Sports Section on Monday. Meet you in Sochi in 2014. Dasvidaniya!
Aileen Gallagher, a longtime Olympics enthusiast, teaches journalism at Syracuse University.