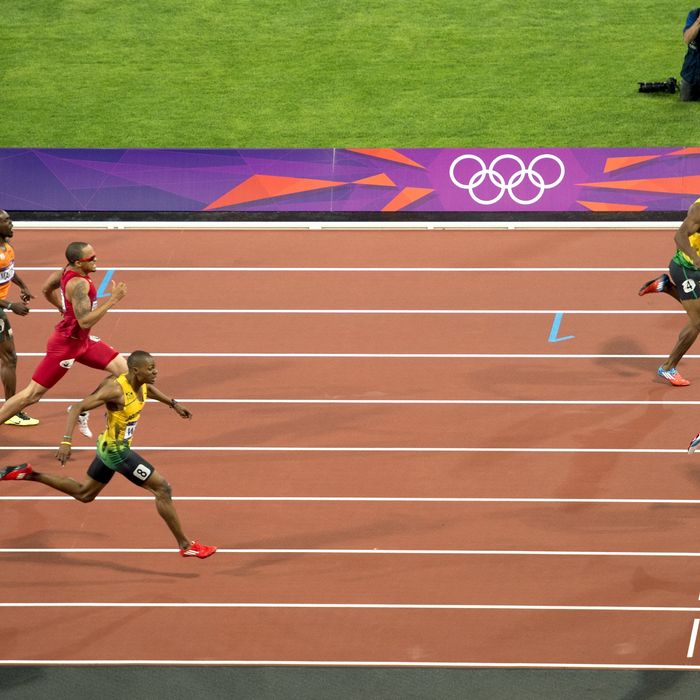 Usain Bolt took the gold in the 200-meter dash.
Last night goes down as the best night of track at London Olympics and one of the greatest nights of achievement in men's track and field ever. At least this is what star announcer Ato Boldon is telling me, and he's the only person on NBC I trust to be honest and true anymore, so we'd best believe we were witnesses to history. More than once.
Usain Bolt had come into these Olympics already bragging about being a legend and the greatest sprinter ever, and hero announcer Boldon says Bolt had pretty good justification for saying such things before this meet began. But last night Bolt cemented it.
Coming into these Games, he was already the first man to hold the world records for both the 100-meter and 200-meter dash. He got his current world record of 9.58 seconds in the 100m by breaking his own world record of 9.69. On Sunday, he won the 100-meter dash, becoming the first man since Carl Lewis in 1988 to defend an Olympic sprint title. Last night, he won the 200m in 19.32, just shy of the Olympic (and then-world-record) of 19:30 he'd set in Beijing, before shattering that with a time of 19.19 at the 2009 World Championships. In winning last night's 200m, he became the first man to pull off an Olympic double-double, winning both the 100m and 200m in consecutive Olympics, and he vowed to come back in Rio to become the first man to do that same thing three times.
We can talk numbers all we want, but the man eased up coming toward the line, for reasons I'll never understand, and still practically set an Olympic record. He's simply electrifying. At the start of the race he was goofing around, pointing toward the camera like, "I got this," just oozing cocksureness. "He wants to have a performance that makes you remember where you were when you saw it. He wants you to turn off your television and be in awe," said Ato Bolden. As Bolt crossed the line, he smiled and put his finger to his lips, some say as if to say "Shhhh." I say he was making the sign for number one. Then he fell to his knees, kissed the track, and started doing push-ups on it. He feeds off the energy of the crowd. And he makes everything seem so easy. Apparently, shortly after winning the 100-meters, he was spotted partying with the Swedish handball team. (Something I wish we all could say we've done.) After this one, he declared to interviewers, "I came here to cement my legend status, and I did that," and "I am the best. I always come through." His brashness can be jarring — it would be gross overstatement on anyone else — but he backs it up and overall comes off as a really friendly, nice guy. He credited the crowd for spurring him on; he loves a big stage. "It's my pleasure to come out here and please them," he said. "I'm happy I've shown the world that I am the best." Then he thanked his fans in the U.S. What a mensch. Best-announcer-ever Boldon and many others have compared him to Muhammad Ali, a man who made big, outrageous declarations, and then did exactly what he said he would.
Bolt won the 200-meters by beating his teammate Yohan Blake, who happens to be the second-fastest man in the world, and by spurring their other teammate Warren Weir into the bronze for a Jamaican sweep. They become only the second country to pull such a sweep off in the 200m, after the U.S. If the Caribbean wasn't partying like crazy on that wonderful day when Grenada's Kirani James and the Dominican Republic's Felix Sanchez won golds while Bolt and Blake had their 100m medal ceremony, on the day of Jamaica's 50th anniversary of independence, they've GOT to be jammin' in Jamaica now.
Africa has reason to be partying, too. Kenya's 800-meter star, David Rudisha, won in ridiculously commanding fashion, and broke the world record, too, just before Bolt ran. His was the first world record set on the London track, which has been beset by non-ideal weather conditions. With a time of 1:40:91, he is the first man to ever run that distance under 1:41. You know who had the world record before Rudisha? Rudisha. He's broken the WR three times in three years. (No one had broken a world record in the 800m in the Olympics since 1976.) He was so good, he spurred seven of the runners behind him to run personal bests, five of those under 1:43, which means what we watched was the single-best 800-meter contest in history. Botswana got its first medal ever with 18-year-old Nigel Amos taking home silver, and Rudisha's countryman Timothy Kitum took bronze.
But Rudisha was so far ahead of everyone else, he was basically just racing himself. Afterward, he calmly said, "I was expecting to win because I prepared well." Then it just came down to a matter of whether he'd try for the world record. He's the first member of the Maasai ethnic tribe to win an Olympic gold, but not the first Maasai to medal. His father, who was watching from back home, won silver in the 4 x 400 relay in the 1968 Games in Mexico.
Over on the decathlon, we had an almost world record from 24-year-old Oregon native Ashton Eaton, who dominated pretty much from the beginning, with a little competition from his teammate (his only teammate, really), 28-year-old southern boy Trey Hardee, who's the reigning World Champion. They become the first Americans to go 1-2 in the decathlon since 1956, and Eaton was only 26 points off the world record. But he set that world record in the Olympic trials, so you can't blame the guy for being a little tired.
This seems like a good point to get into, yet again, how much NBC's coverage of this Olympics blows. And continues to blow. It is just evil, no-good, rotten stuff. A commenter yesterday hit it on the head: Watching the Olympics on NBC is like watching sports with people who don't like sports.
Wednesday, NBC spent less time recapping a full, five-event day of the decathlon competition than they did interviewing Misty May-Traenor and Kerri Walsh Jennings about, among other things, Dancing With the Stars. And this after spending a full hour showing their beach volleyball match. That four minutes of decathlon coverage was a slickly produced package that never once mentioned a single other person competing in the decathlon besides the two Americans.
I had hopes that we'd get a much lengthier decathlon treatment given that we weren't losing an hour of broadcasting time to launch Matthew Perry's crappy new show. And they did spend more time on the decathlon, without ever resolving the problem of neglecting to show us who the other competitors were. Every once in a while, after an event, the standings would flash on the screen and I'd have to rush to read them, not to see who was in what place, but to see what other countries were competing. I think Ukraine was in the mix at one point. Did some other guy from some other country beat Eaton in any events? Do a really great long jump or something? Hell if I know. The only time we got to see the face of someone other than Eaton or Hardee was during the final event, the 1500 meters, which NBC broadcast in full. Some other guy won that event. Who was he? Beats me.
And for as much as NBC was hyping up this rivalry between the two Americans, they did a really bad job of explaining what makes Eaton so good, or what events he's better at, or where Hardee has an edge. I think I heard something about Hardee having an advantage in strength categories. What qualifies as a strength event? Why can't you win the decathlon by being the best at those? Anyway, when it came to the 1500-meter, Eaton had such a big lead in points that all he needed to do was cross the finish line. The cameras were trained on him as he limped across the line way off of first place, exhausted and rightfully so. He had to put his hands on his knees and heave for a while before giving Hardee a hug and a very tired high five. (He also ran over to hug his mom, who gave him an American flag, and — very momlike — told him he did great and that the blue part of the flag goes on the left.) Every other competitor came over to give a hug and due respect. All those guys had just competed for 24 hours in ten events, too, but NBC treated them like props, around to congratulate the Americans.
Cuba's Leonel Suarez won bronze. It was the first time NBC had mentioned Cuba was even competing.
Eaton is the best the world has ever seen in an event that is supposed to be the marker of the best athlete in the world. (Although Usain Bolt might have some objections on that front.) And he still kind of sucks at discus throwing — an event that he can definitely improve on in the next four years — so we're looking at the makings of a legend. He won this event on the 100th anniversary of Jim Thorpe being the first American to win the decathlon. You couldn't give him, and the sport, and its global participants, better treatment than that? At least Eaton and Hardee kept the narrative straight in their interviews, talking about the outstanding efforts of everyone in this grueling event, and just being proud to be part of a storied American tradition in the sport. Hardee for his part mentioned that he'd just had surgery ten months ago, so he was pretty proud of that silver.
In lesser news on the track, Americans Christian Taylor and Will Claye went 1-2 in the men's triple jump. Another athlete, meanwhie, didn't do as well: Mark Zuckerberg's college roommate Samyr Laine, who is competing for Haiti.* He just passed the bar. Makes you feel real accomplished, doesn't it?
And the American women's 4x100 meter relay team won their preliminary heat in the second-fastest time ever run at the Olympics. "That is as well as the U.S. has passed the baton, I want to say, in ten years," said sage Ato Boldon, and I believe him. Interestingly, there was a little segment before the race talking about all these individual competitors having to come together as a team for relays. The team that ran the prelims likely won't be the team that runs the semis or finals — top sprinters Allyson Felix and Carmelita Jeter will likely replace some of the others, but everyone will get medals. Tellingly, their coach told the camera, explaining how relays work, "I don't care if they like each other, but for 37 seconds, I need them to love each other." That women's locker room has to be rough. If you don't believe me, listen to Lolo Jones's teammates trash her on TV. Some people who actually know her don't think that Times article was too rough.
Women's soccer won gold, I'm sure you heard. But if you were, you know, working and couldn't watch their shot for Re-Demp-Shun! against Japan, who'd dashed their World Cup dreams, NBC had nothing for you. That is, unless you think watching an historic women's gold-medal soccer match is the same as watching half an hour of women's diving preliminaries. You don't? Too bad.
After the four-minute soccer recap, NBC inexplicably showed the entire women's preliminary platform diving competition. Diving is really pretty. I like it, but we didn't need to spend that much time following two American divers who didn't even make it to the finals. They're cute girls, and I feel bad for the one who got injured so badly last year she basically popped a rib out of her side, but the maximum amount of time you need to spend on diving prelims is three minutes, especially when you're going to show a full hour of the finals later. There are five rounds in platform diving! Plan ahead. That is plenty for us to see.
The finals, though, were totally worth showing. China's Chen Roulin is a phenom. As the announcers said, "She renders the splash-o-meter irrelevant." Plus, she may be a machine when it comes to doing dives from a handstand off a ten-meter platform, but she was adorable and human when she ran over to her coach, jumping up and down, after winning the gold. Speaking of the announcers, I like how knowledgeable they are, but the woman sounds like a judgmental mom, constantly tsk-tsk-ing and talking about her expectations and disappointment. On one Australian woman's dive, she actually said this: "I thought this dive would be it! It would've been nice if she put her feet and legs together a little more! Her form was not good." Now picture your mom saying that and shaking her head.
Also notable was 16-year-old Australian Brittany Broben winning silver. She was beside herself. Diving, unlike gymnastics, is an acrobatic sport you can do into your 30s, so if she's this good now, she may have four more Olympics left in her. And Malaysia's Pandelela Rinong Pamg won bronze. Malaysia! It's the country's first medal in diving. The only other sport they've ever won Olympic medals in: men's badminton.
NBC did do right by showing a fast-paced, exciting women's indoor volleyball match with the Americans beating a really tough Korean team for a berth to the gold-medal round against Brazil. That match singlehandedly restored my interest in volleyball, which had been DOA after last night's beach volleyball coverage. Maybe I just like to watch a bigger team with a lot of incredibly tall, beautiful women, and one that has a player named Destinee Hooker. "It's a three-way with Destinee Hooker! They're tag teaming Destinee Hooker!" The announcers always seem to accidentally be saying these things. It never gets old.
Meanwhile, in the world of unnecessary filler material, we had yet another "Social Download" segment from intrepid reporter Ryan Seacrest about how athletes are tweeting and being tweeted about. You don't say. (I actually think Seacrest is a pretty great interviewer and host, but the Olympics are not his element. You just want to pat him on his head and send him away. If only Simon Cowell were around to hand out tough love and a reality check.) At least Bob Costas seemed fascinated. He wore schnazzy new glasses. A sign of fading vision since he's actually 60, or an acknowledgement that he has aged backwards so much and looks so young he can easily impersonate Harry Potter? Your call.
We closed out with a bunch of BMX-racing preliminaries, which I'm fine with. They're a ton of fun to watch and there were crashes galore. Staying on your bike seems to be half the battle; getting first to the finish line through all those rolling jumps is another. In one crash, one of the riders should have gotten a prize for jumping over the two bodies and bikes splayed out on the track in front of him. In another, seven guys went down behind a sole rider who just happened to be up front at the time. Said the announcer, "He must have thought all his birthdays had come at once." Netherlands is looking strong. The big American hope is Connor Fields from Las Vegas. And there's plenty more, since that was just the prelims.
Just before the BMX started though, my roommate actually had to quiet me down because I nearly punched the television. I had thought for sure, after not showing ANY women's boxing, at least in the broadcasts I've watched, that NBC would finally do the right thing. Particularly since an American, Claressa Shields of Flint, Michigan, had just won the first-ever women's middleweight boxing gold medal earlier that day. She's 17, she's had a rough life, and she did the cutest happy dance during the medal ceremony. Show me her final round, an excellent punch, even the happy dance. JUST SHOW ME HER FACE. This was the first time women's boxing has been in the Olympics. NBC, you love historical things. What is wrong with you? The arena was absolutely nutso. I know this because I watched the medal ceremonies online. Great Britain's Nicola Adams won gold in flyweight and Ireland's Katie Taylor won gold in lightweight. I've never heard roars so loud. It was thrilling! How could you have possibly skipped over that? Now I really, really, want to punch NBC (and Matthew Perry's new show) in the crotch.
But, you know, missing things is nothing new for these tape-delayed Olympics. Last night, around 9:30 p.m. Eastern time, news broke that America's Manteo Mitchell had run his leg of the 4X400 relay prelims with a broken leg. His left fibula cracked halfway through his stretch of the race and he still handed off the baton in 47 seconds to give his team a first-place finish. NBC didn't show that race or mention the news at all, probably since they decided it wasn't worth breaking Costas out of his cryogenic chamber at 3 a.m. London time. There is no hope left for this broadcast. All we can do is hope they dig deep into their souls and fix this before winter in Sochi in 2014.
* This post has been corrected. Laine, who resides in Washington, D.C., is competing for Haiti, not the United States.