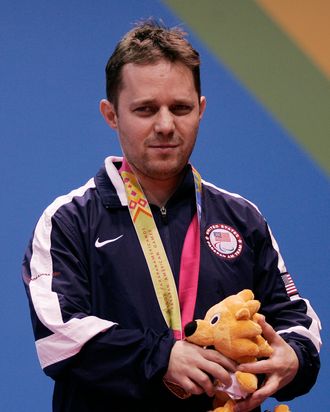 Tahl Leibovitz celebrates with his gold medal after the men's singles C9 finals at the 2011 Para Pan American Games.
"Sorry," Tahl Leibovitz says, after tossing a Ping-Pong ball in the air and striking it as easily as flipping over the page of a newspaper. The ball screams by, a winner. He smacks another, the point of contact between ball and paddle making that precise and precious sound ("a click, like when you fix a part of your car and get it right"), which results in warplike speed and a wild, careening side spin. "Sorry about that," Leibovitz says again.
Leibovitz has been a pro player for sixteen years now. We're warming up at SPiN on 23rd Street before he heads off to the Paralympic Games, which begin today in London, and where he hopes to add to his collection of medals. He's just finished slurping down a pouch of baby food ("lots of nutrients in these things") and is waiting to teach a lesson. In the meantime, he's kicking my ass. I manage to return one ball. He smashes it back beyond my reach, apologizes, and feeds me another.
The stoic, machinelike mind is a necessary quality for winning Ping-Pong matches at the highest levels. "Ping-Pong is about 95 percent mental," he says. "It's like running and playing chess at the same." For some, mental fortitude might be learned from an overzealous parent, or via raw genetic talent. For Leibobovitz, it was living on the streets. As a teenager, he was homeless for roughly seven years. He doesn't recommend the experience, but he's thankful for what he learned.
"Being homeless, it teaches you how to live in the present tense," he says. "You don't think about what's behind you, what's in front of you. You're just trying to survive." Ping-Pong is similar. "You have to take the matches point by point," he says. "Games are to 11 now, not 21 like the old days, so there is no room for error."
Homelessness, though, wasn't his biggest obstacle. Leibovitz was born in Israel with a disease called osteochondroma, which produced benign tumors throughout the bones of his body. It was hard for him to move. Every turn and step put painful pressure on his skeleton, especially his back. And family life at home in Queens, where his family moved when he was young, was unstable. He says his father and mother fought constantly, and that there were substance-abuse issues. Quiet and isolated from other kids, he got into trouble and stopped going to school. At 14, he broke a window and his father kicked him out. He didn't come back.
Instead of going into the city's shelter system, Leibovitz slept on the subways.
"The E train was the safest," he says, though he slept with a knife at close reach for the constant scrapes he got into. For food, he stole. "There was a Sizzler on Queens Boulevard. They had a salad bar and I would go there, or other places," he says. After dropping out of school, he could hardly read. He was living with a primitive kind of freedom he described as "like God" because "you do whatever you want."
What he wanted was Ping-Pong. In Ozone Park, he went into the South Queens Boys and Girls Club. That's when he first  heard the alluring sound of ball against paddle. It drew him in. Leibovitz played so relentlessly he soon became a Ping-Pong master. He figured out a way to train his ailing body to compete — running every other day, strength and conditioning, mental-preparation exercises. He went on to compete in the para-competitive table tennis circuit, playing his first Paralympics Games in Atlanta in 1996. He was still homeless then, he says, but soon after found housing for good. He went on to achieve the No. 2 ranking for players with handicaps in the world, which he held for roughly six years. He also competes among able-bodied players, qualifying for the U.S. Olympic Team in 2004 and achieving a record-high world ranking of 239.
Lately, physical troubles have plagued him. Last year, Leibovitz had surgery on his knee to repair an injury. He's rehabbing it, but the repaired ligaments are still tender. With his bone issues, and another condition where his feet sweat constantly, forcing him to change his socks, he'll have to overcome greater mobility issues against younger players in London.
Still, he says he doesn't have any rivals, and won't name any top competitors. "My biggest opponent is myself," he says. He once suffered anger management issues, shattering his paddle after matches. Now to focus his mind he posts index cards filled with positive statements around his home. There's one on the on the fridge ("I have the best backhand in the country"); the bathroom mirror ("I stay calm regardless of the situation"); on top of the television ("I never worry about results"). And one card reads: "I am the 2012 London Paralypmic Gold Medalist."