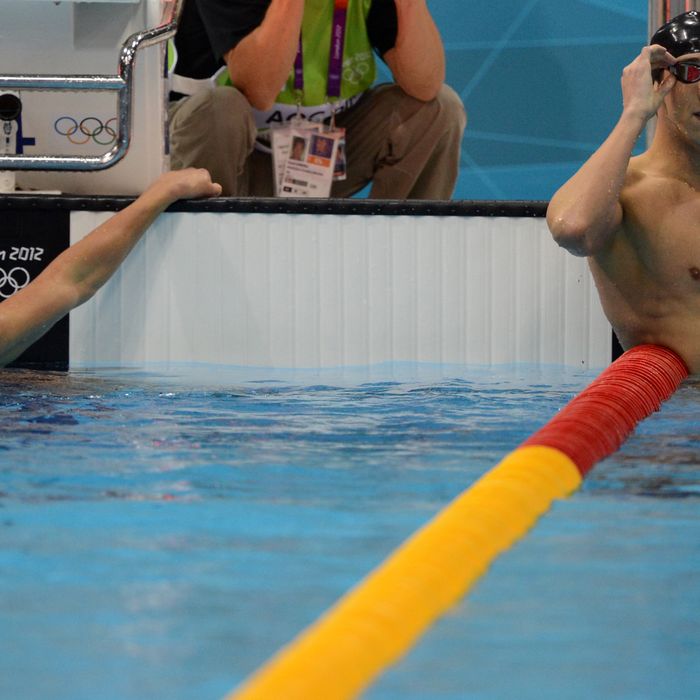 Ryan Lochte and Michael Phelps after today's 200-meter indivindividual medley final.
Entering these Olympics, many still regarded Ryan Lochte as an underdog to Michael Phelps, the swimmer who could come thisclose to the Olympic legend, pushing him to go faster but never touching before him. Of course, that's not true: A primary reason Michael Phelps seems so invincible is because his performances at the 2004 and 2008 Games were so great. Most people shape their opinion of him and his swimming based solely on that: two meets, out of hundreds in Phelps's career. But at some meets since the Beijing Games, Lochte was beating him — like at the 2011 FINA World Championships, when Lochte won the 200 IM and claimed the world record (the first person to break one since the suit ban). Still, because most people only watch swimming every four years and don't pay attention to FINA World Championships, Lochte was still seen as the underdog.
Over the past couple of days, it's become clear to casual viewers and hardcore swimming fans alike that Phelps is no longer the automatic favorite. But in today's 200-meter individual medley, Phelps again triumphed, capturing the sixteenth gold medal of his career after beating his teammate Lochte, who took home silver, by more than half a second. (Lochte's world record, however, will still stand.)
This race, possibly the most talked-about event of the entire XXX Olympiad, marked Phelps's and Lochte's last-ever swim against each other, as Phelps plans to retire after London. The event has a history of being dominated by three swimmers: For three Games in a row now, Phelps, Lochte, and Hungarian László Cseh have always placed in the top four. They will once again share the podium in London. Phelps went out in the first 100 faster than anyone in the world ever has, but in the third 50, Lochte was able to pull closer to him. Still, in the freestyle length, Phelps was able to hold him off and place first, the first swimmer to ever take three consecutive gold medals in the same event.
Rebecca Soni wins the 200 breast.
Jersey girl Rebecca Soni was the favorite to win this event after a prelims swim in which she broke the world record and put a 2:20.00 on the board; she didn't disappoint in finals. Soni is famous for her endurance and great second-halfs, but her first 100 was also quick — she touched first at the wall and stayed in the lead for the entire race. In the last 25 meters, she picked up her stroke rate intensely enough to break the world record she'd set only the day before and placed first to defend her gold medal from the Beijing Games. Her teammate Micah Lawrence placed sixth.
Tyler Clary defeats Lochte to win the 200 back.
Some wondered whether Lochte might have withheld some energy for his later duel with Phelps in the 200 IM (starting just 30 minutes after this event), but perhaps it was just exhaustion from a large program: In the last 50, he showed signs of fatigue and placed third. Lochte, with famously fantastic underwaters off the wall, is an excellent short-course (25-meter pool) swimmer; in a long-course pool with half the walls, he couldn't keep the lead. His teammate Tyler Clary, who had a smaller program this meet, was able to outshine Lochte in endurance and take the gold.
No medals for the American women in the 100 free.
Missy Franklin and Jessica Hardy, seeded third and eighth, respectively, in the 100 freestyle, were not able to pull off a surprise podium finish. Neither matched their time from prelims, and Franklin placed fifth, with Hardy taking eighth.
Mary Jane Weedman is writing about Olympic swimming for The Sports Section. E-mail her at MaryJane.Weedman@nymag.com.