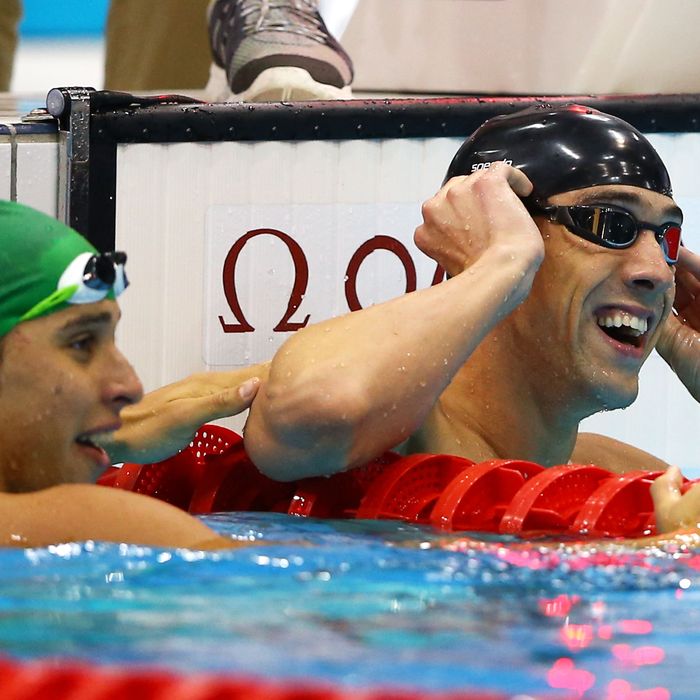 Of course he won his last race ever.
It has been an awfully good day so far for Olympic swimmers, to say the least.
Here's what went down.
Michael Phelps takes the 100 fly for the third games in a row.
Even at this level, you can sometimes see the tiniest notes of fatigue in swimmers as they finish their races: too long of a glide into the wall, a breath too close to the finish. But Phelps showed no sign whatsoever of slowing in the back half of his race. Indeed, it's where he won it: He touched the wall at the 50 in seventh place. But he came back strong with his signature stroke — he looks like he's hardly exerting any effort, as if his body is throwing itself forward. Phelps was the clear winner in the event, winning his seventeenth gold medal in his last individual race ever. Yesterday, he became the first male swimmer to win the same event three times; today, he did it again in another event. How close was it? Six-tenths of a second behind him was his teammate Tyler McGill, who took seventh place.
Franklin wins the 200 back, sweeping the backstroke events in the games.
Elizabeth Beisel and Missy Franklin were the only two swimmers to enter with times under 2:07.00. Franklin pulled ahead in the first 100 of the event, and came back to touch the wall at 2:04.06. As a 17-year-old, her body can recover quickly, and she has an incredible endurance.
It's not strange to have a teenage girl perform well in swimming at the Olympics; what is unusual, as we've mentioned before, is that she trains with her club coach. Most swimmers at her level leave their high-school coaches to train with someone who has Olympic or national-level experience. But Franklin has stood by her coach in Colorado, Todd Schmitz, since she was 7 years old. Surely she has been unofficially recruited by larger teams in bigger swimming states like Florida and California, so it's fantastically surprising — and encouraging for club swimmers everywhere — that she has stayed with Schmitz. What's even better is that Franklin has said she will forgo going professional to be a college athlete. Again, she could certainly be a very successful professional swimmer and easily make a living; it's nice to see her have some perspective.
Elizabeth Beisel and Franklin shared the podium, Beisel taking third, and as they marched out for the medal ceremony, they were as giggly as they have been throughout the meet. Their smiles and obvious joy have made this meet one of the more memorable and exciting to watch in some time.
Fifteen-year-old Katie Ledecky takes down Janet Evans's American record and wins the 800 free.
Everyone expected Ledecky, the youngest member of the American delegation, to swim well in the 800 freestyle, but really, Britain's Rebecca Adlington was the heavy favorite and the world-record holder. And so, even when Ledecky went out incredibly fast in her first 200 — her split was under 2:00 — it was easy to dismiss for some (she's an inexperienced racer and thus it might be hard for her to pace herself; she might go out fast, but Adlington will be able to keep it together when Ledecky tires).
But as Ledecky turned after the 500-meter mark, it became obvious that Adlington wasn't going to be able to catch up without a miracle. After Ledecky flipped at the last 100 and the official rang the finishing bell, her only competitor was the world-record mark, which she stayed ahead of for most of the race but fell just behind in the last 50, missing Adlington's mark by a few tenths of a second. Still, she broke Janet Evans's longstanding American record from 1989, an incredible feat.