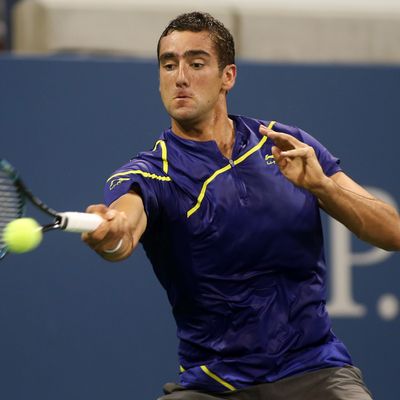 Despite a smattering of torrential downpour in the middle of the day, the U.S. Open churned through its schedule largely without incident. So, too, did most of the seeded players and favorites. But just like yesterday's double-take discussion in which Maria Sharapova explained to the press why she had scheduled an ultrasound recently, some of the occurrences on day one were a bit unexpected.
Early in the day, there were some interesting developments for the women's draw, as Sabine Lisicki and Julia Goerges were knocked out. Both players could have presented a tricky fourth-round challenge for top seed Victoria Azarenka, and their early departure helps clear the path for the Belarusian's first quarterfinal appearance here. The men's side wobbled, too, with the twelfth seed (and former quarterfinalist here), Marin Čilić, stretching his match to five sets against a guy amusingly described as having "a good season by his standards." The Croat came back from two sets down and finally claimed victory against Marinko Matosevic at 12:40 am this morning. While such a gritty victory can make a player bulletproof going forward, it's a rough way to start a two-week tournament. A weary Čilić would make it that much easier for Jo Wilfred Tsonga to once again reach the quarterfinals this year, matching last year's results.
In the quarters, Tsonga could meet Andy Murray, who had a curious start to his own campaign for his first Grand Slam. The Scotsman couldn't seem to play with conviction against Alex Bogomolov Jr., despite walking away with a straight-set win. At 3–1 in the final set, Murray strangely (and scarily, at the time) took an awkward stumble after a net approach, hushing the crowd as he drooped over for several moments. Luckily though, he was just hampered by a cramp in the middle of the point. Hydrate yourself, you crazy hope of a nation, you!
Aside from that, most results were fairly expected. Victoria Azarenka, Sam Stosur, Li Na, and Maria Sharapova (who's not pregnant, by the way) all crushed in their debut, while the exhausted Petra Kvitova, unsurprisingly, struggled through her two-set victory. Day one then symbolically ended with a night of U.S. Open stars dashing the dreams of the American tennis youth, with both Kim Clijsters and Roger Federer predictably coming through in straight sets. (American dreams can continue to ride on the shoulders of Mardy Fish, James Blake, and Jack Sock, though, who all live to see another round.)
There was even the customary U.S. Open rain delay! Around noon, fans ran like the Bubble Girl meme for safety from the sudden pelting deluge, and we were reminded of that usual thorn in the USTA's side: There's no roof on the main court. Wimbledon and the Australian Open each have a mechanical cover, and the French Open arguably doesn't need one since you can play on clay with light rain. But the U.S. has got nada.
Prior to this year, it was the default argument that a roof just wasn't possible, since the USTA made Arthur Ashe Stadium so glutinously large. But after much industry kvetching about a fourth-consecutive year in which the tournament was pushed to a Monday completion, the organization appears to be publically changing its tune. (Kind of.) In a statement to the New York Times on Sunday, chief operating officer Gordon Smith said a roof was imminent — once the technology catches up.
In theory, it doesn't seem like a single roof would assist in moving along a combined count of 124 players all that much, but it does keep the show-court rotation of marquee names on track. When it comes to the visibility of your sport, this is crucial; if ESPN or CBS has to show a screen saver of rain for several hours, it will dull viewer interest in the product. New York is due for a rained out Labor Day weekend, the gem at the center of the tournament, so you can expect to hear further debate on the matter of a roof again, from players, media, and commentators alike. Just don't expect the USTA to give a concrete timeline on the matter — or an explanation for how their roofless tournament will manage to formalize a "day of rest" between the semifinals and final (finally doing away with the much maligned scheduling tradition of Super Saturday) and still manage to finish on Sunday.