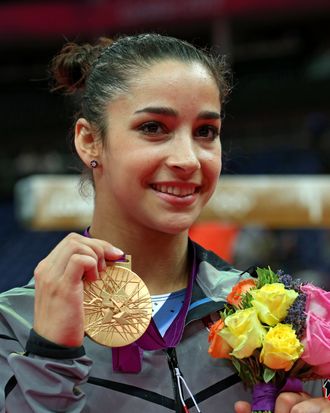 Oh, Lynn and Rick, we're going to miss you. Even if viewers had already found out about Aly Raisman's stellar performances yesterday in gymnastics event finals in floor and balance beam, getting to watch her parents watching her was reason enough to tune in during prime time.
Raisman's night was "all about redemption." Although, according to NBC, that's what every athlete's night was about last night, Re-Demp-Shun! Grab a fistful of air and grimace, eyes ablaze when you say it. She'd come in fourth in the all-around thanks to a third-place tiebreaker that didn't break her way. These event finals were redemption for that wrong, to prove she deserved to come home with more than just that USA team gold.
Cut to the balance beam, where all-around gold medalist Gabby Douglas fell off, wrapping herself pretzel-like around the beam to avoid her feet touching the floor. China's Deng Linlin and Sui Lu had already turned in unbeatable performances (Raisman's beam routine wasn't hard enough to win even if she got everything perfect, which she didn't), and Romania's 24-year-old veteran Catalina Ponor was sitting in third place. "If I had to choose a team and dependability was most crucial, I'd choose Aly," said commentator Tim Daggett, as usual right at the quietest, most stressful part of the routine. There's something about the way Daggett does commentary that makes you think the athletes can hear him and he's going to make them fall. She dismounted. It wasn't perfect. Her dad got up and walked away. "That's all Rick can take," the announcers said. But if the Raisman family was trying to get away from stress, there was way more to come.
From the stands, Béla and Márta Karolyi started gesturing frantically at Raisman's coach, Mihai Brestyan, making the universal hand signal for "write something down," or in gymnastics, "protest that result." Hope lit up in him, while Raisman paced back and forth, commanding herself to be okay with fourth place. Brestyan ran over to the head judge. Time was of the essence. He needed a pen. Who had a freaking pen? Did anyone have a pen? Pen found, he still had to scribble down Raisman's entire routine and what he thought she should have been given points for. At issue were all the little connecting elements in between tumbling passes that might not all have been counted in her routine's starting value. Everyone stared at the scoreboard. Rick buried his head.
A new score was announced. "It might be a tie," Aly said to her coach. The camera panned from her to Ponor. Then suddenly the tie broke and Raisman was the victor. Ponor looked crushed. Re-Demp-Shun! With a little bit of stomping on your rival's face. Lynn and Rick were ecstatic. But there was still more stress to come.
Cut to the floor routines. This was the only event final Jordyn Wieber had qualified for, and it had been a step out of bounds on floor in qualifiers that had ruined her berth to the all-around finals. She was there for Re-Demp-Shun! She would not get it. She went out of bounds again and had another mess-up, and just like that, her medal hopes were over. To paraphrase the aging-backwards Bob Costas, in basketball, LeBron James and Kobe Bryant can practically foul out of a game and still get 44 points, and a pro-golfer can bogie a bunch and still win a green jacket, but in gymnastics, to win, you have to be perfect every time.
By the luck of the draw, or to shove bitter disappointment in Wieber's face yet again, Raisman was up on floor immediately after Wieber. They were both wearing the coolest red, white, and blue leotards EVER. The familiar strains of the "Hava Nagila" played through the loud speakers. The crowd clapped along enthusiastically. Raisman pulled out the floor routine of her life. Really, it was stunning to watch. As she came off, she was beaming. "Amazing! Amazing! The best you've ever done," her coach told her after their big ol' hug. She scored a 15.6. Just to put things in perspective, only two gymnasts scored above 15 in the all-around. Rick and Lynn had been bobbing and weaving and jumping up and down so much during her routine, willing her to do well, that the people behind them had to tell them to sit down.
Catalina Ponor, the Romanian woman from whom Raisman had so rudely wrested bronze in beam just moments earlier, pulled off a great, sexy routine set to "Fever." She, too, wanted Re-Demp-Shun! But still only managed a 15.2. The crowd was not happy. Then came Aliya Mustafina, the Russian with the cold hard stare and glittery hair and eyelids. She'd won gold the night before on the uneven bars, which seemed to have somehow made her nicer. As she came off her not-perfect-enough-to-beat-Raisman routine, she actually stopped and let her coach kiss her, a rarity. Then she passed by Raisman and actually turned around to give her a smile and a thumbs-up. It was pretty adorable. Count me as a Mustafina fan.
"That was the best I could have done," said Raisman, pacing back and forth to watch the final competitor, Romania's Sandra Izbasa, who'd won gold on vault, go. She was doing pretty well, until she fell on her final landing. Raisman hugged her coach again, knowing she'd won. If you'll recall, after Team USA got their gold medals, she'd walked off the podium and put hers around her coach's neck to signify that they'd done it together. It was pretty awesome. NBC showed her gold medal presentation, but much to their disappointment, she neither cried nor displayed any more gestures of spontaneous love and kindness. In her postgame interview with Bob "Benjamin Button" Costas, she used the R-word. Yup, Re-Demp-Shun! And was game to talk about her parents' video viral stardom. Years ago, watching a gymnastics meet, Lynn had observed high-strung gymnastics parents and commented that she was glad she'd never have to go through that. Said Aly, "I'm glad I put her through that. She was really stressed out."
Further fun, albeit with fewer shots of anxious parents, was to be found in the gymnastics arena during the men's highbar event final, which was a ball of high flying excitement. The gold went very deservedly to the Netherlands' Epke Zonderland, who gets extra, extra points for his amazing head of floppy red hair straight out of some seventies TV show. I'm struggling to come up with a comparison, but the blond guy from Simon and Simon comes to mind. He had a spectacular sequence where he did three releases in a row. Said my roommate, "I want to watch it again and again!" It was that awesome. "We have yet to see a stuck dismount," said Tim Daggett, annoyingly, just as he was dismounting. Stuck it! Take that, Daggett. Luckily, the judges were equally impressed. The other guys did great routines, but they weren't as off-the-charts hard as Zonderland's. He also became the first man from the Netherlands to win a gymnastics medal. I hope there are many, many more to come, especially if they all have hair like that.
On the track, in the women's 100-meter hurdles, it was Lolo Jones who was looking for Re-Demp-Shun! She'd been winning in Beijing when she hit the final hurdle and stumbled to the line in seventh place. In the pre-race packet, she talked about how important this gold and Re-Demp-Shun! was for her. Said Jones: "Every time I'm interviewed, it's not, 'This is the Olympic hurdler.' It's, 'This is the hurdler who was winning the Olympics and messed up.'" Oh, the weight of expectation. Um, she didn't get that gold. She came in fourth, behind the incredibly pale, blonde Australian Sally Pearson, who broke the Olympic record, and her two American teammates, Dawn Harper and Kellie Wells. Harper was the defending champ, so her silver was — another NBC buzzword — validation for that gold.
I felt bad for Lolo Jones, but she did get fourth in a race that was so close that Pearson and Harper, who ran a personal best, had to be separated by a photo finish. There was a dramatic pause as the footage was revealed, and when Pearson saw her name at the top, she let out such a primal scream you had to be happy for her and the rather jarring good look you got at her tongue stud. Now, that's an image for Australia: Their star winner with their flag wrapped around her shoulders and her mouth wide open with a piece of metal through her tongue. Seems appropriate.
Harper and Wells get major points for being the nicest, best-natured runners-up ever. They were bubbly and delightful in the postgame interview, and absolutely thrilled about their silver and bronze. Both had run personal bests. Harper took us through what had been going on in her mind: "Did I get it? Did I get it?!" Wells had had surgery that year, and also had come forward not too long ago to talk about her tragic past of getting raped by her mother's boyfriend, and then both her mother and that boyfriend dying in a car wreck, as a way to help other rape victims. So basically, she's just grateful for everything. She described how the rain started pouring just as the race was to begin: "It was like a dramatic movie with music in the background!" And she has really cool hair.
We also got to see Allyson Felix win her semifinal easily in the 200 meters. She's the favorite for the event today. Until then, she's keeping her nerves calm by watching ABC's Scandal. Good to know.
NBC showed us two horrible moments. The first was Chinese hurdler Liu Xiang falling over his first hurdle and having to hop off the track (though not before kissing the Olympic rings on a hurdle). He'd won gold in the 100-meter hurdles in 2004, becoming the first Chinese medalist ever in track and field, but in 2008, started and pulled up just short of the first hurdle because of an injury. Between Beijing and London, he's never cleared a hurdle in an Olympic final since he won the gold. Then there was the German weightlifter Matthias Steiner, who dropped a 432-pound barbell on his head. Apparently a banner went up to protect the eyes of the audience in case the scene was about to get gruesome. He walked away. What we didn't see was British brothers Alistair and Jonathan Brownlee winning gold and bronze in the men's triathlon. I would have liked to see some of that, or at least a single image of these remarkable siblings, instead of, I don't know, 1,800 hours of beach volleyball.
Okay, okay, the beach volleyball was kind of exciting. Misty May-Treanor and Kerri Walsh almost didn't make it to the finals in what turned out to be an incredibly close match with some very tall Chinese women. But they're the defending champs. They pulled it out. And you can be prepared to have the entire NBC broadcast taken up tonight by the gold medal match, because get this, guys: It's Americans versus Americans. As announcers pointed out, Jen Kessy and April Ross, who pulled out a thriller against Brazil that we saw two seconds of, are way lesser known than Misty and Kerri. Huh, you think that's because we saw only two seconds of their match and almost an hour of Misty and Kerri's? And because I've now heard announcers call Misty and Kerri called by their first names, like Bono or Cher, so many times that I can't help but do it myself? Do we see a correlation? So prepare for that match to be your night. Me, I'm wondering when NBC is going to start airing the good stuff in prime time. Where's my synchronized swimming?