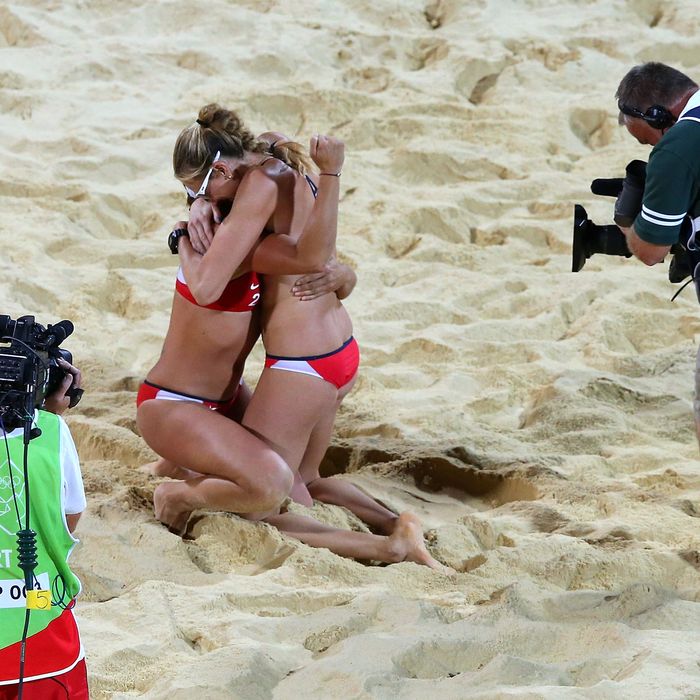 Misty May-Treanor and Kerri Walsh.
Maybe I'd been a fool not to heed the warnings, but when NBC kept talking about their special, commercial-free sneak preview of Matthew Perry's new show, Go On, I didn't think they'd actually cut their Olympics coverage an hour short. A full hour! Funny, that's also the length of time it took me to start to resent beach volleyball, which NBC also allowed to go on (and on and on) for a full hour while neglecting to show a whole bunch of other sports that had also happened yesterday. I don't hate the game and I certainly don't hate the players, but NBC, if you are going to gobble up exclusive rights to show an international sporting event that only happens once every four years, learn how to do a broadcast.
I have some ranting to do, but first a nod to history. Misty May-Treanor and Kerri Walsh Jennings proved they are the best beach volleyball players in the history of the sport, even though they'd already proven it four years earlier. They've never lost in 21 Olympic matches, and have won 42 of 43 Olympic sets. They won their third consecutive gold medal decisively over fellow Americans Jen Kessy and April Ross. And they popularized beach volleyball over the course of their twelve-year partnership, which ended yesterday with May-Treanor's retirement. They're wonderful and amazing — as are the lovely men and women of track and field, who I'll get to later — and are not to be blamed for NBC's thorough botching of everything last night.
For the purposes of these recaps, I have been trying to stay away from watching the Games during the day, putting myself in the shoes of the many working stiffs with far less flexible jobs than mine who only have time to watch the Olympics between the hours of 8 p.m. and midnight. Or the many others, like my roommate, who avoid checking the Internet all day so they won't spoil the excitement of sitting down with the majority of America to watch the events unfold, even though they took place in another part of the world five hours earlier. Some people don't have cable. Some people don't want to watch constantly buffering, commentary-less live streams of men's indoor volleyball (which is an unexpectedly awesome sport; you still need cable to stream it anyway). This broadcast is all they have.
NBC execs know they have a captive audience. They also know they have a once-every-four-years marketing opportunity. And there are as many voices of reason who've pointed out that we're dealing with a for-profit company that paid $4.38 billion over the next eight years for these broadcasting rights. It's their prerogative to withhold airing the most dramatic events until a time when it suits their ratings, and to air them with as many commercials as they please. These sound arguments point out that the people who are griping about NBC failures are the tiny, vocal crowd who have nothing better to do with their days than argue back and forth on Twitter and blogs, or try to steal content without paying for it. Theirs are arguments for populism over media elitism. NBC's job, they say, is simple and twofold: to serve its own interests, and to create an ideal viewing experience for the average American who wants to put his or her feet up after work and watch an edited package of the day's best performances from the greatest athletes in the world. Fair enough. Well, last night NBC failed at that job.
It is one thing to perhaps skew a broadcast toward highlighting Americans while ignoring the accomplishments of other countries, or to focus on the dramatic disappointment of Jordyn Weiber during a team competition that required excellent performances from four other female gymnasts to win, or to air a completely ridiculous, gratuitous segment about James Bond's London for seemingly no other reason than to be able to air a commercial for the new James Bond movie right after it. These are matters of taste — boardroom decisions that can be recalibrated and redeemed later in the broadcast, or at worst, the next day. They are not on the same level at all of betraying an audience that trusted you to give them four hours of the best Olympic action from the day and instead exploiting their numbers to pull the rug out from under them so you can launch your crappy new show.
If I were running the fourth-place network and I had an opportunity to give my new Matthew Perry show a boost like the one you get from an Olympics-sized audience, I'd probably take it, too. But the argument that NBC is serving the needs of the masses with its profit-minded prime-time broadcast has now gone out the window. You know who doesn't have time to check TV schedules and notice that the Olympics broadcast that has been four hours long for the past week and a half was going to be an hour short? The masses. You know who got screwed because of that tricksy switcheroo? The athletes whose life work was just passed over for network greed. And the masses who had to watch Matthew Perry in a pilot he filmed months ago instead of highlights from yesterday's men's basketball quarterfinals; the beginning of BMX racing; the historic first-ever women's boxing semifinals; the equestrian individual jumping finals; the gold medal match in table tennis; taekwondo; field hockey; water polo; or canoe sprint. I don't even know what that is, but I wouldn't have minded seeing it. Yes, it was a day sadly lacking in male nudity, with only a few really popular events, but give your audience some credit for perhaps being curious to see the world's best table tennis.
I can't see how this doesn't backfire on NBC. Go On is a show about a guy who spends the entire pilot putting people down for being too touchy-feely. Whose dumb idea was it to air it during a global sporting event that serves up inspirational sob stories every five minutes? You know what's the worst way to launch a show about grief counseling that's so mean-spirited and unfunny it makes TV critics want to punch it in the crotch? By shoving it in the faces of a bunch of people who were counting on watching the finest specimens of the human form make their bodies do impossible things and achieve lifelong dreams. This tricksy scheduling switcheroo is the kind of bad-faith network tactic that makes you want to also kick Go On in the ribs while it's down. And I say this as someone who likes Matthew Perry.
What makes this even worse is that in the two previous broadcasts, NBC had been getting it mostly right. On Monday, they handed over the spotlight to Caribbean runners. On Tuesday, they captured the best of Aly Raisman's dramatic ride while smartly highlighting total ballers from other countries like the amazing flying Dutchman on high bar in men's gymnastics, Epke Zonderland. This was a function of other countries outperforming the U.S. in high-profile events, but it also seemed like the network had begun to see the merits of balanced coverage.
So how'd they do with balance in the three hours of coverage they deigned to give us last night? I'd say a C+. Americans had a banner day, and there's no foul in highlighting that. All deductions come from lack of variety for devoting over a third of the broadcast to beach volleyball.
On the track, where the men were running the 110-meter hurdles, the commentary was fascinating and technical. We learned that American Aries Merritt is having "a career year" in part because he managed to change the number of steps it takes him to get to the first hurdle from eight to seven. Can you imagine the incredible focus and repetitive force-of-will training that must require? Well, it paid off. He won by a long shot, and another American, the equally all-business Jason Richardson, won silver. In the postgame, Merritt stayed technical, talking about how he'd spent all year working on building power on his weaker side, and how he stays relaxed by thinking of every meet as practice, no matter how large the stage. He knows he gets the times he needs in practice, so if everywhere is practice, he can get those times everywhere. Good advice for life in general. It was interesting to discover how satisfying it is to root for someone for his professionalism rather than his emotional sacrifice. The man is the best in the world because he literally spent hundreds of hours changing the way he gets off the starting blocks. Let's reward that. No word yet on whether long braided hair, which Merritt and Richardson both have — an anomaly on the male track team — is some technical power-grab move, too.
Also getting uncharacteristically technical was Usain Bolt. When he's out on the track before the start, the 100-meter gold medalist is all about posturing. He dances for the crowd, gestures for them to be louder, and generally perpetuates this Kanye West–like, greatest-ever character he's built for himself. But in an interview after his easy win in his 200-meter heat, he said he'd raced at "probably 60 percent, maybe" of his capabilities. Then, of course, he added that he would race tomorrow to "cement my legend status." Being Über-technical in hurdles makes a lot of sense, while running seems to be much more about pure talent and drive. But in 2008, Chicago's Wallace Spearmon and Churandry Martina of the Netherlands learned about technicalities the hard way when they got DQed for tiny rule violations (like stepping into someone else's lane) after winning bronze and sliver in the 200-meters. They'll both race for redemption (Re-Demp-Shun!) today against 100-meter powerhouses Bolt and his Jamaican training partner Yohan Blake, who won his heat so easily he looked like he was just out for a leisurely stroll on the track.
Re-Demp-Shun! talk was high for 400-meter hurdles specialist Lashinda Demus, who failed to qualify for Beijing in 2008, a year after giving birth to twins. We'd seen so many packages about her struggle and her drive for redemption that I kind of missed that Russian Natalya Antyukh had been the favorite all along. Guess who won? Antyukh. Yup. Demus crumpled to the track in disappointment. "I will not stop until get the gold medal. You will see me in 2016," she vowed. All right! But maybe she should learn to be less passionate and more technical from Aries Merritt.
Passion apparently works okay in long jump, where the totally badass Brittney Reese became the first American woman to win a gold medal since Jackie Joyner-Kersee in 1988. Reese is from Gulfport, Mississippi, which was destroyed by Hurricane Katrina, and dedicated her win to the people of the Gulf. She's only 25, so she'll be back to defend her title. Another delightful American, Janay Deloach, was just thrilled to win bronze.
Speaking of Joyner-Kersee, her husband, Bob Kersee, coached American Allyson Felix to gold in the 200-meters. She'd been looking for Re-Demp-Shun! (this is now a copyrighted phrase for The Sports Section) after winning silver in Beijing. She said she'd had regrets over her time management in 2008, and spent this year cutting out social activities and being selfish, and learning to be okay with that. Good attitude. She lived up to her status as the favorite and easily beat runner-up Shelly-Ann Fraser-Pryce of Jamaica. If you'll recall, Fraser-Pryce won gold in the 100-meters and says she "hates" the 200-meters. You can hear again her petulant teenage inner monologue: "Man, it sucks to be second-best in the world at this."
This momentous night for American track and field was nice and all, but you knew that at some point, NBC was going to make you watch beach volleyball. Lots of it. Whether you wanted to or not. The coverage of Misty and Kerri's game began at 8:52 and did not stop for another 60 minutes at least. I'm all for letting the action play out in prime-time, but maybe I'd be more for it if NBC hadn't spent a full hour on beach volleyball yesterday to show the semi-final Misty-Kerri match against China. Contrast that with Monday's instant classic soccer match between the American and Canadian women's teams, the one that ended with a dramatic header thirty seconds from the end of play. That game got relegated to a daytime slot with barely a highlight in prime-time.
Some of us just don't get the appeal of beach volleyball. If you're going to show an hour of it, explain the appeal. Don't talk about Misty and Kerri being the greatest without explaining why they're so superior to the other teams. Don't say things like, "They're on a people mover and you're on a treadmill," and not explain why that's so. Don't talk about this being a moment for the unknown Americans Jen Kessy and April Ross to get introduced to the world if you're not going to introduce them or tell us anything about them (or if you're going to subtly bias the audience by calling Misty and Kerri by their first names and Jen and April by their last names).
This was billed as a match of compatriots-turned-competitors, but really it was the Misty and Kerri show. Which is, fine, they earned it. We learned that they'd semi-retired since Beijing. Misty had gone on Dancing with the Stars. Kerri ripped her Achilles and had two kids. We heard about how Misty's husband Matt Treanor, catcher for the L.A. Dodgers, was watching the game from his clubhouse. We heard that Misty has to be "crafty" because Kerri is so tall. The announcers called them by the "Golden Girls," which I at first thought was a reference to them being ancient and in their 30s, but actually referred to their gold medals. I still heard nothing to explain to me why this pair wins so much.
The mind starts to wander at such moments, and questions arise. Why do the announcers say the players' weights — isn't it enough that they're already wearing bikinis? Why was everyone — players, coaches, spectators — wearing wrap-around sunglasses and visors even though the match was taking place at night? Did Misty forget to put cover-up on that unfortunate cold sore? What was up with the dance team in acid-washed cutoffs and red suspenders that suddenly appeared in the background of the postgame interviews, doing lifts and pop-locks as Misty and Kerri talked about being the greatest beach volleyball team of all time? Why hadn't we seen more of them?
None of this is to diminish their accomplishments, or the sweetness of seeing Kerri cry so much about Misty's retirement. Asked if she could think about what it would be like to play without her, she teared up and sobbed, "I can't talk about it. I can't, I can't." They'd played to a crowd of 15,000 who'd come out to support a sport they'd popularized. They held hands and Kerri cried during their final gold medal ceremony together. And they sweetly held hands throughout the eight-minute (eight-minute!) Bob "Fountain of Youth" Costas interview. I don't resent them. I resent NBC for overdoing it so much on their coverage that I just wanted it to be over.
The Bob "Juan Ponce de León" Costas interview with Misty and Kerri took place just after a woefully rushed recap of the men's decathlon. It started off with Bruce Jenner saying that whoever comes out on top of this competition can legitimately claim to the be the best athlete in the world. NBC billed it as a fight between the two American entrants, Ashton Easton and Trey Hardee, who were, according to Benjamin Button Costas, "both each other's biggest competitors, and only teammate." Then it sped through the day's results so quickly and slickly I can't tell you what happened in any individual event except that Easton is now way ahead of the field. There was zero acknowledgement of any participant from any other country. I didn't time it, but I'm pretty sure NBC spent as much airtime covering a full-day of events to determine the best athlete in the world as Costas did talking to Misty about that time she was on Dancing With the Stars. Then they cut to Matthew Perry. Can we all go and collectively punch that show, and this network, in the crotch?