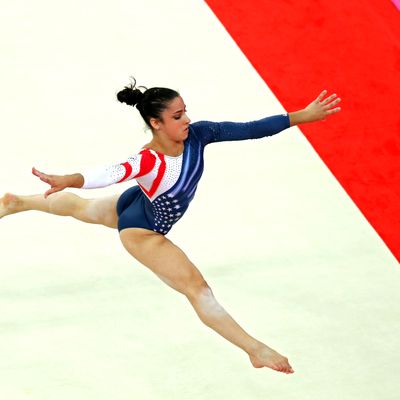 Sui Lu's inconsistencies kept her off the historic Chinese team that competed in Beijing, and she considered quitting the sport all together. But today, Lu showed why she's the current world champion on balance beam, opening up the competition with a near flawless routine. 2004 Olympic beam champ Catalina Ponor was looking to challenge, but a big balance check in the middle would take her out of the running for gold. Lu's teammate Deng Linlin took charge and surged ahead of Lu with a 15.6, the highest beam score yet in the games. Gabby Douglas continued to struggle with consistency and suffered a major fall in her routine. She'll leave these Games with two gold medals for the team and all-around.  
But the real story was who was coming up next. Aly Raisman took to the beam last, looking for redemption after her errors in the all-around that kept her off the podium. She got bonus points in our book for being the first U.S. team member to finally wear red, white, and blue, but she got more important points, real points, for nailing her routine under the incredible pressure. It would be close, but she would be in the dreaded fourth place once more.
As with so many other times at these Games, it wasn't over yet. The U.S. coaching staff would file an inquiry into Raisman's start value. The start value would be raised. This time, Raisman's would be on the other side of the tiebreak to win over Catalina Ponor of Romania. It would be Deng Linlin with the gold, Sui Lu taking silver, and Raisman with the bronze.
And then came floor, which would not be the ending Jordyn Wieber had hoped for. Looking a little cold after not competing since team finals, she made uncharacteristic mistakes to keep her out of the medals and perhaps to give her thoughts of continuing for another run at the Olympics in Rio. Meanwhile: Raisman hit the single greatest routine of her career, and her floor score of 15.6 was the highest yet in these games. Four years ago, Sandra Izbaşa went last to take the floor gold from Shawn Johnson, and this year, she had the opportunity to go last again and do the same thing to Raisman. The routine was going perfectly, but a fall on her last pass dashed any hope for a medal and secured the gold for Raisman.
Raisman came to these Games in the shadows, but she emerged today as the most decorated American gymnast of the 2012 Olympics. Aliya Mustafina would win yet another tie break over Italy's Vanessa Ferrari for the bronze medal. Ponor would grab the silver eight years after her gold in Athens.
It's been an incredible Olympics for gymnastics, and now it's over. We'll wrap everything up tomorrow, and then, the long, long wait for 2016.