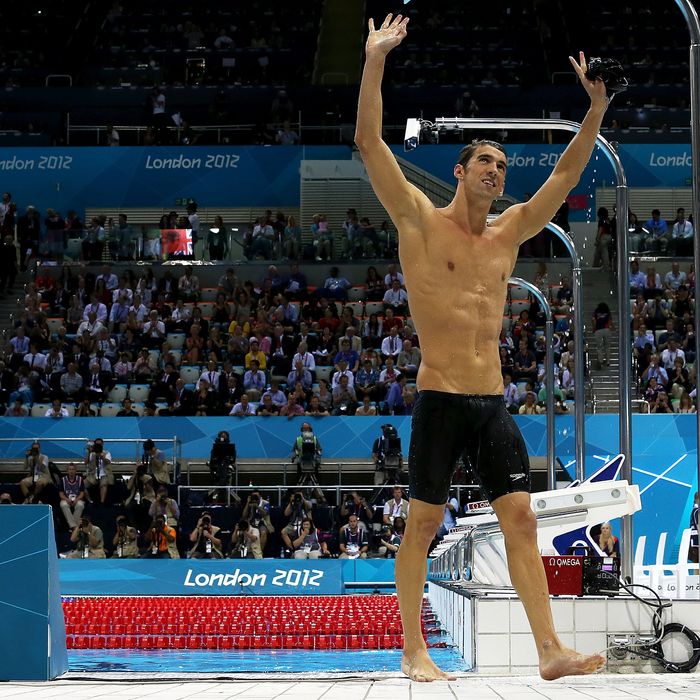 Earlier this year, the 2012 Games looked to be a semi-boring one for swimming: With the exception of Michael Phelps's domination maybe getting challenged, there wasn't too much different than usual. You had your female teenage hotshot with tons of expectations, your comebacks (Jessica Hardy, from an accidental drug ban; Anthony Ervin, from swimming retirement). Moreover, the suit ban had everyone wondering if any world records would be broken at all.
But all the ho-hum expectations for the Games were upended; they turned out to be one of the more thrilling (and American-dominated) Olympics in some time.

The last day was a particularly great one for the Americans. It started off quiet (with the women's 50 free and the men's 1500 free). In the 50, Hardy took seventh place; earlier in that race, she'd posted a personal-best time, so seventh at the Olympics was nothing to turn her nose at. In the 1500, too, the Americans didn't overpower. Instead, China's* 20-year-old, six-foot-six Sun Yang won that race, even after a false start when he mistook an announcer for the beep of the start clock. He rebounded quickly from the false start — which can shake anyone and cause serious nerves — and was ahead for the entire race, touching nearly nine seconds ahead of the second-place finisher, fast enough to break the world record. (America's, and New Jersey's, representative, Connor Jaeger, took seventh.)

But after the individual events, the meet turned to its final races, which just so happen to be the USA's best: the men's and women's 400 medley relay.

On the women's relay team, the first three swimmers (Missy Franklin, Rebecca Soni, and Dana Vollmer) were new gold-medal winners, and the anchor, Allison Schmitt, was a reliably fierce competitor. They didn't disappoint and claimed USA's first gold medal in this event since the Dana Torres–Jenny Thompson days in Sydney. The first-place finish was unusual for America, but so was the strength of the entire women's team. What's more: They're young women, and they'll be around for years to come.

If the American women have not always been on top in the 400 medley, the men certainly have, actually never not winning this event at the Games. The team has historically pulled the race together to win, and here they acted no differently. Though things seemed close on the first half of the butterfly leg, Phelps characteristically pulled ahead in the second half of the race to give Nathan Adrian (the anchor, and also a six-foot-seven teddy bear) a sizable lead. All he had to do was maintain; he did more than that and finished two seconds ahead of Japan.

Phelps will be remembered as infallible, of course, because even though he certainly did make mistakes at this meet, he ended the Games well and still got his 22nd Olympic medal. And Lochte will be remembered as his smaller, perhaps slightly frat-boy-douchier (but still totally lovable) shadow. But otherwise, the Games were surprisingly fun: Franklin didn't choke, as so many young teenagers in her position before have, and she had a bigger smile than any athlete in recent memory. The American women were collectively a force to be reckoned with in nearly every event, and together they made up a better team than the U.S. had seen in several Games. Finally, even without performance-enhancing super-suits, world records were routinely broken.

At the end of every Olympics, there's some residual Games obsession that seems like it might translate to real swimming obsession: I love swimming! I'll go to University of Georgia meets to watch Allison Schmitt! This never happens. Even when the best swimmers are racing, college meets rarely host more than a couple of swim fans. But it's still nice to hear that idealistic thinking and to imagine, for a moment, that your beloved sport is popular and well-loved, and not just forgotten about by September of every fourth year. I hope his year the Americans gave you enough reason to keep up in the interim between now and Rio.
Mary Jane Weedman is writing about Olympic swimming for The Sports Section. E-mail her at MaryJane.Weedman@nymag.com.
* This post has been corrected. Sun Yang is Chinese, not Japanese.