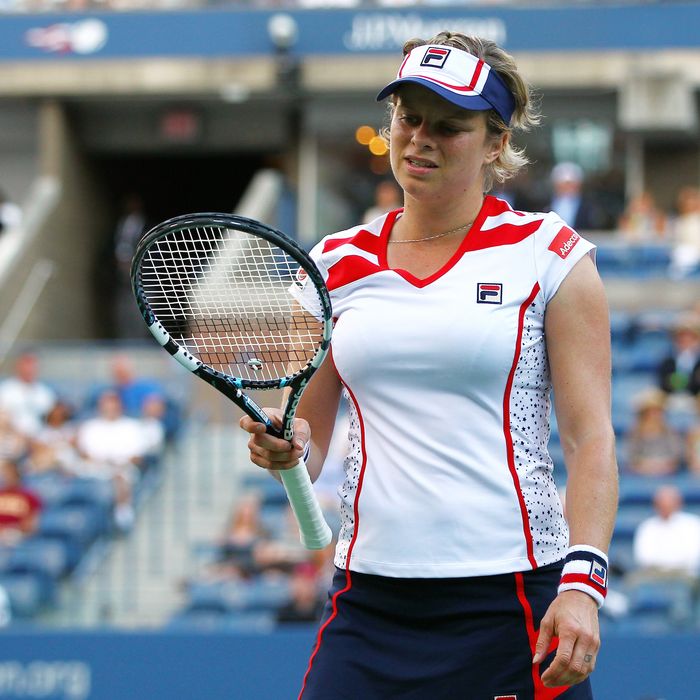 The trend of uncompetitive matches on Arthur Ashe Stadium continued yesterday during the night session, in which Maria Sharapova and Andy Murray's unfortunate opponents won no more than seven games in five sets of tennis, combined. The day matches were a different story though, as the Marathon Man himself, John Isner, orchestrated the first non-straight sets match on Ashe yet. Known by many as the guy who actually won that excruciating eleven-hour match at Wimbledon two years ago, Isner only needed to spend three hours on court yesterday before finally putting down his testy opponent in a fourth-set tiebreak. The same story of survival could not be told of Kim Clijsters however; the three-time U.S. Open champion not only lost to Laura Robson, but said good-bye to professional tennis forever.

Technically, she's still playing doubles this week with Bob Bryan (of the extremely successful Bryan brothers doubles team) and Kirsten Flipkens in an extended good-bye tour, but Robson was the one to impressively extinguish the Belgian's singles career, in two very entertaining sets. In the second set, Clijsters flirted back and forth with disaster, serving to stay in the set a few times and coming within a hair of near match points. She fought off two actual match points, in enthralling fashion, but Robson capitalized on the third in a tiebreak to clinch the upset.
The 18-year-old British teenager seemed just as stunned as the fans watching; although she was the more dominant player, it didn't feel like it was time for it to end. Clijsters came to Flushing this year openly declaring that this would be her last event before retirement, so the industry was all on high alert, waiting for the final moment to spring up. But the stadium yesterday was barely a quarter full, and the staff was already beginning to prepare for the evening session. People in the stands were yelling at inappropriate times. Someone from the clownish LMFAO was sitting courtside taking fan pictures, in rhinestone glasses and infuriatingly garish pants. It just didn't feel like the proper setting for one of the tournament's champions to play the last professional singles match of her life.
So far at the Open, we've seen numerous startling comebacks across the grounds. As such, you'd be forgiven for thinking this was just part of the 2012 script and that Clijsters too would pull off the win. She herself said that the U.S. Open, her most successful Slam, has always inspired her to perform well. But unlike the nine men who came back from being down two sets to love to win a five-setter (on Wednesday alone, this included Janko Tipsarevic, Ernests Gulbis, and Gilles Muller), it was not to be.
Robson, for her part, performed beautifully. British tennis has had great hopes for Andy Murray's occasional mixed doubles partner, with whom he won the Olympic silver medal a few weeks ago. But she had yet to make good on the monumental expectations, often failing to close out victories due to pressure. This match, which puts her into the third round of a Slam for the first time, suggests that she's turning a corner with her mental game, and that perhaps she can in fact enter the top ten as her coach recently declared possible. For the time being, she's eyeing another challenging opponent in the next round: 2011 French Open champion Li Na. Should she beat Na, a tall but not impossible order, she'd then likely meet the defending champ Sam Stosur. Should she emerge from that matchup, her reward for knocking out three past champions in a row would be … Victoria Azarenka, the current Australian Open title holder.
Although many probably would have preferred to see a Serena-caliber foe take out Clijsters in a final "good old days" type of battle, it was fitting that a young up-and-comer like Robson be the one to do the deed. Robson herself expressed on court afterwards what a great role model the Belgian had been to her and this next generation. That is, in fact, largely what Clijsters will be known for — her ability to inspire.
If you recall, Clijsters has retired before, and her second career was far more successful (and miraculous) than her first. She left the sport in 2007, after winning her first and only Slam in Flushing in 2005, to have a baby. Then in 2009, she returned to the tour and weeks later won the U.S. Open again, taking out two Williams sisters and a Wozniacki along the way. She successfully defended her title the following year, and finally claimed an Australian Open trophy a few months after.
Tennis fans have largely always felt as if the affable, relatable, lovely, funny Clijsters was their own, regardless of where she went. Case in point: The Australians have been calling her "Aussie Kim" long before she every hoisted their coveted trophy above her head. She has been adored by the people watching, the people writing, and the people competing against her. During her press conference last night, Clijsters sat down in her chair and bittersweetly grinned. "Last time!" Someone replied, "You look happy about that."
She smiled even wider. That's Kim.