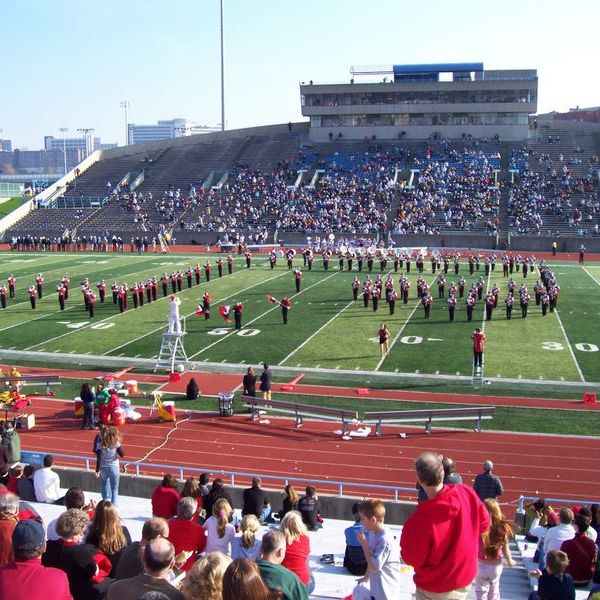 The rest of the country is preparing for the first weekend of college football, which will kick off tomorrow night with South Carolina versus Vanderbilt and fourteen other games. (The Boise State versus Michigan State game Friday night is the key kickoff game, though.) Here in New York, though, we're still dorking around Jets practice. New York City is the center of the sports world everywhere except college football, where it barely registers. Unless we missed a bunch of people standing in line for tickets to the Pinstripe Bowl.
Now, a large number of our friends watch their alma maters at sports bars on Saturdays, but as for local games to go to, well, there isn't much. If you wanna see a college football game in person this year, here are your options.
In the City. Believe it or not, there are three actual live college football stadiums in the city; you might have noticed them when you were about to land at LaGuardia. The easiest one to get to is Wien Stadium, home of the (historically awful) Columbia football team. Wien Stadium is actually in Manhattan, in Inwood: Take the A or the 1 all the way to 207th and then walk over. We used to live in Inwood and often jogged around the stadium. It's fun. Columbia's first home game is Saturday, September 15 against Marist. The other stadium accessible by subway is Coffey Field, where Fordham plays. Come see the alma mater of Arizona Cardinals quarterback John Skelton! You can take the 4 or D up there and then take a bus; it's about a mile and a half from the Bronx Zoo. The Rams' first home game is actually tomorrow night, against Lock Haven, whatever that is. Lastly, there is Wagner College Stadium, which is in Staten Island. You don't want to go there.
Division I. Sorry, "FBS." The state of New York only has three FBS teams: Syracuse, Buffalo, and Army. Army is the closest shot; you can take a Metro-North train and be in Peekskill in 75 minutes, with just a cab ride to the stadium from there. Their first game is September 15 against Northern Illinois; they'll be hosting Boston College in a month. You can also take NJ Transit right to Rutgers games: We did this a few years ago and had a terrific time, if you ignored the final score.
The Pinstripe Bowl. It's December 29. The Yankees would love it if you would buy some tickets, please.