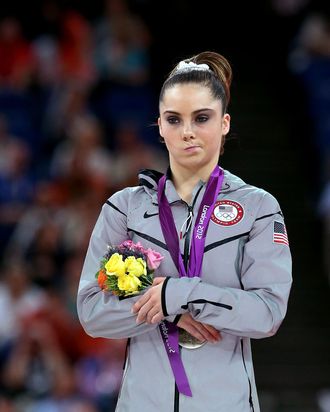 Jordyn Wieber misses the all-around because of a controversial rule. The Ukraine men are announced as bronze medalists until Japan is petitioned onto the podium to knock them off. Alexandra Raisman ties for bronze in the all-around, but loses a cruel tiebreaker and ends up empty-handed. It's been quite a week. The action continued with two more shockers on day one of event finals yesterday, which featured men's floor and pommel horse, and women's vault.
It was the safest bet in the entire Olympic gymnastics competition: McKayla Maroney would win gold on vault. USA's Maroney was more than just a favorite for the title; she's far and away the best vaulter in the world and widely considered one of the best female vaulters of all time. She practically had the gold medal already hanging around her neck and just had to go out there and get it. But Sunday was a harsh reminder that being the best in the world doesn't matter; when gold, silver, and bronze are on the line, only two vaults count.
Maroney was the second-to-last gymnast to compete and landed her trademark Amanar vault with the smallest of hops, blowing the competition away with a 15.8. She had one more vault to go for gold. Perhaps Maroney was so eager to finally get her hands around the medal everyone already claimed she would win, because she uncharacteristically rushed her second vault, landing flat on her behind. Maroney looked utterly stunned as she stepped off the podium.
But stunned doesn't even begin to describe what observers felt, and likely what Sandra Izbasa, the woman standing at the end of the runway awaiting her turn, felt. Izbasa, the 22-year-old Romanian who captured gold on floor in Beijing, saw an open door and she vaulted right through it. Despite landing on her feet twice, Izbasa's score for gold was only one tenth higher than Maroney's with a fall. Izbasa would gasp in disbelief as her name rose to the top. Russia would celebrate bronze for Maria Paseka, and Maroney would settle for silver on a day that was supposed to cement her supremacy. The wait continues: The U.S. has never won an Olympic gold medal on vault.
Men's pommel horse helped draw a big crowd today — including the Duchess of Cambridge, a.k.a., Kate Middleton — and the crowd was there to see one man: Great Britain's Louis Smith. Smith already wins the award for coolest haircut, but what sets him apart in competition is his incredibly calm style on the pommel horse. Smith qualified firmly in the top position, and the 2008 Olympics Bronze medalist on pommels was poised to nab gold in front of the home crowd. In what was a dream draw, Smith would be the last man to compete.
As expected, it came down to Smith and Hungary's Krisztian Berki, the two-time defending world champion on pommel horse. Berki hit a near-perfect routine with stunning execution. The arena went dead silent as Smith was given the signal to start. He knocked out an electric routine that brought the crowd to its feet. When the score came up, he was in a tie with Berki, but execution scores broke the tie and Berki had the edge by one tenth of a point. Louis Smith would tie for gold, but would wear silver around his neck. Smith's young teammate Max Whitlock hit the best routine of his life to grab the bronze for team GB.
Men's floor was less tense. China's Zou Kai defended his Olympic gold medal by turning in a near-flawless routine to top Kohei Uchimura, who will end his Olympics with the silver medal. The question still remains whether Uchimura will continue or retire after these games. Russia's Denis Ablyazin's powerful display of tumbling earned bronze and America's Jake Dalton finished strongly in fifth.
Today, the last day of event finals … and the last day of gymnastics at the 2012 London Olympics. Sad.
Lindsey Green is writing about Olympic gymnastics for The Sports Section. You can e-mail her at Lindsey@ti14th.com.