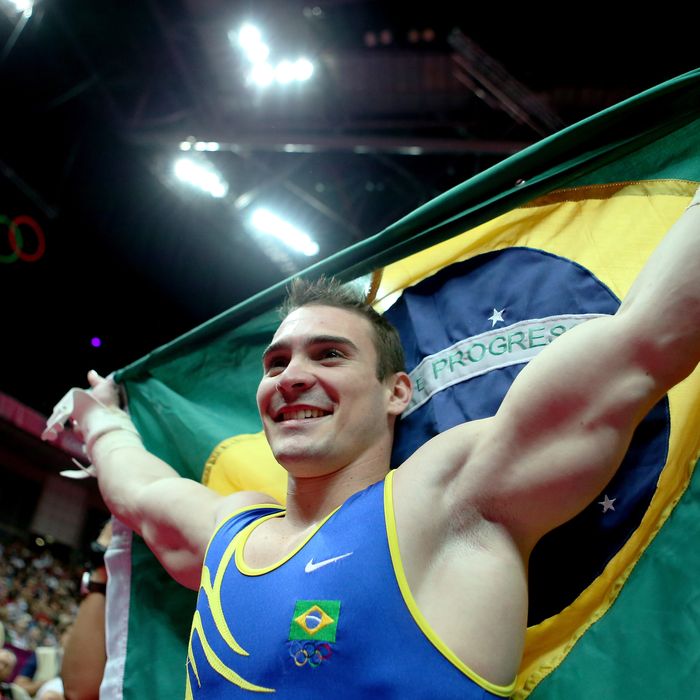 No event in gymnastics leads to the variety of countries on the medal podium as men's still rings, but, even accounting for that, it was a historic day for Brazil. Arthur Zanetti took the gold medal away from "King of the Rings" defending Olympic champion and eight-time world champion Chen Yibing of China, winning Brazil's first-ever gymnastics medal. (This is a golden way to get the party started for Rio in 2016.)
The women's uneven bar final, perhaps the most heavily anticipated final of these games, fielded a group of women so deep in talent that any one could have taken the gold. The competition began with defending Olympic champion He Kexin of China. After struggling for the better part of four years, she came through, setting set a tough standard of 15.933. She would remain at the top of the standings for the majority of the competition. Hometown and sentimental favorite Beth Tweddle, in her third Olympic games looked to finally bring home the Olympic medal that has eluded her (despite twice being world champion on this event). Tweddle delivered a stellar performance on the bars themselves but a shaky landing left her flirting with fourth place once again (the position she finished in Beijing). Tweddle would sit nervously on the sidelines as Aliya Mustafina hit the most phenomenal routine of her Olympic games. A stuck landing and a 16.133 would knock Kexin down to second and Tweddle down to third with two athletes still to compete. A low start value from Japan's Koko Tsurumi and an uncharacteristic mistake from all-around champ Gabby Douglas secured Tweddle's first Olympic medal and gave Russia their first Olympic gold for the women since 2000. 
Men's vault was a thriller. The men churned out stuck landing after stuck landing, difficult vault after difficult vault. It felt more like a daredevil showcase than gymnastics. Kristian Thomas of Great Britain was unable to recapture the vault magic that helped launch the British men to bronze in the team competition, hitting his first vault but counting a fall on the second to place outside the medals. The gold-medal showdown started with Igor Radivilov of Ukraine nearly sticking a front handspring double front flip with a half twist (a move named for Romanian great Marian Drăgulescu), and his second vault was just as sturdy. Russia's Denis Ablyazin, whose explosive tumbling on floor excited the crowds Sunday, continued his display of power on vault, nailing two stunning and complicated vaults to launch into the lead.
The best was yet to come. The last man to go — and current world champion — was Yang Hak Seon from South Korea, who threw the most show-stopping vaults of the entire group. Standing up a first vault with the highest degree of difficulty of the entire final, then performing a perfectly stuck, flawlessly executed second vault for an average of 16.533, Seon secured the gold, the first-ever gymnastics medal for South Korea. Ablyazin would win silver and Radivilov would get the bronze. 
Tomorrow will be the final day of gymnastics for the 2012 Olympic games. Which means that, for us super fans, tomorrow starts the countdown to Rio. In case you're wondering, it's 1,459 days.
Lindsey Green is writing about Olympic gymnastics for The Sports Section. You can e-mail her at Lindsey@ti14th.com.