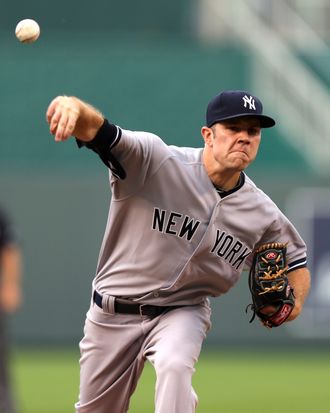 The pessimist in us knows that it's not a great sign that the Yankees once had a double-digit lead in the American League East, but now lead Tampa Bay by a less-than-commanding five games (and lead the Orioles by just five-and-a-half). The optimist in us, meanwhile, knows that the Yankees aren't likely to play quite as badly as they did for a few weeks after the All-Star break, and realizes that having a five-game lead despite such a rough stretch is sort of encouraging. And so while the Yankees are in a good place in the standings right now, a lot can happen between now and October. There's no guarantee the Yankees and Rangers will finish with the two best records in the American League, and even if they do, there's no guarantee that they'll both advance to the ALCS. Technically speaking, this is a potential playoff preview, because, sure, these teams could meet in October. But it's still a little too early to try and figure out who might play whom in the postseason.
Having said that, the Yankees and Rangers are, on August 13, the teams with the two best records in the American League, and they kick off a four-game series at Yankee Stadium tonight. At 67-46, Texas has the best record in the A.L. and the biggest lead (6.5 games) of any first-place team. The Yankees, meanwhile, have won four out of five, and at 67-47 are half a game behind the Rangers in the overall American League standings. (Worth noting: The team with the best overall record not only gets home-field advantage throughout the American League playoffs but gets to play the team that survives that one-game Wild Card round in which a team could use it sace before the ALDS even begins.)
It was something of a mixed weekend for the Yankees in Toronto: On the one hand, they won two out of three games, after winning the final two games of their series in Detroit last week. On the other hand, Phil Hughes struggled again, lasting just four innings in yesterday's loss after going just four and a third in his previous start. We've been repeating for a while that Hughes is the biggest wild card in this rotation, though perhaps the biggest issue facing the Yankees' starters right now is simply being able to take the ball every five days. Over the weekend, the Yankees placed CC Sabathia on the disabled list for the second time this year, where he joins fellow lefty Andy Pettitte (and, for that matter, would-be starter Michael Pineda).
Joe Girardi didn't sound overly concerned when discussing Sabathia's injury this weekend, and Sabathia says he'll be ready to pitch as soon as his fifteen days are up. So that's something. In the meantime, David Phelps starts the series opener against Texas tonight. (Oh, and Derek Lowe officially signed with the team today, and will work out of the bullpen. If only the Yankees could make it 2002 again through science or magic, they'd be just stupid with All-Stars right now.)