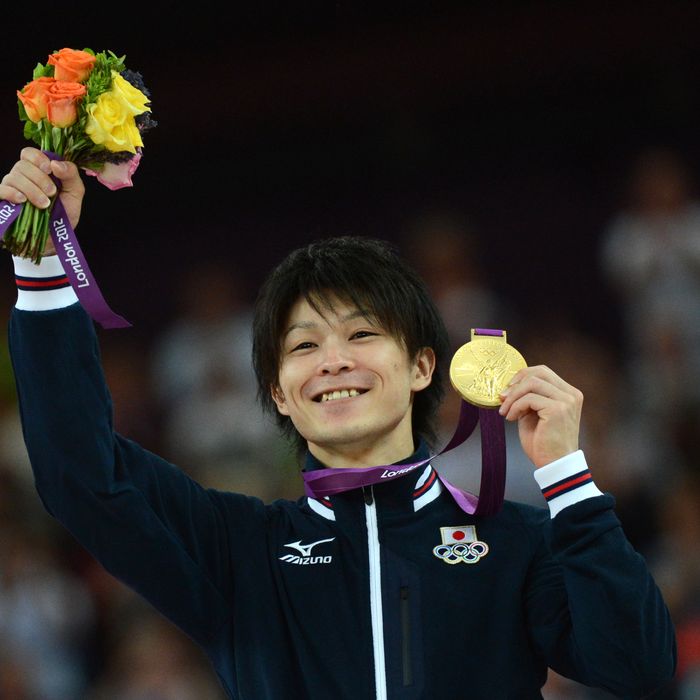 As expected, today's men's all-around competition featured the crowning of Japan's Kohei Uchimura as the all-time King of Men's Gymnastics. His Olympic gold medal, following three consecutive world all-around titles, pretty much officially earns him the title "Best Ever." Kohei's greatest achievement didn't come without struggle or a good fight, though.
After Team USA's unraveling in the team final, John Orozco and Danell Leyva had some making up to do, but only Leyva found redemption. Both Americans opened with solid routines on floor, but in the second rotation, they faced the dreaded pommel horse again. It didn't go well for Orozco. The USA's most solid pommel worker couldn't show what he's capable in these games and received a low 12.666. It's worth noting that Orozco is a young competitor on the men's side — he's only 19 in a sports when men tend to peak in their 20s — and his best gymnastics is likely to come. Leyva, however, took to pommels and fought through to keep his dreams of an all-around medal alive. Across the arena, Uchimura survived the pommel horse, the event that cost him gold in Beijing, while British favorites Daniel Purvis and Kristian Thomas, still feeling the confidence from their team bronze, started off strong.
On the apparatus vault, Uchimura put his foot down with authority, literally, sticking his difficult vault cold and dead center for a huge score and a boost in the standings. Leyva quietly moved up the ranks on still rings, sticking his landing and even showing a smile or two as the British men continued to roll impressively. It would all change at the next event.  
Leyva had his mind on strategy and opted for a less difficult vault, and it paid off, moving him within reach of a medal. Kristian Thomas — who stuck his vault to give team Great Britain the bronze two days ago — overcooked his landing this time, falling to the mat and off the medal stand.
His was just one of many disappointments for the fans in London. Fan favorite Fabian Hambuchen, known for his incredible sportsmanship, had a rough day, sitting down on his vault landing and falling from the high bar. Hambuchen's teammate (and favorite of the lady fans) Marcel Nguyen stepped it up for Germany, though, cranking out hit routine after hit routine. 
After four rotations, Uchimura took his place at the top of the standings and, for the first time in his career, he opted to play it safe: He didn't perform the release move on the high bar, one that has given him trouble at these games, a sign of just how badly he wanted gold. It didn't matter. Superman flew high, caught perfectly and landed without even a flicker of movement. Uchimura stepped off the platform to stand one event away from history.
As the drama on the high bar unfolded, Leyva grasped the parallel bars, his signature event, and prepared to make his move. In a routine fitting for the man who holds the world title on P-bars, it would be the highest parallel bars score of the day. The athlete who would match that parallel bars score? Marcel Nguyen. The two men were about to be locked in a battle for silver and bronze.
The final rotation was tense. John Orozco lived up to his nickname ("Silent Ninja" — Ed. Note: We thought all ninjas were silent?), staging a stunning comeback on the high bar and finally showing his megawatt smile. The youngster fought back to finish 8th after being ranked 22nd. 
The real tension came at the top of the standings. Tanaka fell from pommel horse, slamming the door on his medal hopes and opening the door for Nguyen and Leyva (who hid under his lucky towel for the entire rotation). Then Uchimura stepped up to the floor exercise to take his crown. It was perfection … until gasps filled the arena as he put his hands down on a tumbling pass. It was still enough; he waved graciously to the fans as the score sealed the deal. Leyva and Ngyuen performed last, Leyva on high bar, Ngyuen on floor. Leyva pulled out all the stops, thrilling the crowd with his highflying release moves, and upon landing he let out a primal shout, knowing he had done enough. Ngyuen would go next to determine the color of Leyva's medal. In a captivating finish Ngyuen's stunning floor routine snagged the silver to give Leyva a well-earned bronze.
But this was Uchimura's day. As he took his place atop the podium and was announced Olympic champion, the loudest cheer in the arena came from the man standing with bronze, Danell Leyva, showing just how much even the athletes appreciate this incredible gymnast and his amazing feat.
 Lindsey Green is writing about Olympic gymnastics for The Sports Section. You can e-mail her at Lindsey@ti14th.com.