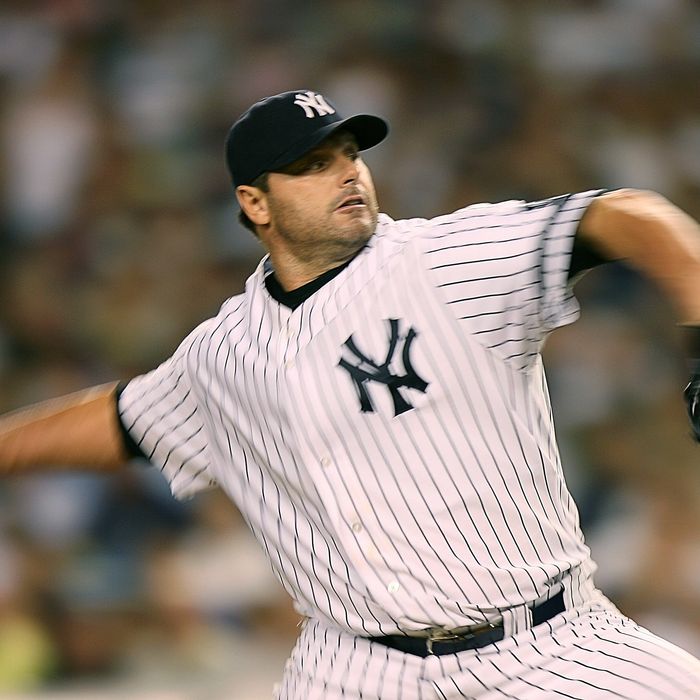 Here's what we know about Roger Clemens: He's expected to start Saturday for the Sugar Land Skeeters of the Atlantic League That Also Has One Team in Texas. His agent said yesterday this was "a one game at a time thing," meaning there may be more starts in his future beyond Saturday's outing against the Bridgeport Bluefish, or there may not be. And so even if this isn't simply a publicity stunt by the Skeeters — they say it isn't, though it's minor-league baseball, so who cares if it is? — signing a contract with an independent minor-league team hardly means that a big-league offer is imminent. But the Roger Clemens MLB Comeback Watch is already in full swing, isn't it?
Clemens, for his part, isn't saying that he wants to pitch in the majors, but he also isn't saying that he doesn't want to. Via USA Today:
Clemens, 50, told a throng of media in Houston that he's "just going to have fun with it. For the fans. … If I get through Saturday, we'll see where we go from there."

For Clemens, his comments eschewed the glaring question most baseball fans want to know — is this move designed to bring him back to the major leagues?
USA Today reported that Clemens "remained coy" about his chances of pitching somewhere higher than the Atlantic League. Via the paper, he says he "wouldn't even consider thinking about that far ahead" when asked about pitching in the big-leagues. He could have said "no." He didn't. And thus it begins.
Ken Rosenthal, meanwhile, has a piece up today titled "Clemens could reset his HOF clock." (By appearing in a major-league game, he'd no longer be eligible for the Hall of Fame this winter, and would have to wait five more years after throwing his final big-league pitch.) Rosenthal points out that the Astros' amateur scouting director watched Clemens pitch before he signed with the Skeeters, and the Houston Chronicle reports that while the Astros say they have no plans to bring him back, they'd check with the league first if they ever do. It that "if they ever do" part that gives us the feeling this stuff isn't going away yet.
Rosenthal also included this quote, which is the sort of thing that plants in the readers head that, hey, maybe this could really happen:
"He is in condition to pitch and pitch successfully," said former Astros club president Tal Smith, who is now a consultant and special adviser to the Sugar Land ownership and witnessed Clemens' bullpen session Monday.

"How that translates to the major leagues, obviously, that's a little bit different. But I wouldn't put it past him."
Let's not forget, tough: Clemens just turned 50, and hasn't pitched in the majors in five years. (He was last seen pitching injured in Game 3 of the 2007 ALDS, then leaving after just two-and-a-third innings.) Can a 50-year-old Roger Clemens get out major-league batters with an 87-mile-an-hour fastball? Can he even get out Atlantic League batters at this point? If he's awful on Saturday, we probably won't be having this discussion anymore on Sunday, no matter how desperate the Astros are for some attention. Your favorite Atlantic League team is now the Bridgeport Bluefish.