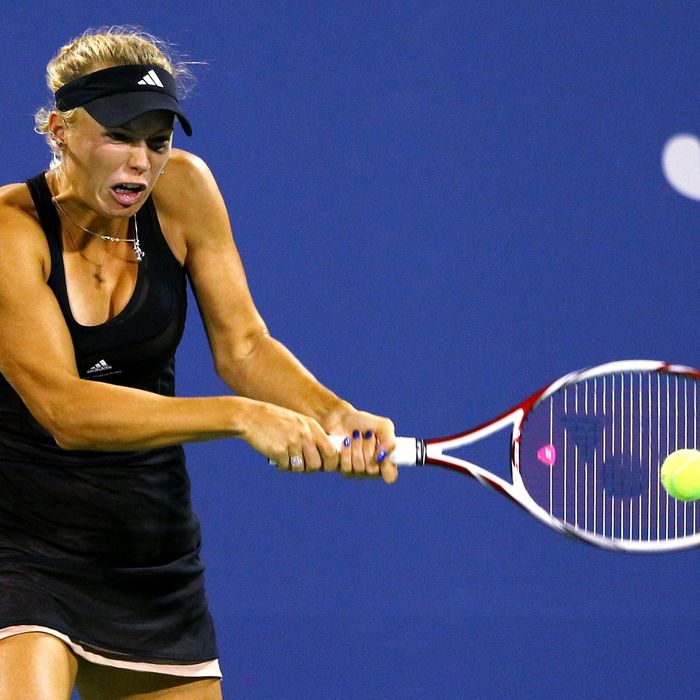 Last night, the U.S. Open experienced its first significant upset of the tournament (on paper, at least), as Caroline Wozniacki, a semifinalist and top seed in 2011, fell to No. 96, Irina-Camelia Begu, in just two sets. The Danish player was far from a favorite to win the title this year — as evidenced by the fact that her match was shoved to the secondary Louis Armstrong court — but normally Begu would fit nicely into Wozniacki's routine of frustrating lesser-ranked players with unrelenting counterpunching. While the loss further contributes to the argument that the former No. 1 can't play aggressively enough to claim her maiden Grand Slam, it also emphasizes the traditional early-round yarn: if you want to see something unexpected, don't stay on the main court.
The night session at Arthur Ashe was in full force as Wozniacki struggled on the ghostly quiet Armstrong Stadium next door. When put into context, her crash in the first round perhaps isn't all that shocking. The Dane withdrew from her semifinal in New Haven late last week with a knee injury, and evidently four whole days wasn't enough time for it to heal, because she came out sporting a wrap and called for a trainer in the second set. Wozniacki is a defensive player without much of a weapon to rely on, so when her movement is compromised, so too are her chances of survival. Wozniacki hasn't been as threatening to the top players lately, but her loss is good news for fan favorite Ana Ivanovic, who now has a very real chance of making her first Slam quarterfinal since 2008.
While Wozniacki's hopes and dreams were squashed on Armstrong, you can probably wager a guess as to what Ashe had to offer. The combined scorelines for the night session matches played by Novak Djokovic and Serena Williams are as follows: 6-1, 6-0, 6-1, 6-1, 6-1. It really doesn't matter if you know who the sets belong to, or in what order they go. If you include the day matches as well for Venus Williams, Andy Roddick, and the second seed Agnieska Radwanska, eight of the twelve sets were a bagel or a breadstick.
Conversely on the outer courts, Guillermo García-López, Marcos Baghdatis, Milos Raonic, and Alexandr Dologopolov (among others) all pulled out exciting victories in five sets, while Begu and Sloane Stephens orchestrated notable upsets on Armstrong. (The latter, a promising young American, skillfully put down the 2010 French Open champion Francesca Schiavone in straights.) Even watching Julien Benneteau repeatedly chase a squirrel off the court while he defeated Olivier Rochus, was likely more interesting than the pummeling on Ashe.
Particularly intriguing of the outer-court dramas was Raonic's five-setter, for myriad reasons. To begin with, the "Canadian" player has been hailed as the second coming of Pete Sampras, and Andy Murray hopefuls were nervously awaiting a potential run-in at the fourth-round. So, many eyes were fixed on the Montenegro-born 21-year-old. He struggled to find his missile-like serve, however, opening the door for his opponent Santiago Giraldo. Spectators clamored to get a glimpse of the show, as Raonic slowly clawed his way back from being down two sets to one.
But beyond Raonic's future potential or his place within the draw, there was a little matter called Hawk-Eye that affected the tenor of the match. That is to say, Court 11 doesn't have it, and players cannot challenge what they think are bad calls. Raonic was perturbed by such an instance early on, and later, at a crucial point in the match, Giraldo was absolutely incensed when the chair umpire overruled his impressive forehand and called it out. He let out a guttural, eye-bulging scream, and then was summarily broken as he served to stay in the match at 4-5 in the fifth. It would appear that he crumbled in the end, unable to shake his irritation with the perceived injustice.
But why doesn't the rather-large, televised Court 11 have Hawk-Eye anyway? Why revert back to human error when players now expect the luxury of technology? Lately, discussion about those spiffy plans for the U.S. Open have pointed out how the inclusion of a roof is notably missing. But how about Hawk-Eye? The BNP Paribas Open in Indian Wells is a Masters Series event in the U.S., and yet all eight courts have the technology; only four have it in Flushing. Not surprisingly, Hawk-Eye isn't cheap. The Farmer's Classic tournament director told USA Today in 2011 that it cost them about $60,000 to $70,000 per court to install, which would mean around $700,000 to do the same for all the courts with scheduled matches at Flushing. But that's a drop in the bucket compared to the proposed $500 million the USTA is estimated to be spending on the structural renovations.
Regardless, this is the sort of drama that trumps the main court action in the early days of the tournament, and it should continue today as well. If you find yourself in Flushing, consider catching the second match on the non-televised Court 8, in which "Baby Federer" Grigor Dimitrov takes on a worthy challenge in Frenchman Benoît Paire.