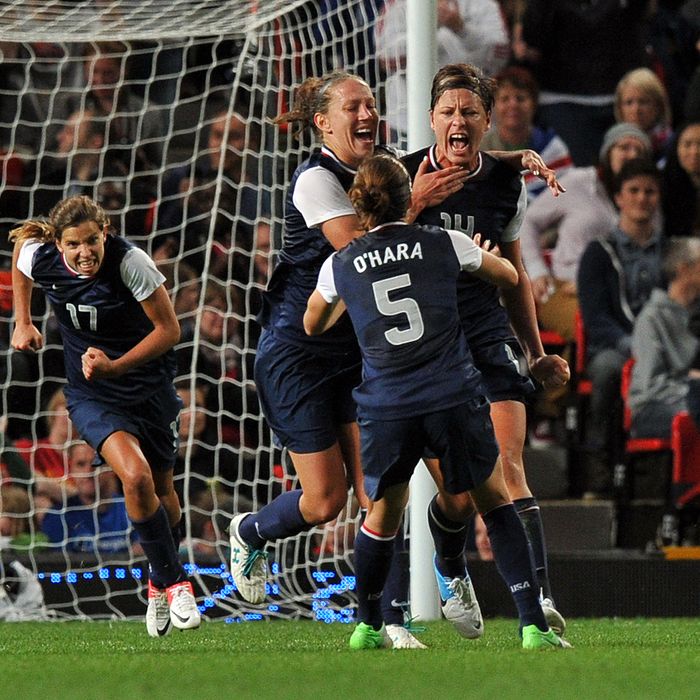 The U.S. is headed to the gold-medal match against Japan.
Good lord, what a game. A dizzying shootout between former college teammates Christine Sinclair and Megan Rapinoe gave way to some troublesome refereeing in favor of the U.S., which gave way to a 3-3 score in regulation, which gave way to a sloppy, chippy 30 minutes of extra time, which finally gave way to an Alex Morgan game-winner and PANDEMONIUM.
Regulation was an ever-accelerating seesaw of goals. The game opened with plenty of blown opportunities for both sides, but Sinclair knifed through the U.S. defense startlingly unchecked to give Canada a 1-0 lead heading into halftime. After the break, things just erupted. Sinclair's old University of Portland colleague Megan Rapinoe looped a corner kick perilously close to the net and watched it ricochet off a couple of Canadians for a lovely game-tying olímpico. The rival nations (and former teammates) were far from done trading goals. Sinclair pierced the American backfield twice more, bedeviling Hope Solo with a couple of pinpoint headers. Her hat trick was the first registered against the U.S. team since 2001, and it was fairly terrifying. Solo might not be sleeping much in the near future, even with the win.
The U.S. managed to keep pace, though, thanks to a diagonal Rapinoe missile sandwiched between Sinclair's second and third goals. Then, down 3-2, some consistently questionable refereeing came to a head, as the U.S. earned an indirect free kick from an arcane six-second "wasting time" call on Canadian goalie Erin McLeod, then a penalty kick when Rapinoe's kick clipped the arm of a Canadian in the box (the logic, apparently, was that the handball could have been avoided, but that's dubious). Abby Wambach drilled the tying PK, but missed an open net in the 84th minute, leaving the match's outcome to extra time. Fatigue and frustration set in during those final 30 minutes, with both sides gasping and grimacing through sloppy play and missed opportunities.
This one didn't deserve to be decided by penalty kicks, though, and it wasn't. Alex Morgan, purveyor of many an unfulfilled set-up cross, took matters into her own … uh … head and finished a cross herself, narrowly avoiding a shootout with a monumental header in the 122nd minute.
'Twas an explosive, maddening back-and-forth battle, and an instant classic. The consensus among those who watched is "I need a nap or a drink or something," so one can only imagine how the players feel. Thankfully, they have a couple days to gather themselves. The win today sets the U.S. up for a shot at redemption against the Japanese team that defeated them in a shootout in the 2011 World Cup. That gold-medal match will be on Thursday. It'll be worth watching.