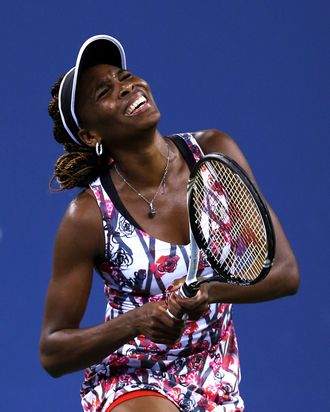 When the U.S. Open draw was first selected last Thursday, the idea of a second round matchup between Venus Williams and the sixth-seed Angelique Kerber seemed exceptionally mouthwatering. Venus has slowly been climbing her way back to competitive form, having orchestrated an impressive semifinal appearance in Cincinnati two weeks ago. Kerber is a young player who made a name for herself at last year's Open when she notched a surprise run to the semis at this very tournament. Both are fantastic players meeting far too early in the tournament, and it was excitedly assumed that their collision would be the most competitive night match yet. So naturally it was almost a disaster.
From the get-go, Venus was spraying errors and serves left and right, and it seemed like the LOLs on Arthur Ashe were going to continue. Kerber tracked down everything, returning nearly every groundstroke, forcing Venus to come up with something better. She usually didn't. For the first set and a half, it was painfully, inexplicably bad. An example: While down a break, Venus gave up on a lob that she thought was going long … only it landed well in. Like, on the blue of the court in. She also dumped numerous easy volleys and overheads into the net, inspiring a literal facepalm in response. During the first set, Venus's first serve percentage was somewhere in the thirties.
But Venus has that fiery competitive Williams DNA, so she would not go down easily. She dialed in her groundstrokes and began having immense success at the net, the latter an always thrilling sight with those long arms that can reach just about any passing shot. She clawed away at Kerber's game, and despite Venus's hot-and-cold play (or sometimes because of it), the match became electric in that nutty, nighttime-at–Arthur Ashe kind of way. Venus somehow stole the second set, but in the end, the very promising Kerber kept her head firmly on her shoulders, ignored the loud, biased crowd, and broke Venus at five all in the third to serve out the match.
Kerber was always a strong dark-horse candidate, but after seeing her composure and strength of play last night, it seems all the more likely that she'll make it to the quarterfinal, besting the second seed Agnieszka Radwanska and setting herself up for another run-in with a Williams sister, Serena, whom she beat in Cincinnati two weeks ago. Venus, meanwhile, may find that the omnipresent questions about when she'll hang up her tennis racket will unfortunately continue with renewed severity now that Andy Roddick has announced his own retirement. In fact, for the next two weeks, prepare yourself for commentators scrutinizing every move and flaw that an over-the-hill player makes, looking for signs of retirement like Perez Hilton and his ilk try to find baby bumps.
Venus's initial start to the match last night was not the only performance to disappoint yesterday. The fifth seed on the men's side, Jo Wilfried Tsonga, offered a bizarre effort against Martin Klizan. (It's okay if you have to look that name up; most people watching probably did.) Tsonga played a lot of tennis this summer, right up until late last week, and he famously had to get stitches after running into a fire hydrant in Toronto. Surely, the combination of the two couldn't have been doing him any favors while he took himself out in four sets.
Across the board, it appears as if Andy Murray's quarter of the draw has deteriorated a bit in the first two rounds. He was projected to play Tsonga in the quarterfinal, but now seems likely to see Marin Cilic, who yesterday played his second five-set match in a row. Before then, he'll play Feliciano Lopez and potentially Milos Raonic, both of whom have also notched tiring five-setters. At least getting to the semifinal, where Murray would likely meet Roger Federer, seems like an easy order at this point. But as we very well know from the record number of men this year who have claimed victory after being down two sets to love, no advantage should be taken for granted.