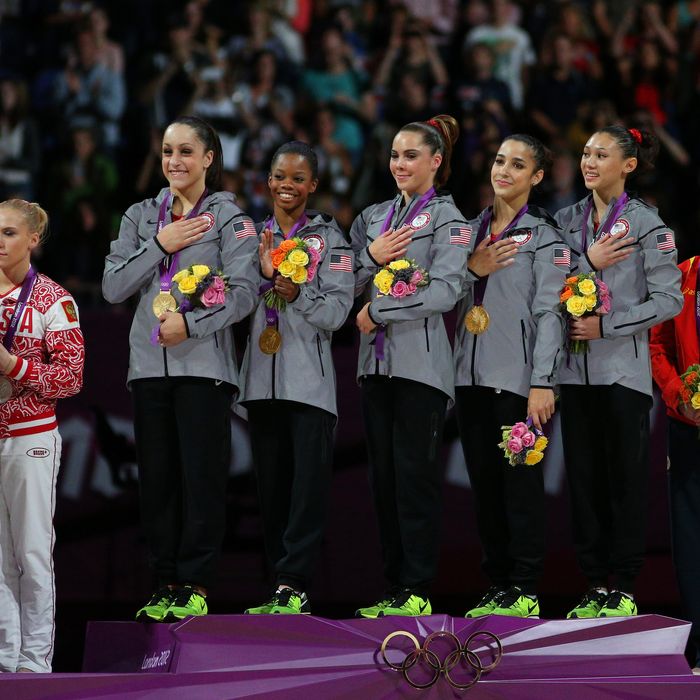 The U.S. women's gymnastics team after winning the all-around event.
As of this writing, the United States has won 21 gold medals (more than any other country) and 43 total medals, also the most of any nation. Twenty-eight of those medals have come in the pool at the Aquatics Centre, where the swimming events are being held. The U.S. has also won three medals in gymnastics: The American women won the team all-around, Gabby Douglas took the gold in the individual all-around, and Danell Leyva won bronze in the men's all-around. Meanwhile, the men's basketball team continued its march to the gold-medal game, while back in the States, we here at The Sports Section recapped NBC's tape-delayed prime-time coverage, while explaining some sports that TV viewers might not be familiar with. But what happened this week that didn't involve the two-per-country rule, Chinese gymnasts, British cyclists, empty seats, badminton controversies, confusing judo finishes, or amazing Olympic images?
The Yankees dropped two out of three to Boston, then lost two out of three to Baltimore.
After splitting with the Diamondbacks, the Mets won three of four in San Francisco.
The Yankees acquired Casey McGehee at the trade deadline, while the Mets remained silent.
We broke down John Sterling's home run call for Ichiro Suzuki.
Jordany Valdespin learned not to wear T-shirts to the ballpark.
The Yankees Facebook page was hacked.
We looked at this week's Jets non-controversy.
And Eli Manning made a funny.
That's it for us. Have a great weekend.