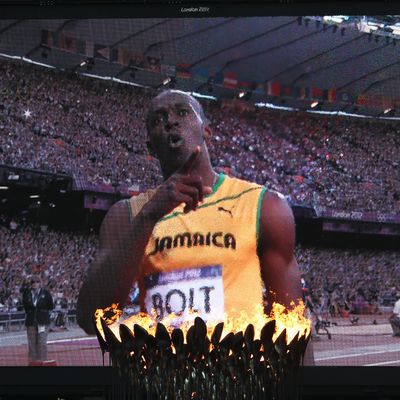 Usain Bolt's image appears on a video board behind the Olympic cauldron.
As of this evening, the United States had won the most gold medals (41) of any nation, as well as the most medals overall (94). All together, now: USA, USA! It's been a busy week: Michael Phelps closed out his career with one final gold, and American swimmers finished the Olympics with 31 medals in all. The artistic gymnastic events wrapped up with the U.S. taking home six medals, half of them gold. The women's soccer team won gold, as did American boxer Claressa Shields. And the men's basketball team earned a spot in Sunday's gold-medal game with a victory over Argentina today. Meanwhile, the prime-time coverage of the Games made our recapper, at times, want to punch NBC in the crotch. But what happened this week that didn't involve legendary sprinters, horror-movie soundtracks, water polo announcers, pacing motorcycles, rhythmic gymnastics apparatuses, surprised-looking long-jumpers, incredible photos, and enthusiastic Londoners?
After winning the rubber game of their series with Seattle, the Yankees split with Detroit.
The Mets dropped two of three to Jose Reyes and the Marlins.
Dwight Howard was traded to the Lakers.
There was a fight at Jets camp.
John Sterling screwed up the call of a Casey McGehee double.
And we looked at the poor, doomed Mets career of Jason Bay.
That's it for now, but we'll be back this weekend with more coverage of the U.S. men's basketball team. Have a great weekend.