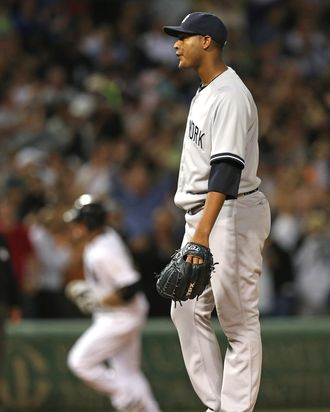 A little more than a month ago, the Yankees had a double-digit lead in the American League East standings. But when the Yanks begin their series in Cleveland tonight with CC Sabathia on the mound, they'll have just a 2.5 game lead over the Rays. After winning two out of three against the Red Sox over the weekend, the Yankees got swept by the White Sox in Chicago (and placed another starting pitcher, Ivan Nova, on the DL). The Rays, meanwhile, remained hot: They've won seven of eight and fourteen of seventeen. But what happened this week that didn't involve frustrated managers?
Will passed along the DVD extras of his magazine feature on Barclays Center.
The Mets got swept by the Rockies, even losing in the game that Collin McHugh made his terrific debut. Mike Francesa, meanwhile, didn't like what he saw from the Mets this week.
Roger Clemens signed with the independent Sugar Land Skeeters, kicking off the inevitable chatter about a big-league comeback. You can watch him pitch tomorrow on ESPN Classic.
We encouraged readers to stop feeding the Skip Bayless.
We looked at what might be the Knicks' new uniforms.
Lance Armstrong stopped fighting the doping charges against him, but that doesn't erase the time our resident cycling fan spent cheering for him.
And we broke down the U.S. Open draw, and previewed the men's bracket. (We'll look at the women's bracket on Monday.)
That's it for us. Have a great weekend.