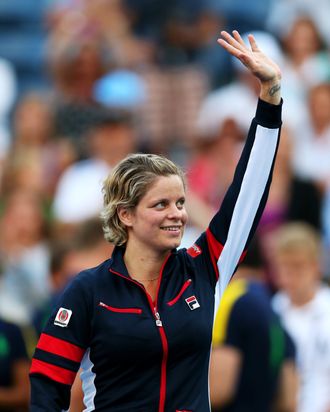 The 2012 U.S. Open is turning into a tournament of good-byes: Kim Clijsters played her final singles match earlier this week, and in a stunning move, Andy Roddick yesterday announced that he too will be retiring at the end of the Open. Meanwhile, we've seen a couple of early exists in the women's bracket: Caroline Wozniacki lost on Tuesday, and Venus Williams lost last night. But what happened this week that didn't involve the promise of a roof, someday?
The Yankees dropped two of three to the Blue Jays.
The Mets won two of three in Philadelphia.
The Jets finally scored a pre-season touchdown.
After last weekend's Red Sox–Dodgers mega-trade, the Yankees became the American League's only superpower once again.
Giants defensive tackle Marcus Thomas was disappointed with Madden 2013.
The college football season began.
We got an important update on the futures of John Sterling and Suzyn Waldman.
And we profiled Paralympic table tennis player Tahl Leibovitz.
That's it for us. Have a great long weekend.