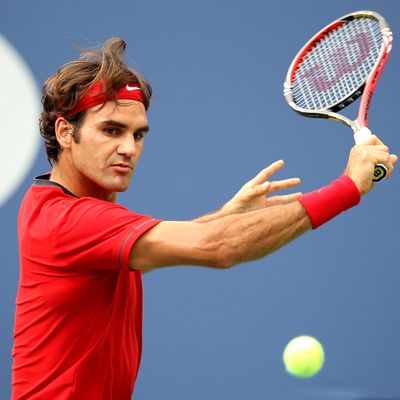 It's been a bit of a whirlwind summer for tennis this year, with the Olympic Games managing to cram yet another significant tournament into the schedule. In the span of just two months, we endured essentially three Slam-level events. And as a result, the tour stone-skipped across the American hard court season until, suddenly, we've landed on the pavement doorstep of New York City's own U.S. Open — with arguably dazed, exhausted players in tow.
The draw for the final Grand Slam of the year was selected earlier today (with notably less fanfare than last year, when it was televised on ESPN and featured awkward side-stage commentary from McEnroe n' Friends), and already there are some juicy bits to sink your teeth into. Print off your own copy of the draw here, then pencil in these footnotes as you play along at home. The main draw begins on Monday, August 27.  
1. Pity Donald Young, who just broke his seventeen-match losing streak that had stretched since February at the Winston-Salem Open … only to set himself up for an encounter with Roger Federer in the first round of the U.S. Open. After beating Leonardo Mayer to break his own personal curse, he lost to Feliciano Lopez in the next round. Count it: loss No. 1, likely followed by No. 2 in Flushing.
2. Prepare yourself for a surprise semifinalist in the second week. Rafael Nadal was forced to withdraw this year, creating an exceptional opportunity for David Ferrer, who gets his own quarter in Nadal's absence. Ferrer is projected to meet Janko Tipsaravic in the quarterfinal, but neither player is strong enough to have a real clinch on making it that far in the first place. John Isner and Richard Gasquet are their very capable (albeit somewhat erratic) company in the quarter, and either could very well muscle their way into a semifinal as well.
3. The top half of the women's draw is absolutely stacked, with Victoria Azarenka (Australian Open winner), Samantha Stosur (defending U.S. Open champ), Petra Kvitova (last year's Wimbeldon winner), Maria Sharapova (you know her), Li Na (last year's French Open winner), and Kim Clijsters. The latter may well be on her last legs after a dismal year of injuries, but let's not forget that she's technically on a 21-match winning streak at the U.S. Open, her most successful Slam.
4. Serena Williams, meanwhile, is sitting pretty on the other half with Agnieszka Radwanska, who has been flailing since her Wimbledon finals appearance this year.
5. There was no question that Federer and Novak Djokovic would be in opposite halves of the draw, but many eagerly waited to see where Andy Murray would fall in the mix. As it turns out, he's on Federer's side, meaning there's no way we'll add another final amongst the two to the pair they racked up at Wimbledon and the Olympics. Meanwhile, Djokovic will very likely see Juan Martin del Potro in the semis — if the Argentine's wrist holds up that long.
6. Venus Williams suffered disappointing results this summer on grass, her favorite surface, but on the hard courts of Cincinnati last week, she pulled out her first semifinal appearance since returning to the tour. She'll likely bring this renewed form to the second round, where she could potentially battle Angelique Kerber, the German who ousted her from the Olympics. If Williams is indeed on top of her game, this could be an especially entertaining match, in which a worthy contender will leave the tournament far too early.
7. There are a few popcorn matches set for round one, beginning with del Potro taking on his countryman David Nalbandian, with whom he shares strained relations. While del Potro should easily come through the victor, his wrist has been giving him problems recently, potentially making this more difficult if still tender. Meanwhile, American Vania King likely rues the draw gods, who placed her doubles partner, Yaroslava Shvedova, across the net in the first round. And though the average viewer may not know their names, rest assured that Benoit Paire vs. Grigor Dimitrov will likely be a tantalizing first round option on a day when the seeds are slaying their opponents.