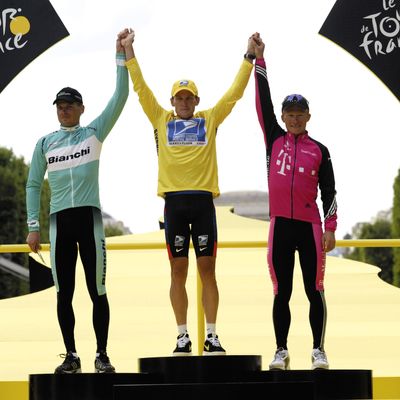 Lance Armstrong, center, at the 2003 Tour de France.
I remember watching Lance Armstrong race in the Tour de France for the first time in 1993 and thinking, Who is this joker? He's no Greg LeMond. I was a teenage girl whose interest in bike racing was entirely rooted in how it helped me bond with my bike-obsessed dad. Pre-cancer Lance was sullen and stocky (seriously, his neck was like twice as big), and in our household he was a raging disappointment who could never live up to the VHS of LeMond's thrilling, dramatic victory over Laurent Fignon by 58 seconds in 1989, which my dad would play on repeat at the start of each new Tour to pump us up.
These were dark days for sports in our home. My dad was a New York City native living in rural New Mexico, with a ten-foot satellite dish in a field pumping in disappointment by way of the Cleveland Browns fumbling at the Denver one-yard line (he'd gotten into football in Jim Brown's day), or John Starks going 2-18 against the Rockets in Game 7 of the 1994 NBA Finals, or the Yankees going through a World Series drought that had started the year I was born. The Rangers winning the Stanley Cup in 1994 was the lone bright spot, but that didn't happen until a year after Armstrong started riding the Tour, with announcers touting him as the next great post-LeMond American hope.
He won a stage in 1993— no mean feat — but dropped out in the Alps, twelve stages into a twenty-stage race, in 97th place. He didn't finish again in '94 (see this video of people in Austin having no idea who he is). He had one emotional mountaintop stage victory the next year that he dedicated to teammate Fabio Casartelli, who'd died in a crash two days earlier, and finally finished, in 36th place. And then in '96, he abandoned again looking terrible, in just the sixth stage. We had no idea at the time that he had testicular cancer. All we could think was, This guy? This quitter? Really? We shook our heads and marveled at the athletic feats of the mighty five-time winner Miguel Indurain, and winners Bjarne Riis (now known as a doper), Jan Ullrich (ditto), and Marco Pantani (ditto again).
When I found out about Pantani in particular (the plucky little guy you love to root for), it was of course disappointing. But it didn't erase those days I spent with my dad getting excited over his crazy solo attacks on the field, just as today's sad news of Lance Armstrong deciding not to fight USADA doping charges against him — the USADA is treating this as an admission of guilt, and he'll receive a lifetime ban from cycling — doesn't erase the years we spent together being disappointed with him and then learning to love him.
By the time Lance came back to cycling in 1999, I was in college, and actually doing a bike ride across the country, also inspired by my dad and those many years I'd spent watching road riders and learning that 100 miles in a day is really nothing. I'd get reports on the road from my dad about how Lance was doing and we'd marvel at how this guy we thought was such a joke could be doing so well. When I got home, my dad and I watched the entire Tour together again (from recordings he'd had a friend in Ireland make for him because American coverage sucked), as we would every time I came home, whether it was during the summer or at Christmas, as Lance won for the next seven years.
We knew he was a jerk (something I found out personally years later when I got assigned an article on him, to the delight of my dad, and spent 17 1/2 truncated minutes talking to him, and four or five hours in his presence as he pretended I didn't exist). But God, he was amazing to watch, winning time trials and powering up mountains with this new, lean, cancer-ravaged body and the determination of a man who had fought his way back from the brink of death. And we loved how much better ABC's Tour coverage was now that there was someone in the race Americans could get behind.
Rumors of doping swirled — along with accusations from LeMond, starting in 2001 when he questioned Armstrong's association with Michele Ferrari, an Italian doctor who'd practiced blood doping. (The two cyclists have a bitter, long-standing feud: LeMond later accused Armstrong of sabotaging his deal with Trek bikes, and Armstrong has said he hopes one day "Greg LeMond will tell the truth about 1989.") But I chose to believe cancer had remade Armstrong, body and soul, into someone that the other mere mortals on the road simply couldn't touch. When my dad's father died and he and I went through a year of hard conversations, Lance and the Tour and sports were sometimes the only subjects we could talk about.
I've been convinced for some time that Armstrong doped, so today's news isn't surprising. It's just sad. The man gave my family a lot of joy, and he's helped millions of cancer patients, and this is how things have to end for him? He won seven Tours, and proved himself the best athlete in a field where most of the other riders were doping, too. Now the man is retired. The USADA stopped him from running an Ironman, at 40. Armstrong has long called this "a witch hunt." If it's not that, it's certainly undignified. The USADA didn't have hard evidence of him failing doping controls (which as my colleague Will Leitch wrote, says more about the doping controls at the time than his innocence), and their list of people willing to testify against him include former Radioshack teammates George Hincapie, Levi Leipheimer, Christian Vande Velde, and David Zabriskie, who'd all allegedly admitted to doping and worked out a deal with the USADA so they could ride in this year's Tour. How is that fair? Surely, Armstrong's lawyers told him it was over, and he took his best move under the circumstances. And still, he'll likely have to go through this all over again if his former team director Johan Bruyneel chooses to go through his own arbitration case with the USADA.
Even the news is getting it wrong. He hasn't lost his seven TDF titles, yet. The USADA doesn't have that authority. This is all pending an agreement from cycling's governing body, the UCI, and they want to hear the USADA's case.
Yes, doping is terrible and cycling is probably the dirtiest sport out there. If there's a way to make the sport clean, this is probably the biggest example one can make about how doping doesn't pay. But erasing Armstrong's name from the record books doesn't change the times I got to spend cheering him on as he won the hardest sporting event on the planet. Doping or not, what he did was pretty amazing. I'm off to call my dad and watch some old videos of Greg LeMond.