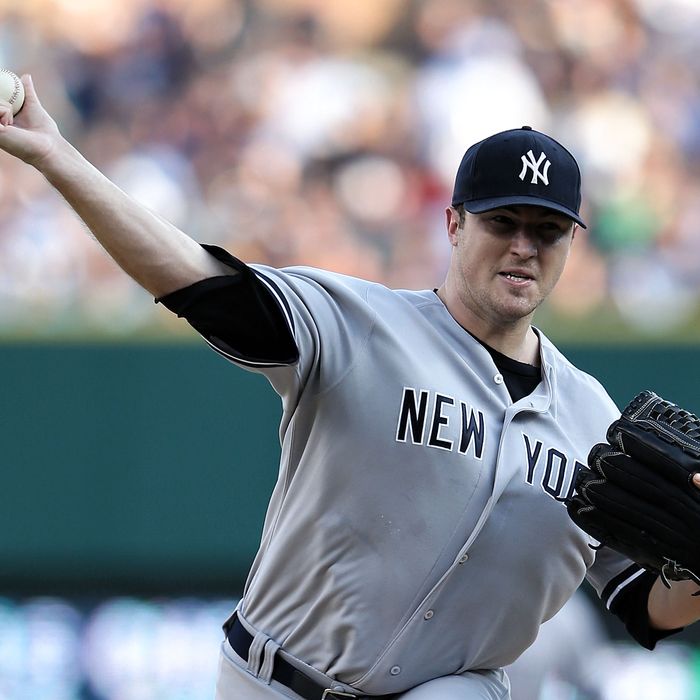 The Yankees won four of their last five games entering this year's All-Star break, and then they took five of their next six once games resumed. At the conclusion of play on July 18, the Yankees had won nine out of eleven and had a 10–4 record in July, after winning nearly three-quarters of their games in June. (They went 20–7 on the month.) One didn't need to be a pessimist to understand that they'd eventually cool off: They weren't going to play .700 ball all season, and failing to do so wouldn't necessarily be cause for concern. (On the morning of July 19, they enjoyed a ten-game lead in the American League East; they could afford to cool a bit without getting caught). And so, three weeks later, they have indeed cooled off. Quite a bit, actually. Since beginning their series in Oakland on July 19, the Yankees are just 6–12, and their lead in the division is down to four and a half games. So much for cruising to a division title.
The Yankees have had the misfortune of running into some hot teams in the past few weeks: Oakland had won ten of twelve before sweeping the Yankees in mid-July, and the Tigers, who last night beat the Yankees for the second night in a row, have now won six straight games overall and sixteen of their last seventeen at home.
The Yankees' injury issues have been well documented, and despite what you may have been told on of the team's radio broadcasts, this is a lineup with holes in it. Russell Martin is still not hitting his weight and has an OPS+ of just 83. (An OPS+ of 100 is average, and so anything lower is below average.) Ichiro's on-base percentage (.286) is even worse than Martin's, and his OPS+ is just 74. And while Raúl Ibáñez and Andruw Jones have filled in admirably since Brett Gardner went down, as we said a little while back, heaping too much praise on either of them is dangerous. And so, while the Yankees are still capable of scoring a lot of runs, there are guys in this lineup who can be pitched to. (This concludes the "addressing crazy things we heard on the radio" portion of the post.)
Anyway, we don't think this is time to panic. Just as they weren't as good as they looked in early July, they shouldn't play .333 ball for long, even with as many injuries as they have right now. Good starting pitching makes up for some lineup issues, and it's a lot easier to feel good about this team when Phil Hughes — still something of a wild card in this rotation — is turning in quality starts (as he did in four out of five July outings), as opposed to struggling like he did last night (when he lasted just four and a third innings).
Baltimore, despite the worst run differential in the division and the fourth-worst in the entire American League, is hanging around. And Tampa Bay, a game and a half behind Baltimore and six behind the Yankees, hasn't gone away either. The good news, in the very short term: Ace CC Sabathia, who was terrific in his complete-game victory against Seattle on Friday, takes the ball tonight.