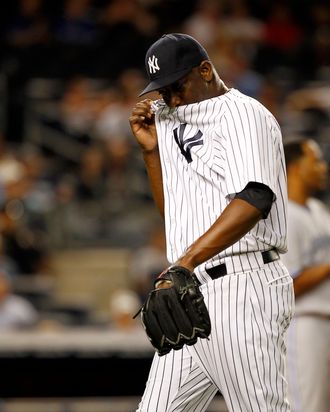 In chronological order, here's a brief list of things that happened during last night's lousy Yankees game:
• Mark Teixeira left the game in the fourth inning with a strained left calf. Joe Girardi says he doesn't think he'll play for the remainder of the series against the Jays and might not play in the next series either. (Said Teixeira, via ESPN: "It could be seven days, it could be two weeks.") For what it's worth, it's a Grade 1 strain, and that ESPN article points out that, last year, Derek Jeter missed nearly three weeks with a Grade 1 strain. In any case, it means even more lineup shuffling than usual for Girardi in the coming days.
• With the Yankees up by two with two outs in the ninth, Rafael Soriano served up a three-run homer to Colby Rasmus. It was Soriano's third blown save in 36 opportunities since he became the closer. (That's still a very good 91.67 percent conversion rate.)
• Derek Jeter tied the game with a solo homer in the bottom of the ninth, but the Yankees' bull pen would allow the winning run to score two innings later. A wild Derek Lowe pick-off throw allowed Toronto pinch runner Mike McCoy to advance from first to third, and he'd later score on a ground out thanks to some heads up baserunning. The 8-7 win snapped a seven-game Toronto losing streak.
The good news for the Yankees last night was that Tampa Bay lost — but Baltimore won and leapfrogged Tampa Bay in the standings. The Orioles now trail the Yankees by 3.5 games, and the Rays are in third place, four games out of first.