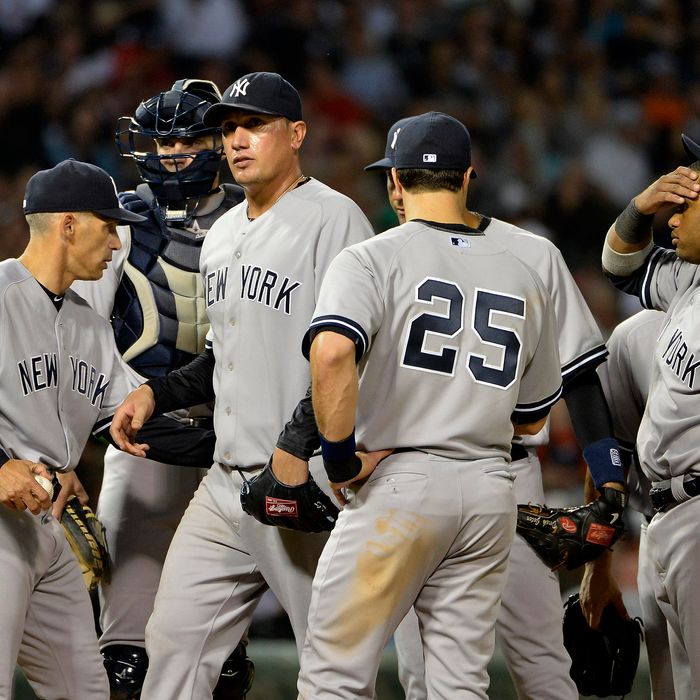 Freddy Garcia, last night.
A month or so ago, the Rays were one of four teams in the A.L. East with a mediocre record that trailed the Yankees by double digits in the standings. That divisional logjam has been clearing up, though: Boston's still hanging around the .500 mark — they're currently four games under — but Toronto is nine games under, Baltimore is ten games over, and perhaps most importantly, the Rays are fourteen games over. And last night, while the Yankees lost to the White Sox, Tampa Bay beat the Royals. The Yankees' once-comfortable lead in the East is now down to just four games.
This isn't exactly a case of the Yankees collapsing: They're 12-7 in August and a respectable-enough 20-17 since the All-Star break. Even since the more arbitrary endpoint of July 20 used by Was Watching here, they're 15-15. The problem for the Yankees is that the Rays have been hot: They're 14-4 this month and 20-9 since July 20. And while, sure, the Rays will get perfect game'd every once in a while — three times in four years now! — they've won five in a row and twelve of fourteen.
The good news for the Yankees is that there are still 40 games to go, and the Rays are bound to cool off, at least a little. And while the Rays know something about making up ground in the standings, last year's Wild Card win had as much to do with Boston's 7-20 September as it did their strong 17-10 September. (Baltimore and its negative run differential remains in the mix as well, though right now Tampa Bay looks like the more dangerous threat to make a run at the all-important division crown.) The Yankees are still dealing with injuries, and their starting rotation beyond Hiroki Kuroda has some issues, but it remains their division to lose. It would help an awful lot, though, if Tampa Bay stopped winning so damn much.