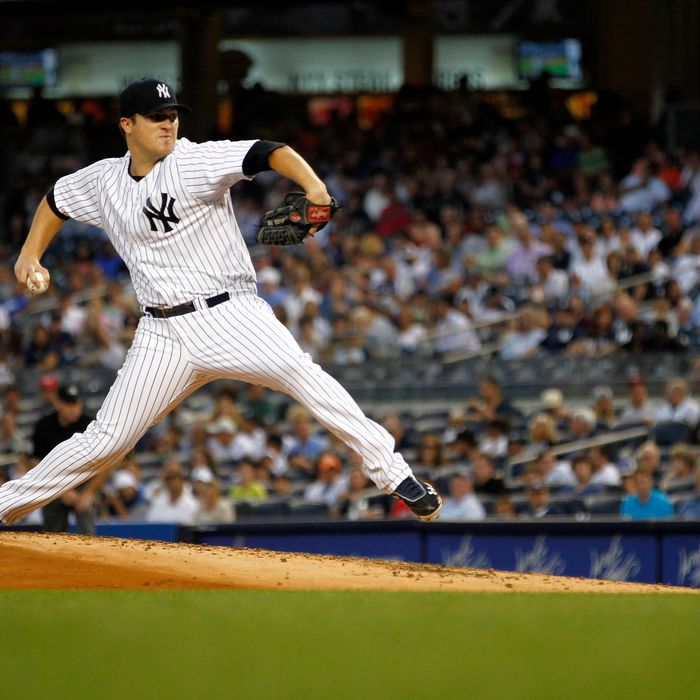 It's a little scary to realize that there's just more than a month to go in the Major League Baseball season, and the Yankees — a team desperately trying to hang on to its division lead — used a lineup last night that included Steve Pearce batting cleanup and Russell Martin (who is still not hitting his weight) batting fifth. Four hitters in the Yankees' lineup last night are hitting under .250. Two of them are under .210. Martin, Andruw Jones, Jayson Nix, and Ichiro Suzuki all currently have on-base percentages under .300. For every Derek Jeter or Robinson Cano having a strong year, there's a player the Yankees intended as a backup who's been getting more at-bats than they'd hoped he would. But last night, at least, that lineup was good enough.
Yankees batters managed only two runs against Blue Jays starter Ricky Romero (who entered the game with an ERA of 5.63), but Good Phil Hughes showed up last night, and those two runs were enough. Hughes allowed just four hits and one run in seven innings — his third consecutive strong outing since getting rocked by this same Toronto team earlier in the month.
Also worth noting: A night after Rafael Soriano melted down and Derek Lowe gave up the game-winning run in the eleventh inning, the Yankees' bull pen was excellent last night. This is exactly how Joe Girardi wants these things to play out with Mariano Rivera on the disabled list: David Robertson threw all of five pitches in an easy inning of work in the eighth, and Rafael Soriano struck out two of the three batters he faced in a perfect ninth.
The Yankees' lead in the East remains at 3.5 games, though: Chris Tillman threw seven innings of one-hit ball as second-place Baltimore shut out the White Sox for their fourth straight win. The Rays, however, lost their fourth in a row last night, falling to Texas 1-0. (Tampa Bay now trails the Yankees by five games.) The Yankees close out their series with Toronto this afternoon, before beginning a crucial stretch tomorrow, in which they'll play ten straight games against the Orioles and Rays.