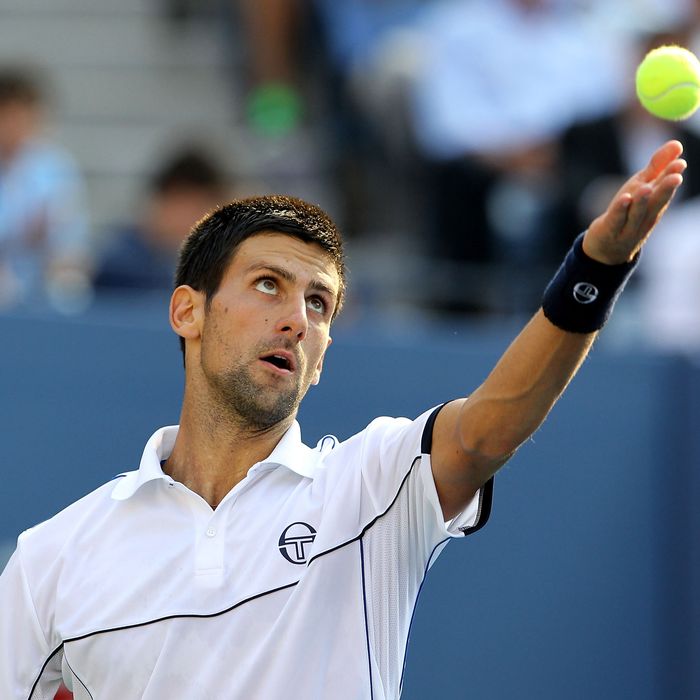 While tennis this summer has provided us with a good deal of excitement, it does feel as if the men's tour arrives at the U.S. Open this week with a weary air about it, with the players seemingly stumbling downhill toward the season's finish line. In Toronto, for example, Frenchman Jo Wilfred Tsonga absentmindedly walked into a fire hydrant and suffered lacerations that required stitches, while Andy Murray was, supposedly, nearly hit by a tour bus in New York this week. (If you're willing to believe the eyewitness accounts of a few teenagers.)
But beyond the weary giddiness of the tour, we also enter this Open without the grueling omnipresence that is Rafael Nadal. The eleven-time Grand Slam champion, and 2010 U.S. Open trophy holder, is benched with persistent knee injury and pain. This is the first Rafa-less Slam since Wimbledon 2009, and although it's a crying shame to proceed with a tournament in which the Great Grinder is absent, it instantly thrusts the men's draw into a realm of unpredictability. Here are the top contenders for the title, as well as a few dark horse players to keep an eye on, for good measure.
Novak Djokovic. Something strange is going on with the world No. 2 and defending U.S. Open champ. Ever since he lost that bizarre French Open final against Nadal in May, he has seemed off-kilter, most notably failing to medal at the Olympics. After losing the bronze-deciding match to Juan Martin del Potro, he then reportedly spent the night inexplicably destroying his rackets with a handsaw. Although Djokovic recently won in Toronto, he went on to accept a bagel from Roger Federer — the first between the pair in 28 matches — in an unusually uncompetitive final in Cincinnati.
But there have been signs that the Serbian may soon turn his year around; in that Cincy final, Djokovic began to shake free of his stupor in the second set and unleash something snarling (how's 6-0, 7-6 for a telling scoreline?). Although it was too little, too late, it foreshadows the potential for his erratic trajectory to self-correct come Flushing — potentially returning him to the clinical level of play that made him untouchable here last year. He could meet Juan Martin del Potro in the quarterfinal, a comparatively easier test in the semifinals, and either Andy Murray or Roger Federer in the final — both of whom have beaten him recently.
Andy Murray. At each and every Slam since Murray arrived in the top four, you could find at least a handful of tennis writers who would devoutly tell you: This. Is. His. Year. (This writer included.) These ill-advised soothsayers would always then eat their words, with the Scotsman tending to either suffer an early exit or an expected semifinal loss to Nadal. But the Spaniard is absent this year, and Murray showed incredible nerve this summer, playing under massive pressure in the Wimbledon final and then impressively, shockingly, unquestionably dominating Federer at the Olympics. Murray thus comes to the U.S. Open this year with across-the-board emphatic accolades.
That said, during the American swing, he withdrew from Toronto with knee injury and then lost surprisingly to an unseeded player in Cincinnati the following week. The former was precautionary, and the latter is probably a result of him transitioning to the hard surface after an extended period on grass, but regardless, the results still raise concern since Federer has continued to play out of his skin since London. One thing seems certain at least. After the one-two punch last month of a heartbreaking national defeat and then near-immediate redemption, Murray might find something else in Flushing that he's never really had: overwhelming fan support and empathy.
Roger Federer. With all our talk about whether the aging Federer could ever be the player he once was, he's been racking up quite the impressive summer. He returned to the No. 1 ranking, finally toppling Pete Sampras's record for most weeks at the top, while reclaiming his beloved Wimbledon. Then, not only did he dole out a 6-0, twenty-minute set to Djokovic, his title in Cincinnati also happens to be the third in his career that he's won without ever dropping serve. And the dude is 31.
He has the momentum of a freight train at the moment, but there's always the nagging fact that he was convincingly conquered by Murray, his former plaything, during the gold-medal match a few weeks ago. Federer, however, had just played the longest three-set match in Open era history the day before, so one can attribute at least part of the listless performance to exhaustion. He's projected to meet Murray in the semifinals this time around, and potentially Djokovic (or del Potro) in the final.
Dark Horse Candidates. For anyone that's sick of the big three (Djokovic, Federer, and Nadal) laying claim to each and every Slam in recent memory, the resurgence of Juan Martin del Potro is of utmost importance. The 2009 U.S. Open champion has spent a long time searching for his breathtaking, powerful game that he lost after receiving surgery to his right wrist, but in recent weeks we have once again seen shades of his former play. He came exceptionally close to knocking Federer out in the Olympics semifinals, and then dashed Djokovic's hopes entirely by sweeping the bronze-medal match. His wrist was a concern again in Cincinnati — the left wrist this time, for what it's worth — so much of his ability to succeed depends on how his health holds up.  
Beyond del Potro though, there are few with the momentum needed to unseat the players who have unfailingly dominated the game. At best, we may have some interesting contenders come week two, due to the vacuum Nadal left in his open quarter. David Ferrer, Janko Tipsaravic, John Isner, and Richard Gasquet all have a good chance of making the quarterfinal, and, by virtue of the company they'll meet, the semifinals as well. But there these men would probably meet Djokovic who, despite his wobbles, is unlikely to hand over his place in the final.
Prediction: Although Andy Murray just dismantled the Swiss GOAT before our very eyes just a few weeks ago, Roger Federer looks poised to edge him — and the rest of the field — out for his potential eighteenth Slam title.