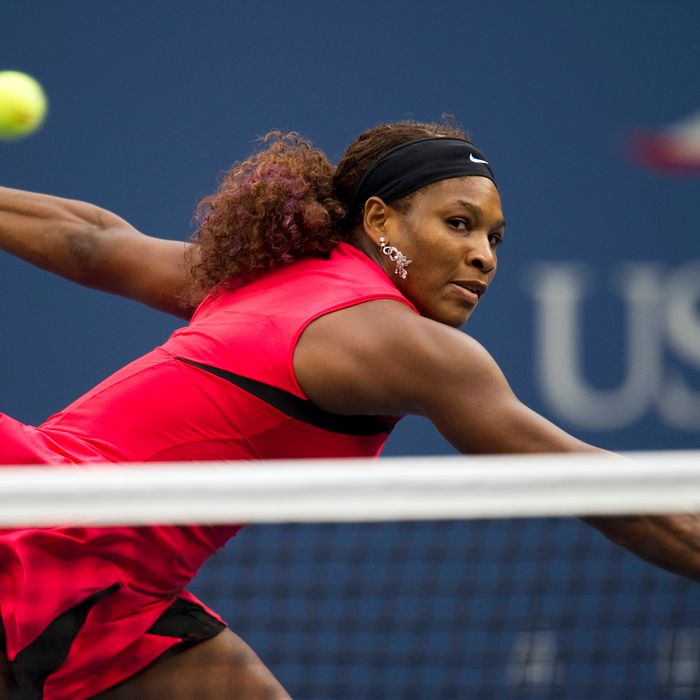 When discussing who might go deep into the U.S. Open on the men's side, the conversation is limited to just three names. When it comes to the women, however, it's really about just one: Serena Williams. When she's on, she's unbeatable. But if this suffocating force within the WTA falters, then the second tier of potential competitors is delightfully diverse.
While you can be certain these next two weeks that John McEnroe will find a reason to say "You cannot be serious" or that ESPN will play "New York State of Mind" at least ten times, the draw beyond Serena is fairly unpredictable. Here's a preview to help you make sense of the women's roster before the tournament starts today. And if you're unfortunately stuck in the office instead of headed out to Flushing, consider checking out the multi-court live streams over on ESPN 3.
Serena Williams. If the younger Williams sister is (a) fit and (b) mentally present, it's nearly impossible to think that anyone can beat her. Since returning to the tour last year, she's had some notable quizzical bumps, like floundering on these very courts in the 2011 final to Sam Stosur, or getting knocked out in the first round of the French Open to a player outside the top 100. But, while those missteps were genuinely worrying, her tear through Wimbledon and the Olympics this summer leaves little doubt that she's the one to beat. After her controversial rejection in 2009 and subsequent confusing collapse in 2011, it's clear that the victory would hold great significance for the current No. 4 player.  
Maria Sharapova. With a victory in Paris, the towering Russian has found a way back to her former winning ways. But even though she has the necessary prowess to win another title in New York, all this confidence and grit melts away when Serena Williams happens to be on the other side of the court; if you blinked, you might have missed her Olympics gold-medal match entirely, as Sharapova barely mustered resistance — let alone a fight — during Serena's 6-0, 6-1 teardown. She's likely breathing easier knowing that Serena is on the other half of the draw, but her path isn't exactly cleared for the final. She could potentially meet Petra Kvitova in the quarterfinals and Victoria Azarenka in the semis.
Petra Kvitova. The lefty Czech who stunned Sharapova in the 2011 Wimbledon finals has had a difficult run since her debut Slam, but recently on the American hard courts she's found some success. Kvitova secured the U.S. Open series title with wins in Montreal and New Haven, a semifinal appearance in Cincinnati, and an overall 12–1 summer hardcourt record. But all that tennis might have taken its toll; she seemed about ready to collapse in the second set of the New Haven final on Saturday. She dug her way out however in true Kvitova fashion — by blasting some of the hardest groundstrokes you'll see in the women's game. In order to be competitive for the title, she'll need to keep that forehand cranked to eleven.
Victoria Azarenka. While Azarenka's light has dimmed significantly since her stellar sweep at the beginning of the year, in which she claimed the Australian Open title and went 26 matches without losing, the return to hard courts may be her opportunity to shine once again. The top seed has never made it past the fourth round here, however, and this year may prove to be just as challenging if she meets Sabine Lisicki or Julia Goerges in that round. She's also projected to encounter either Kim Clijsters or Samantha Stosur, the defending champ, in the quarterfinals.
Sam Stosur. There's a reason why Stosur was so clinical in upsetting Serena Williams in the final last year; she works best when no one expects anything from her. But in defending her title this year, she'll be playing with expectations and pressure, something she handles abysmally. (Look to her home Slam track record for proof.) She's also coming in lukewarm to a stacked half of the draw, so it seems unlikely that she'll present a real challenge this year. (Unless writing her off already means that she's the underdog once again?)
The Others. Per the tradition of the women's tour as of late, you can never really rule out the less obvious contenders. It's perhaps unfair to lump the second seed into this category, but the crafty Agnieska Radwanska has been struggling mightily since she pushed Serena to three sets at Wimbledon last month. Her diverse game can be a delight to watch, but it lacks power, leaving her vulnerable to players who aren't thrown by her tricks.
Conversely, the elder Venus Williams had an impressive run in Cincinnati last week that could make her projected second round collision with Angelique Kerber all the more interesting. The German Kerber, meanwhile, has maintained a strong level of play since her surprise U.S. Open semifinal last year, and she even has a recent victory over Serena (in Cincinnati last week) under her belt. If she overcomes Venus in the second round, her route to equaling last year's result is completely feasible.
Then there's Caroline Wozniacki. Remember her? The former Slamless No. 1 is now slumming it at No. 8, and given that she withdrew from her semifinal in New Haven with a bum knee, and the fact that she's never had any answers for her potential quarterfinal foe Serena, it seems unlikely that the U.S. Open will provide her with her first major trophy.
Finally, this will lamentably be three-time winner Kim Clijsters's last U.S. Open, and although her injury-filled season has precluded her from getting any real momentum, her game could potentially be a sizable hurdle to overcome for anyone hoping to go deep in the tournament. She's technically on a 21-match win streak in Flushing, but make sure to watch her from the beginning, as she's not guaranteed to go deep this time around.