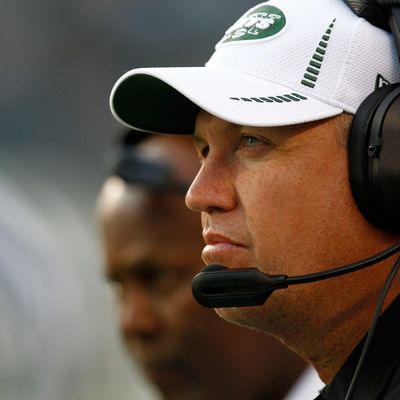 Yesterday, we predicted the Jets would end up with a 10-6 record. So we should probably explain how we got them there. Let's go through, game by game.
September 9, vs. Buffalo: This game already seems massively important for the Jets, way more important than you'd like an opener to be. The improved Bills aren't just the Jets' major competitor in the AFC East (assuming the Pats are far ahead of both); they're going to be battling them for a wild-card spot all year. A loss here, with a tough schedule coming up, could put the Jets in a terrible position before they've even made a road trip. Here's thinking they figure out a way to sneak out the opener. Jets win. (Record: 1-0)
September 16, at Pittsburgh. The general consensus is that the Steelers are going to be down a little this year … but asking the Jets to go into Pittsburgh and win the second game of the year seems like asking too much. Jets lose. (Record: 1-1)

September 23, at Miami. Road wins are gonna be tough to come by this year, so the Jets have to get this one. Fortunately, Miami might be the worst team in the AFC. Jets win. (Record: 2-1)

September 30, vs. San Francisco. This one is a tougher matchup on paper than in actuality; the 49ers are likely to regress this year (though they'll still win that lousy division). The Jets have two tough home games in a row and have to win at least one of them. Jets win. (Record: 3-1)
October 8, vs. Houston. The Texans have an easy route to the playoffs and will likely be 4-0 going into this game. Jets lose. (Record: 3-2)
October 14, vs. Indianapolis. The Colts seem like they'll ride Andrew Luck to a lot of 35–24 losses. This one probably won't be that high-scoring. Jets win. (Record: 4-2)
October 21, at New England. Assuming Tom Brady is still standing at this point, it's tough to see the Jets having much hope here. Jets lose. (Record: 4-3)
October 28, vs. Miami. If this were college football, this would be the Homecoming game. Jets win. (Record: 5-3)
November 4, Bye. Time to get all your Letterman appearances in this week, Coach Ryan.
November 11, at Seattle. The primary reason the Jets will finish with a winning record this season? Their NFC opponents come from the NFC West, once again one of the weakest in the NFL. We think they're going 4-0 against them. Jets win. (Record: 6-3)
November 18, at St. Louis. See above. Also, the Edward Jones Dome is the most depressing venue in sports. Jets win. (Record: 7-3)
November 22, vs. New England. So, three easy wins sandwiched between losses to the Patriots. Sounds about right. Plus, hey, Thanksgiving night, everybody. Jets lose. (Record: 7-4)
December 2, vs. Arizona. By this point, we're pretty sure the Cardinals are going to be starting the dessicated corpse of Neil Lomax at quarterback. Jets win. (Record: 8-4)
December 9, at Jacksonville. Because of Tebow, this will almost certainly be the Jaguars' highest attended game of the season. Jets win. (Record: 9-4)
December 17, at Tennessee. The Titans are a better team than they're being given credit for. Jets lose. (Record: 9-5)

December 23, vs. San Diego. The last home game of the season is one the Jets will likely need to nail down a playoff spot. Though we think both of these teams will ultimately make it. Jets win. (Record: 10-5)
December 30, vs. Buffalo. A classic would-be-a-great-game-if-it-weren't-in-Week-17 game — it'll be meaningless with the Bills already out of the playoff chase and the Jets already in. Jets lose. (Record: 10-6)
And there you go. 10-6. That's not so crazy, right?