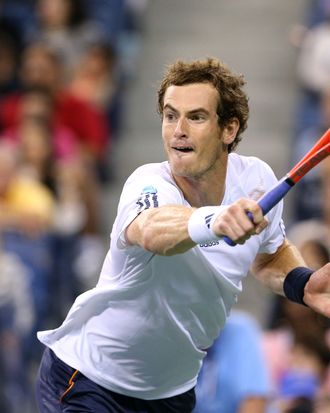 Night session ticket holders at the U.S. Open yesterday might have been deprived of seeing two matches — the Williams sisters doubles were moved to Louis Armstrong Stadium — but they were treated to a master class in defense by the No. 3 seed Andy Murray. The USTA shifted the schedule in order to avoid a rain delay catastrophe, wisely moving the hotly anticipated Murray versus Milos Raonic fourth-round match to the earlier time slot on Arthur Ashe. While many expected Murray to have trouble in overcoming the big-serving Canadian, he only needed two hours to put his opponent to rest — which, conveniently, was roughly fifteen minutes before the sky opened up to rain. (Organizers might have a harder time working around today's forecast, however.)
Over the weekend, Murray was fairly shaky in his narrow win against Feliciano Lopez, so last night's pairing with the Sampras-esque Raonic was expected to be quite the contest. But the very promising young player never had much of a chance; Murray finally dialed in to that sensational level of play we saw him tap during his Olympic gold medal match against Roger Federer. Murray neutralized Raonic's missilelike serve — his opponent's greatest and most reliable weapon — and played with incredible touch, finesse, and brutal accuracy. He threw every shot in the arsenal at Raonic, who tried desperately, albeit it feebly, to get his foot into the game.
But Murray never once faced a break point, and at times, Raonic looked completely dazed; at one point, after an obviously wrong challenge, he looked up at his box and said with a shrug, "What am I supposed to do?" What can anyone do when Murray hits that vicious balance between unbeatable defense and attacking offense? After match point, Raonic couldn't hide his bemusement with the Scotsman's level of play, as he smiled and patted Murray on the stomach at the net. "He took me out of the match," Raonic said in his post-match presser. "He just did a lot of things too good today."
The win pushes Murray one more (convincing) step closer to a scintillating semifinal with Roger Federer. Given their last encounter, and Federer's recent comments that suggest Murray needed to play "the match of his life" in order to beat him, this marquee showdown would be worthy of a final. The two players will first need to advance past Tomas Berdych and Marin Cilic, respectively, though. While watching Murray play the willowy Cilic, with whom he has a 6-1 head-to-head record, you can play this fun game to help pass the time: see if you can spot Murray's coach Ivan Lendl looking remotely pleased by his charge's transcendent play. Don't make it a drinking game, though, unless you prefer to remain stone-cold sober; to my count, he smiled just once last night.
Speaking of transcendent play, Serena Williams racked up her fifth career (and first-ever U.S. Open) double bagel yesterday with a 6–0, 6–0 straight sets victory over Andrea Hlavackova. Astonishingly, the only thing separating Williams from the final at this point is Ana Ivanovic (who has just made her first Slam quarterfinal since 2008), and either Sara Errani or Roberta Vinci, two Italians who orchestrated surprising upsets on Armstrong yesterday. (They took out Angelique Kerber and Agnieska Radwanska.) Barring some bizarre mental block, Serena's place in the final is all but certain.
The impressive Serena scoreline brought about some debate, however, as the ever-controversial Janko Tipsarevic tweeted the results with the obviously sarcastic hashtag #equalprizemoney, dragging us back into that old familiar cage match of a debate about whether the women should be paid the same for their efforts. Arguments for and against run the gamut, including who brings more money and fans to the tour, as well as who expends the greater amount of time, energy, and effort on the court. (Women play best of three sets, while the men play best of five; Tipsarevic came back from being down two sets to love on Wednesday in a five-set victory.)
On a completely unrelated note, Tipsarevic's match against Philipp Kohlschreiber is scheduled today for the secondary Armstrong stadium, while two women's matches, involving three Grand Slam champions, will take place on Arthur Ashe. Also of note, Federer didn't even have to play a fourth round match yesterday to make it to the quarterfinals, as Mardy Fish was forced to withdraw due to health concerns.
Unlike a bum knee or wrist, the Fish ailment is particularly scary; earlier this year, he had heart surgery to treat a form of arrhythmia, and this week his doctor advised him to withdraw when his heart rate began accelerating. So Fish is out, as is John Isner, who lost a disappointing late-night match to Philipp Kohlschreiber over the weekend. That leaves Andy Roddick as the last American man left standing in the draw, a privilege he hasn't enjoyed in a while, but an extremely fitting nuance for his last tournament. He's set to play Juan Martin del Potro in the first night match tonight, and while one can always hope for a 1991 Jimmy Connors–like possessed run to the semifinals, it seems very possible that this will be Roddick's last hurrah. Tune in and try not to pull a Mary Jo and cry too much.