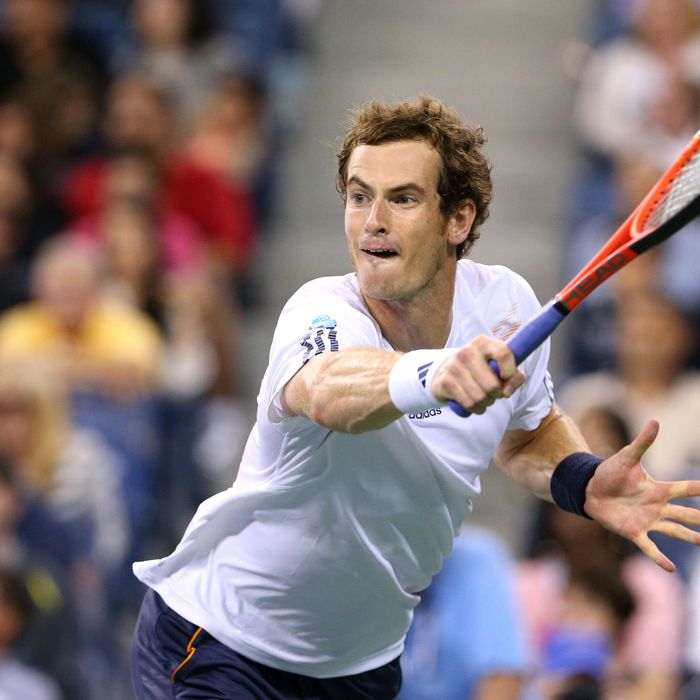 Andy Murray triumphed at the U.S. Open this evening in five extremely tense sets, conquering a resurgent opponent, immense expectations and his own nerves. He claimed not only his first Grand Slam title, but the first major trophy for any British man since Fred Perry in 1936. It was a roller coaster of a match, and if you happened to be near a tennis-loving British person this evening, you might have heard a combination of choked up laughter, tears and perhaps some inane gurgling.
It took Murray six set points to finally win the 25-minute tiebreaker in the opening set, and after claiming a solid two-set lead, he allowed a stumbling Djokovic back into the match. The Serb began pushing Murray around with his now-punishing forehand, causing the third seed to shout obscenities about his errors and "jelly" legs. He looked so downtrodden, you could easily have forgotten that he already had two sets in his pocket. Murray had many openings while Djokovic was serving, but, as he did throughout the match, he failed to convert or capitalize. Djokovic swept the third and fourth sets, and it soon seemed as if Murray's chances were slipping away.
Somehow though, Murray dug deep from within and returned in the fifth a resolved man. He reeled off some breathtaking rallies and three straight games, breaking Djokovic twice. He tightened on his own serve, but he clung to a one-game lead throughout. After nearly five hours of grueling tennis, it became a war of attrition, and even though Murray admitted to losing a toenail during the match, it was Djokovic that couldn't hold up. He began visibly cramping while trying to stay in the match.
Murray has been to this stage of a Slam four times before, falling to a higher-ranked opponent each time. But entering the U.S. Open this year, there were reasons one could dare to hope that this would be different. Murray made it to the Wimbledon final this year for the first time, and he knocked Roger Federer around like a rag doll in his gold medal win at the Olympics. After that match, Murray admitted that he had been comforted by his coach Ivan Lendl's sage words: "You'll never play under greater pressure than you did during the Wimbledon final."
Surviving that mess of expectations was perhaps a crucial turning point in his career, as the formerly burdened Scotsman was suddenly confident in the fifth set. He threw down four clutch serves to pull ahead to 4–2, at which point Djokovic's body seemed ready to throw in the towel. The defending champion got a rubdown before Murray served for the match, a detour that might derail a less focused player, but Murray was not bothered. After Djokovic's return went long on championship point, Murray crouched to the ground in a subdued daze. Just like Lendl, he finally made good on lucky number five.
Although Murray has long been a consistent player within the top four of the men's game, he had become the sport's perpetual bridesmaid. People even liked to joke that it was the big 3.5, rather than four. But a weight, a burden, a monkey, or whatever you'd like to call it has been removed, and hopefully the newly crowned U.S. Open champion will find the courage to swing freely from here on out. He broke a drought of titles for Great Britain tonight, but one can assume that he's not finished yet. The season is coming to a close, but it looks like 2013 just got a lot more interesting.