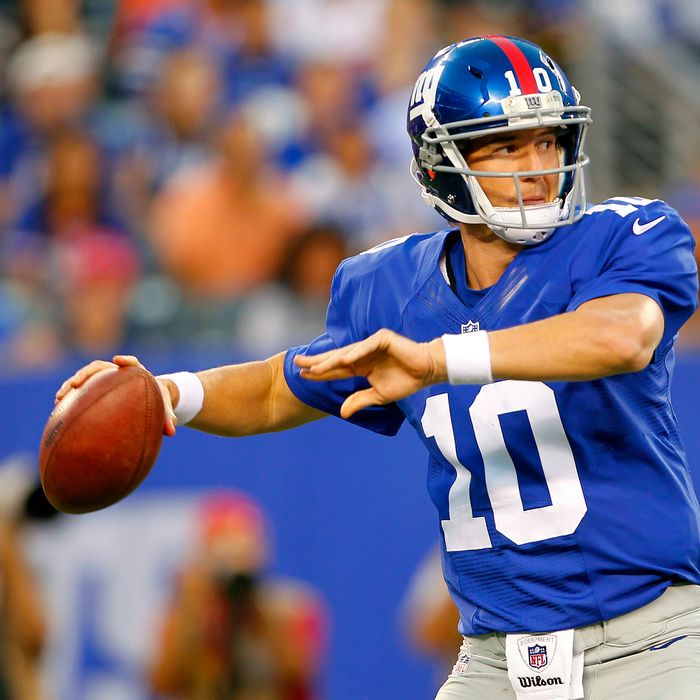 Our first reaction after the Giants won the Super Bowl back in February was, naturally, "Holy shit, the Giants just won the Super Bowl!" But our second reaction, which came the next day once that initial burst of excitement wore off a bit, was relief that we didn't need to spend any more time thinking about whether the Giants really were a football team capable of winning it all or just a decent team that went on a nice run but would eventually fall to one of the league's truly elite contenders. (Remember, during the regular season last year, the Giants, at times, looked like they could play with any team in the league but also had a knack for convincing you at other times that they didn't even deserve to make the playoffs.) We got our answer about the 2011 Giants, but will the 2012 squad be so maddening? Is this team for real, or will competing for a title require a third once-in-a-lifetime-type run in the span of six seasons?
We direct your attention for a moment to the SI.com season-predictions page, in which various staffers select all of the 2012 playoff teams and fill out a bracket from the conference title games on. We don't do this so we can look back at it at the end of the season and see who was right. We do this to demonstrate just how wide the range of possibilities appears to be for these 2012 Giants, a team that, we'll remind you again, is the defending Super Bowl champion:
Peter King: Doesn't pick the Giants to make the playoffs.
Don Banks: Doesn't pick the Giants to make the playoffs.
Chris Burke: Picks the Giants to make the playoffs but not advance to the NFC title game.
Jim Trotter: Picks the Giants to make the playoffs but not advance to the NFC title game.
Dennis Dillon: Picks the Giants to make the playoffs but not advance to the NFC title game.
Kerry J. Byrne: Doesn't pick the Giants to make the playoffs.
Andrew Perloff: Picks the Giants to make the playoffs but not advance to the NFC title game.
Jeff Diamond: Picks the Giants to win the Super Bowl.
Tom Mantzouranis: Doesn't pick the Giants to make the playoffs.
This is only one season preview, but what we have there is a staff of experts, collectively, saying they have no idea what to make of the Giants. (We'll also point out that King, who doesn't pick them to make the playoffs in that link above, says in this video that, if their secondary is healthy, there's no reason they can't make a deep playoff run. We know that Terrell Thomas will miss another season, so the takeaway, we guess, is this: Get well soon, Prince Amukamura!)
If we learned any lessons about the Giants organization last year, after the year began with such pessimism and ended with a title, it's that we should give Jerry Reese the benefit of the doubt and then some. The Giants lost players at high-profile offensive positions — Brandon Jacobs, Mario Manningham, and the injured Jake Ballard — but that sort of thing didn't sink them last year when they lost Steve Smith and Kevin Boss, and we'll trust it won't sink them this year, either, especially if rookie David Wilson can contribute to an effective running game. (It should go without saying that they'll also need Ahmad Bradshaw to be both healthy and productive.)
The Giants kick their season off tomorrow night on national TV. (They earned the right to play in the season's first game because — as we will keep reminding you — they won the Super Bowl last year.) The Jets Circus — which we fully admit we've contributed to — earned the headlines during the off-season, but as Rex Ryan has surely learned by now, they don't hand out rings simply for generating attention, let alone attention before there's been a single meaningful snap. The Jets can have their exhaustive (and exhausting) ESPN training-camp coverage. As we wrote a couple of weeks ago, as far as we're concerned, a relatively uneventful Giants preseason is the preferred type of Giants preseason.
Eli Manning — who had an outstanding season in 2011 after declaring himself an elite quarterback in the off-season — was asked recently in a radio interview to explain why the Giants won't suffer a Super Bowl hangover. It's a perfectly valid question, yet it seemed sort of silly, and not just because Manning has already led a defending Super Bowl champion to a darn good regular season. Manning, and anyone who followed the Giants last year, knows that at one point last season, they were a 7-7 team coming off an inexcusable loss at home to Washington. That doesn't temper the excitement of the Super Bowl, but it does keep expectations about the future in check. If ever there was a defending champion that knows it still needs to improve, this is it.
The Giants should have a fun passing game and a helluva pass rush, but in that radio interview linked above, Manning explicitly says in response to the Super Bowl hangover question that he knows they have to be better than a team that was just 7-7 through fourteen games and that he knows that they are indeed better than that. Even despite a difficult schedule — the result, in part, of having won the Super Bowl last year — we, too, think they're better than a .500 team, although that alone isn't saying much. The question is, how much better than that are they?