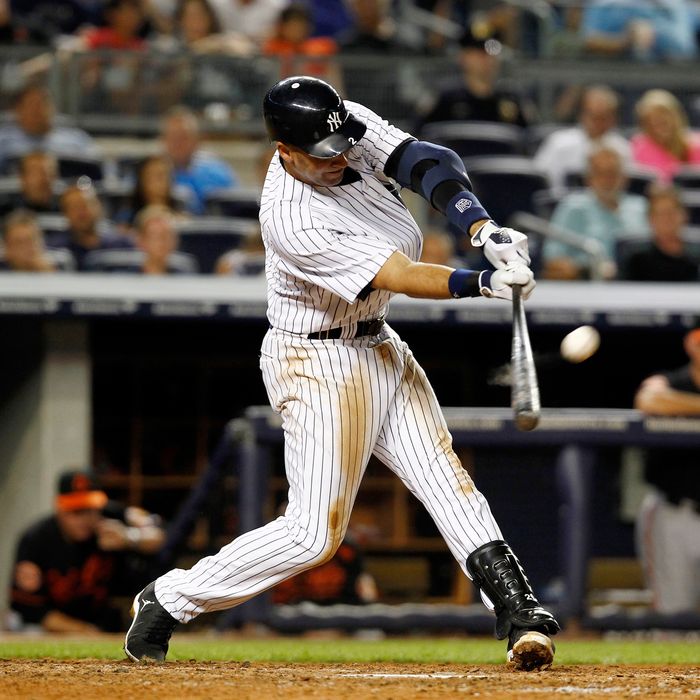 Generally speaking, one of the things that drives us nuts about the way Derek Jeter is covered is that he can't simply accomplish something great without certain people losing all sense of perspective. After he picked up his 3,000th hit, USA Today wondered if he might be the greatest Yankee of all time. (He is not.) During his bounce-back 2012 season, some have wondered if Jeter could break Pete Rose's record of 4,256 hits. (He's currently 977 away, making it highly unlikely unless Jeter wants to play into his mid-40s, while also remaining productive enough for the Yankees to find a spot for him in the lineup.) Jeter is one of the great players of his generation and a sure-fire first-ballot Hall of Famer. We don't need to ask questions like these to demonstrate what a fantastic career he's had.
We bring all this up to make clear that we wouldn't say what we're about to say unless it looked to be legitimately attainable: With less than a month to go in the 2012 season, Jeter has a chance to win his first batting title. Jeter's much-improved 2012 season has been well documented. After a disappointing 2010 season and a 2011 season in which he started slow and finished strong, Jeter's batting .324, his highest average since 2009, when he finished third in the MVP voting. He's shown no real signs of letting up lately, either: His worst month, batting-average-wise, came in June, when he hit just .232. Since then, though, he's batted .346 in July and .350 in August. Through nine September games, he's hitting .378. (We'll note here that we're aware that batting average isn't the most important stat to focus on, but a batting title has long been a notable line missing from his résumé.)
Of course, Jeter's gotten some help closing the gap between his average and that of the American League leader. Mike Trout, who once appeared to be running away with the batting title, saw his average drop from .353 on July 31 to .340 on August 15 to .335 on August 31. He's batting .250 through nine September games, and after going 1-for-3 last night, is hitting .328, just four points ahead of Jeter. The Yankee captain's average has ticked up in recent weeks, while Trout has been trending in the wrong direction. There's plenty of time for Jeter to catch him.
Of course, catching Trout wouldn't necessarily guarantee Jeter the batting crown: He's just four points behind the Angels rookie, but he's in third place on the AL leaderboard. Miguel Cabrera — who hit .357 in August — is in second at .326, just two points behind Trout. For what it's worth, though, Cabrera's had an unspectacular September so far, average-wise, hitting .276 in nine games this month. A month ago, the idea of Jeter making a run at the batting title seemed borderline comical. But as Jeter climbs up the all-time list of hits in a season by a player 38 or older, and as Trout struggles, it's not so far-fetched anymore, even if Cabrera remains a threat to beat them both.