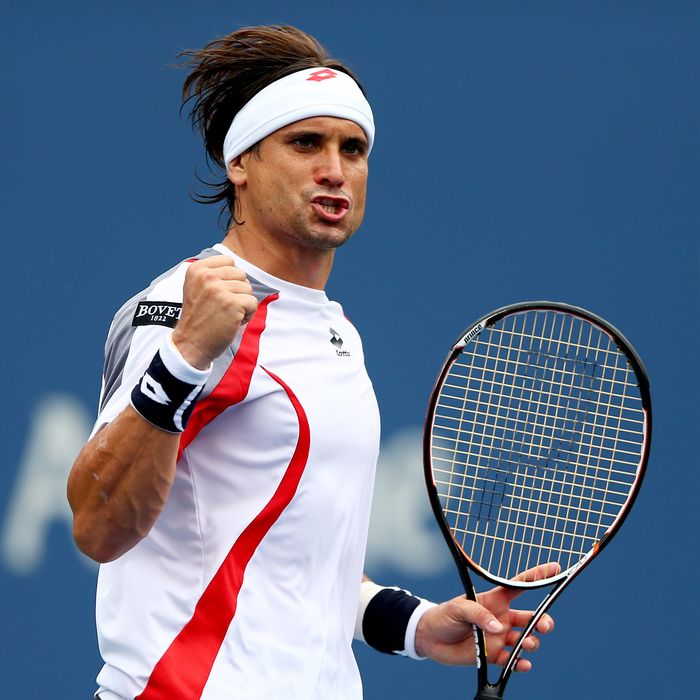 David Ferrer, the workman on the tennis tour, deserves a very hearty pat on the back. Although it shouldn't be surprising that the U.S. Open's fourth seed won his quarterfinal yesterday, his path there largely went overlooked. In fact, it was the first time he had even played on the main Arthur Ashe Stadium during this tournament. In Rafeal Nadal's very rare absence from a Grand Slam, Ferrer was graced with the good fortune of being the top seed in his own quarter of the draw. He not only dutifully made it to his appointment in the quarters, dropping only one set along the way, but his performance yesterday while winning the enthralling five-setter against Janko Tipsarevic was an inspiration. He'll likely need the same endurance and unfailing determination in the next round, too, as he's set to meet Novak Djokovic, who won over Juan Martin del Potro in the night session.
Ferrer and Tipsarevic are both the second-ranked and lesser-known players from their country (Spain and Serbia, respectively), and their matchup was underestimated by many since neither was likely to be a significant factor in terms of who would eventually win the title. But this day session quarterfinal ended up being one of the greatest matches we've seen so far. Ferrer handily won the first set, as many expected, but Tipsarevic pulled out some unreal tennis in response, hitting 90-plus-miles-per-hour winners off his racket from everywhere on the court. The momentum shifted dramatically as Tipsarevic swept the second and third sets.
Ferrer is often compared to a stubborn animal (a bulldog, a terrier) or a large inanimate object (a wall) for a very good reason; the admirably tenacious player returns virtually everything you throw at him, seemingly never tiring, and he refuses to back down even when he's trailing behind. Tipsarevic learned this yesterday when Ferrer's unbelievable defense and sheer resolve to survive drove him to take the fourth set, leveling the battle at two sets all.
The match was not without its drama, however. Tipsarevic broke Ferrer early in the last set, but took a nasty stumble on the court. (Like, full body free fall thud on the ground.) He hit the court, rolled over a few times, paused, then carefully got back up and gave a thumbs-up. All seemed okay. In the next game, Ferrer scrambled around, as he often does, to break back and bring the match back on serve. And in Tipsarevic's next service game, Ferrer fought his way to two break points; at 4–4, it was a significant place to break, because afterwards Ferrer could serve for the match. And so, in the middle of the game and down two break points, Tipsarevic decided to suddenly stop play and ask for medical treatment to tape his upper thigh.
This is fairly unusual; players are encouraged to wait in between games to ask for medical attention. But the chair umpire, who was already doling out shaky judgement calls, allowed him to do it. With his newly taped leg, Tipsarevic took an enormous lunge for a volley and then slammed some big first serves to immediately squash Ferrer's break chances.
Could Tipsarevic's medical timeout be considered gamesmanship? It's difficult to say, and for his part, Ferrer didn't complain. He did, however, curiously bark a "vamos" directly at his opponent after orchestrating his own gritty hold to stay in the match. (Haven't you heard? He's a bulldog.) After more than four hours, the men entered a tiebreak, which Ferrer won, ending one of the most exciting, high-quality matches of the 2012 U.S. Open and bringing the relatively diminutive Spaniard to his knees in elation. If he was indeed annoyed about the strangely timed medical attention, he didn't show it, hugging Tipsarevic at the net and crediting his play during his on-court interview. This will be Ferrer's second semifinal at the U.S. Open, and it's a lovely reward for one of the sport's hardest working players. The last time he made it this deep into the tournament was 2007, where he met Novak Djokovic.
Coincidentally, Ferrer will be playing Djokovic yet again in his semi, as the No. 2 seed impressively defeated an extremely in-form Juan Martin del Potro in an equally entertaining night match. Del Potro won the U.S. Open in 2009, and he finally looked poised to make another run for it. He served extremely well, at times racking up a first serve percentage of around 80 percent, and yet he still struggled to hold — a testament to Djokovic's unreal ability to not only return serve, but send it back with interest.
It was a far more competitive match than the straight set scoreline could ever indicate, with some blazing rallies and groundstrokes. But in the end, del Potro found himself facing Djokovic of yesteryear: the man who demoralized Nadal in every final they played, the man who could not be beaten for the majority of 2011. Ferrer is an admirable opponent, but if the same Djokovic shows up on Saturday, he'll need to play more than just unrelenting defense to even make a dent in the defending champion's game.