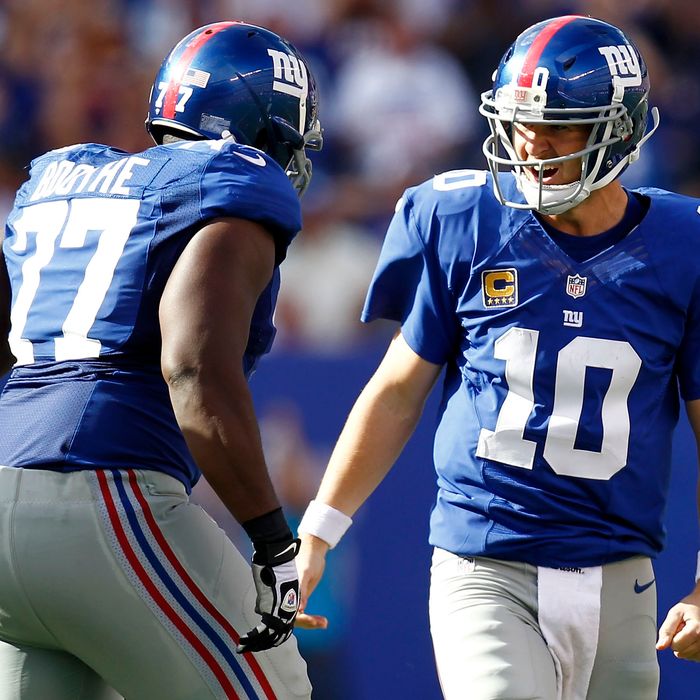 Eli Manning celebrates a touchdown with Kevin Boothe.
After the Giants' Week 1 loss to Dallas, we remembered not-so-fondly how every Giants game last season seemed to hinge on whether or not Eli Manning could rally his team late in the game, work his usual fourth-quarter magic, and pull out a victory. The beginning of this season has been no different: In Week 1 against the Cowboys, the Giants needed one of his trademark comebacks, but he never got the chance to finish the job, and the Giants lost. Yesterday, they needed another dramatic comeback and then some. This time, Eli got his opportunities — and in a wild fourth quarter, he made them count.
And so after a dreadful first half that saw Manning throw three interceptions — and saw the defending champs trailing 24–13 headed into the locker room — the teams traded third-quarter field goals to make the score 27–16. Then things got fun. An early field goal brought the Giants to within eight, and with 6:48 remaining, they'd tie the score on an 80-yard touchdown pass to Victor Cruz and an Andre Brown run on the two-point conversion. It would get crazier still: Tampa Bay would go three and out on the next drive, and Manning would lead the Giants 67 yards in 1:44 to give his team a lead on a Martellus Bennett touchdown. That left 3:59 for Josh Freeman, and the Bucs offense drove 80 yards in just over two minutes to tie the score at 34. But that still left Manning 1:58, and he'd need just 1:27 of it to get the Giants back into the end zone again, this time on an Andre Brown run.
Still, though, the game wasn't over: Brown had intentionally avoided the end zone on the play before his touchdown to let the clock run down, and so his second-down score came with 31 seconds remaining. And had Freeman's 29-yard pass to Mike Williams not been ruled incomplete on review, the Bucs might have threatened to tie the game in the final seconds. Instead, Freeman would be picked off to effectively end the game (though it seems Greg Schiano and his defense didn't get the memo about the game being over).
A few thoughts about the wild final quarter:
• ESPN had pointed out last week that the Bucs defense was susceptible to long passing plays, and Manning had a knack for completing long passes. And indeed, in that fourth quarter, Manning was able to gain yards in big chunks: In addition to the 80-yard touchdown pass to Cruz, he completed four other passes of at least 20 yards, including two to Hakeem Nicks, who was ridiculous yesterday. The second of those long passes to Nicks — a 50 yard pass down the right sideline — set up the Giants' final score.
• The red-zone offense in the first half was pathetic, even if some of those drops were hardly Eli Manning's fault. (We'll also note that the officials missed a hold on what turned out to be Manning's second interception.) But that fourth quarter showed how potent this passing offense can be. Manning's stat line for the day: 31-for-51 passing, 510 (!) yards, and three touchdown passes, to go along with those three first-half interceptions.
• The injury report will be worth keeping an eye on with their Week 3 game against Carolina just three days away: Ahmad Bradshaw was among those who left the game with an injury yesterday. But Andre Brown had a nice afternoon, rushing for 71 yards on 13 carries. And while the furious finish to the game makes his game-tying two-point conversion seems a bit less critical, it was nonetheless a huge play.
A loss yesterday would have been something close to a disaster, even for a team that proved last year it's capable of waking up and turning its season around. A team with such a brutal schedule doesn't need to have to dig itself out of an 0-2 hole. And now, after a discouraging Week 1 loss and a terrible first half in Week 2, they won't have to do that. They'll head to Carolina for the first road game of the season at 1-1. All told, things could be a lot worse. Buckle up, Giants fans: We've got at least 14 more of these.