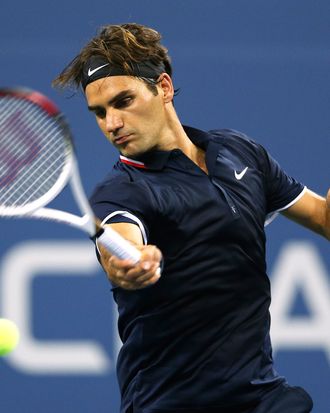 Andy Roddick has spent much of his career in the shadow of Roger Federer, so why should his journey into retirement be any different? At the U.S. Open on Wednesday, Roddick played his last professional tennis match late in the day, leaving his heart and some tears on Arthur Ashe Stadium as he said good-bye to the crowds that carried him through his loss to Juan Martin del Potro. It was the same court where Federer would later suffer an astonishing loss himself, upstaging Roddick one last time. It's fitting, though, that the two should exit together, as they defined an era of tennis (in very different ways) that the current crop of top players are in the process of dismantling. This will be the first time since 2004 that neither Federer or Rafael Nadal — Roddick's constant company — are in a Grand Slam semifinal, opening the door for Novak Djokovic, Andy Murray, or perhaps even del Potro or Tomas Berdych to claim the title.
Berdych, the sixth seed, came out with guns blazing last night against Federer, throwing the Swiss completely off balance with his breathtaking power. "I think there's something in my game that he doesn't like," Berdych said after the match. That is putting it mildly. Whereas Federer racked up error after error, Berdych's flat forehand found the mark every time, smacking around the player that everyone assuredly thought was the favorite to win the tournament. He stormed through the first two sets, taking them from a feeble Federer who offered little challenge in response.
Despite his divine level of play, Berdych is only human, and the significance of the moment perhaps invaded his mind in the third set when he suddenly, inexplicably, and under no influence of Federer's game, began to choke. He made his first error for the set, then double faulted twice to give him the break, which Federer gladly accepted and eventually converted into a set. It is a testament to our faith in the mighty Federer that many were then convinced that it was over for Berdych, who was still leading by a set.
But Federer was not himself last night, and he played very sloppy tennis. He cracked the door open for Berdych while serving at 3–4 in the fourth, and the Czech pounced on it; on break point, Berdych hit a clean, beautiful winner that made his box of supporters absolutely giddy in astonishment. Like he did at Wimbledon in 2010, Berdych knocked Federer out in a quarterfinal and gave him his first-ever night session loss on Arthur Ashe.
Federer seemed emotionally destroyed after the match, obviously making the jokes about him stealing Roddick's spotlight halfhearted. But still, the big story of the day was no longer focused on the American's retirement, probably because his loss to del Potro was expected. There were some genuine moments where it felt like maybe, just maybe, Roddick could pull off the upset, as he played far more aggressively than he has in years. But despite being enlivened by the touching roar from the crowd at the onset of the fourth and final set, Roddick was never able to truly come back from losing the second set tiebreaker. Roddick's career thus ended at the U.S. Open, as it should, to a former champion like himself. "This week I felt like I was 12 years old playing in a park," he said afterward. "It was extremely innocent. It was fun."
On the other half of the draw, another Andy came close to saying good-bye to Flushing. Murray was staring down a defeat to Marin Cilic, who nearly secured a two sets to love lead. The Croat tightened up, however, and Murray finally awoke from his stupor. Despite serving for the second set, up 5–1, Cilic somehow found himself losing it in a tiebreak. Murray then steamrolled ending with a bagel in the fourth. In theory, it's great news for Murray that Federer is out. But the gold medal winner has been far from consistent this tournament, alternating between the transcendent and facepalm-worthy. During Murray's press conference, long before Federer had shown signs of danger, he expressed to the media what a dangerous player Berdych can be. Murray's chances largely rely on which version of himself shows up to play on Saturday.
By contrast, it was much calmer and "business as usual" on the women's side. Maria Sharapova unsurprisingly dug deep to reverse her sinking, rain-delayed match against Marion Bartoli. She started the day being down 0–4 in the first set, but ended it with victory in three, extending her perfect three-set record in 2012 to 12–0. Sara Errani took out her doubles partner Roberta Vinci in straight sets, and then, in what was probably the least shocking result of the day, Serena Williams knocked around poor Ana Ivanovic for 58 minutes to book her own spot in the semis. The women will play again on Friday, with only Sharapova's encounter with Victoria Azarenka promising any real fireworks or competition.