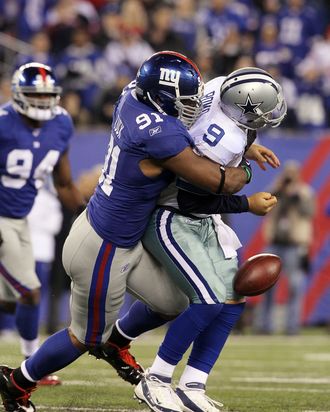 Justin Tuck and Tony Romo.
One of the sweeter aspects of the Giants' late playoff push last season was that it involved two wins over the Cowboys — a crushing fourth-quarter comeback in Dallas in week fourteen, and then a more comfortable victory on the final night of the season to clinch the division title and the associated playoff berth. And so, between those two victories and the fact that the Giants have yet to lose in the Cowboy's shiny new stadium, it's no wonder Jerry Jones told a crowd at training camp this summer that "we want you to come to that stadium and watch us beat the New York Giants' ass."
Tonight's not the game Jones was referring to over the summer, because it's not being played at Cowboys Stadium. The defending Super Bowl champion gets to host the season's first game, and so the teams will kick off tonight at MetLife Stadium in front of national TV audience. Of course, the Giants would like to do some ass-kicking of their own tonight. And in case that wasn't obvious, former Cowboy Martellus Bennett explicitly said he wanted to "kick those guys' asses" over the summer. Between those quotes and Mathias Kiwanuka's response to Jones's speech, this game couldn't come any sooner. The talking can stop now (or at least, it can stop until these teams meet again in the Jerry Jones Guaranteed Giants Ass-Kicking Bowl in week eight). Tonight, there's actual NFL football (albeit without actual NFL refs).
The Giants'$2 2011 regular season will be remembered for confusing the heck out of the team's fans: They were, at various times, 6-2, 7-7, and Super Bowl freaking champions. And like we wrote yesterday, they're in the strange position of being both the defending champs and being well aware that they'll need to be better than they were last year, when they didn't clinch a playoff berth until that final weekend. (As a reader wrote into Deadspin as part of its "Why Your Team Sucks" feature, "We are the only team in league history to win two SBs in 4 years and have NO ONE (even our fans) argue that we are a dynasty because we could (and have) just as easily lose to the Browns.") The last time the Giants defended a Super Bowl title, they started the season with four straight wins and eleven victories in their first twelve games. A repeat of that would be wonderful, but something similar to their roller coaster of a 2011 season seems more likely. In either case, that ride begins tonight.