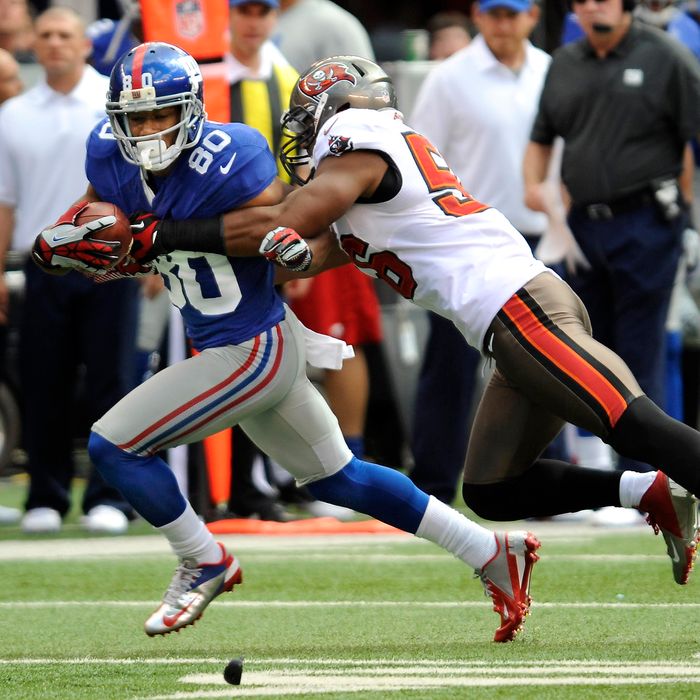 If one was to use how their respective offenses fared against the Tampa Bay Buccaneers this year as a sort of measuring stick, one would determine that the Giants have a more potent offense than Carolina's. In week one, the Tampa Bay defense did a pretty good job containing Cam Newton, holding the Panthers to ten points (and just ten rushing yards) in a 16-10 victory. Then, a week later, that same Tampa Bay defense allowed Eli Manning to pass for 510 yards in a 41-34 Giants win, even if it also picked him off three times in the first half. But even if this ultra-scientific comparison is, shall we say, flawed, this is nevertheless a Giants team that should able to put points on the board. The problem for the Giants in their week three game tonight, of course, is that they'll be without some key offense weapons, including one that had a huge day against the Bucs on Sunday.
Hakeem Nicks — who was outstanding in Sunday's win over Tampa Bay — won't play tonight. Neither will Ahmad Bradshaw or Domenik Hixon. David Diehl won't play either. Victor Cruz, mercifully, didn't get injured on Sunday, but surely the Panthers know Manning will especially want to target him tonight and will adjust their defense accordingly. Bill Nye the Science Guy fan Martellus Bennett remains an option for Manning to pass to, as well, but the backup receiving corps is very much unproven: Ramses Barden has sixteen career receptions, while neither Rueben Randle nor Jerrel Jernigan has ever caught a regular season NFL pass. (Randle caught five passes during the preseason this year, and Jernigan has caught five over the span of two preseasons). Meanwhile, ring owner Andre Brown is likely to start at running back, a week after a solid game against the Buccaneers.
The Panthers bounced back from that week one loss with a 35-27 win over New Orleans last week. As for the Giants, we still don't have a good feel for exactly how good this team is: Week one was a total disappointment, and week two was well on its way to being another until Manning and the offense went crazy in the fourth quarter. The good news for the Giants, injury wise: Prince Amukamura is set to make his season debut tonight, and considering the secondary's performance thus far this season, his return comes not a moment too soon. Perhaps some of the Giants' subs will surprise us, but in this battle of big-name quarterbacks, those offensive injuries — especially the one to Nicks — might be too much to overcome in the Giants' first road game of the year. Panthers 21, Giants 17.