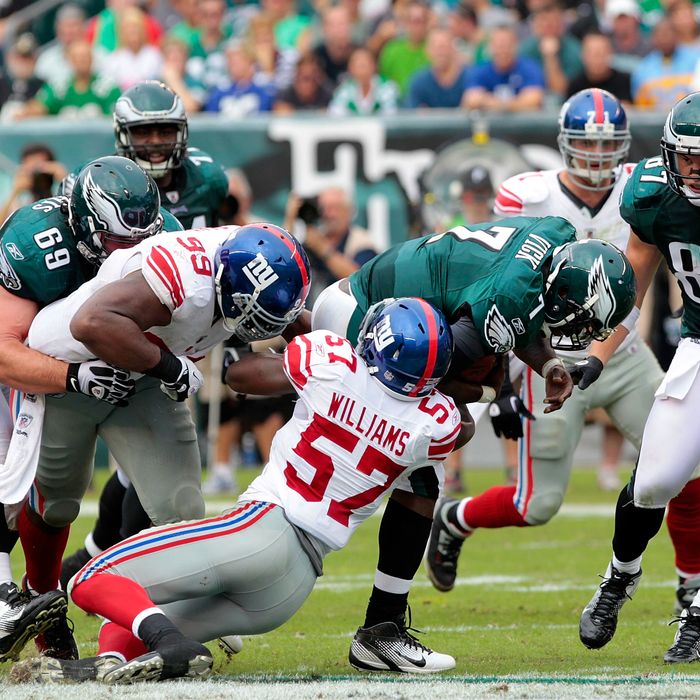 Michael Vick is sacked against the Giants last season.
Last year, the two Eagles games were among the more surprising of the Giants' season: In Week 3, the 1-1 Giants (who entered the year with some question marks) beat the 1-1 Eagles (who entered the season as a self-described "dream team") in Philadelphia. Then, two months later, after the Giants stole a game in New England and nearly did the same in San Francisco, they lost at home to a Michael Vick–less Eagles team, once again recalibrating our expectations in a maddening regular season. Which is to say: Nothing would surprise us on Sunday.
Having said that, both the Giants and Eagles (as well as the Cowboys, for that matter) enter Week 4 with 2-1 records, but the Giants have been getting better as the season's progressed. Week 1 wasn't pretty; the first half of their second game was rough, but the second half was terrific; and their third game went so well that David Carr got to play. Last week, with several key players out with injuries, the subs shined, and though Ahmad Bradshaw is set to return on Sunday, Andre Brown (who's been exactly what the Giants' running game needed these past couple of weeks) can still play a role.
Meanwhile, the Eagles have had turnover issues through the first three games, and Vick, especially, has been guilty of giving the ball away: He's thrown six interceptions and has lost three fumbles. (Sports Illustrated has a chart of all his turnovers here.) The Giants defense generally doesn't need any additional incentive to pressure a quarterback, but getting to Vick this week could have a big payoff.
These divisional games are critical for the Giants, and they've already lost one of them. And though the Eagles have generally had the Giants' number in recent years, it's hard not to feel good about Tom Coughlin's team after its thorough dismantling of Carolina a week ago yesterday. The Eagles' defense has allowed the fifth-fewest yards per game this year (and the third fewest passing yards). But Eli Manning's been doing his job so far: The Giants have gained the fourth-most yards in the league on a per-game basis, and are second in passing yards per game. Our prediction: The Giants win, and no one enjoys the victory more than Osi Umenyiora. Giants 24, Eagles 21.