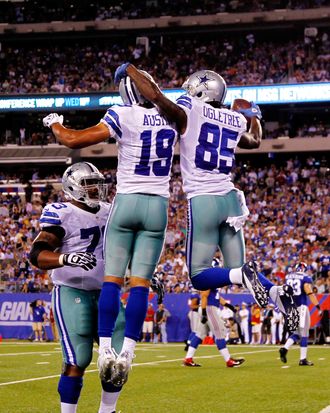 Kevin Ogletree celebrates a touchdown with Miles Austin.
There were times last season when it felt like the Giants' success hinged every week on whether Eli Manning could work his fourth quarter magic and pull out a victory late in the game. It was maddening stuff, even if these games often had a happy ending. (Seriously, just look at the 2011 section of this page. It's ridiculous.) Obviously, a team finds itself in that position — down in the fourth quarter — for all sorts of reasons in any given game, but the 2011 Giants could be counted on to get there somehow. (They trailed at some point of the fourth quarter in twelve of their sixteen regular-season games, as well as their final two postseason games.) And so in last night's 2012 opener, the Giants once again found themselves trailing late, and while Manning got them within a score, he didn't get a chance to lead another miracle two-minute drill.
For a moment, it looked like he might get his chance: Down 7 with 2:09 left, a Cowboys penalty — one of thirteen on the night — negated a first-down run and gave the Cowboys a third-and-ten. But Tony Romo hit the pride of Holy Cross High School Kevin Ogletree for a thirteen-yard gain that sealed the 24–17 Dallas victory. It was a fitting way for the game to effectively end: Romo threw for 307 yards on the night against a shaky secondary. (To make matters worse, the Giants suffered yet another injury to a cornerback when Michael Coe left the game with a hamstring injury in the third quarter.) Ogletree, meanwhile, had a big game, with eight receptions for 114 yards and a pair of touchdowns.
As for Manning, he spread the ball around in his first game without some of his favorite targets from last season: Victor Cruz had 58 yards on six catches, Domenik Hixon had 55 yards on three catches, Martellus Bennett had 40 yards and a fourth-quarter touchdown on four catches against his former team, and Hakeem Nicks had 38 yards on four catches. But the Dallas defense also caused problems for Manning: He was sacked three times and faced pressure six times.
For the Cowboys, it's already being hailed as a statement game, not to mention a signature victory in the career of Romo. (We suppose that's fair enough: Especially considering what the Giants did to them last season, spoiling their first game after the Super Bowl must have been especially satisfying. As far as early season divisional games go, we'd compare it to the Giants getting a win on national TV when Jerry Jones unveiled the new Cowboys' stadium a few years back.) For the Giants, though, it's a reminder of some things they knew already: They've got a few issues to deal with (in addition to the things mentioned above, we didn't like seeing David Wilson cough up the ball in his NFL debut), and they'll have to fight for wins this year against a tough schedule of opponents. They also know that repeating as NFC East champs won't be easy, and last night, Dallas won the first battle of the season. For the first time since the defending champion started hosting the season's mid-week opening game, said defending champion has begun the year with a loss. Next up for the Giants: a home game against Tampa Bay, a week and a half from now.