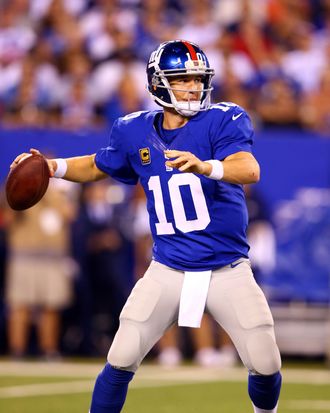 The Giants, like children who have misbehaved and been grounded by their parents, have had lots of time to think about what they did in their season opener against Dallas. That rare Wednesday game was nine days ago, and their Week 2 game is still two days away. The Giants face a pretty brutal schedule this season, but this shouldn't be one of their more difficult games. And while the Giants have conditioned us not to come to any grand conclusions about the team after first week or two or twelve of the season, they really won't want to start the season with a pair of home losses.
Tampa Bay, you'll recall, lost their final ten games of the season last year, fired their coach, and hired Jersey boy Greg Schiano, whose return to the Garden State will be something of a subplot this weekend. Schiano's first game with the Bucs was a happy one: They knocked off Carolina 16–10, in a game in which the Tampa Bay defense intercepted Cam Newton twice and sacked him three times. (Ronde Barber — who believes Giants fans will eventually lay off his brother — had one of those picks as well as one of those sacks.) And after finishing dead last in the NFL in run defense last year, the Bucs held the Panthers to a total of ten yards on the ground on thirteen rushing attempts.
The Giants, meanwhile, had plenty of reasons to be disappointed with their Week 1 effort. Eli Manning was fine, but the running game (understatement alert!) wasn't, and the secondary struggled as well. Worse still, the Eagles and Redskins also won, making for an overall lousy Week 1.
Still, this week gives the Giants the chance to wash the taste of Week 1 out of their mouths, take the split of the season-opening home games, and move on. If these teams look anything like they did in Week 1, it could be a long day for the Giants' running game, but they've been in that position before. (We'll consider it step in the right direction if David Wilson can make it through the game without fumbling and falling further out of Tom Coughlin's favor.)
Meanwhile, if Week 1 is any indication, the Bucs are ready and able to run the ball, and we needn't remind you that the Giants allowed DeMarco Murray to run for 131 yards nine days ago. But even if the running game looks to favor Tampa Bay, this is the kind of game where the Giants should be able to remind us all why they're the defending Super Bowl champs and hopefully correct a few things from Week 1. Even if the Giants running backs (and, for that matter, the offensive line) don't get their acts together this week, Manning and the passing game are capable of making up for some shortcomings there. And as ESPN points out, while the Bucs' defense did some good things last week, they allowed 152 yards on throws of 15 yards or more, which should have Manning salivating: He led the league with 2,041 passing yards on such throws last year. Giants 27, Buccaneers 17.