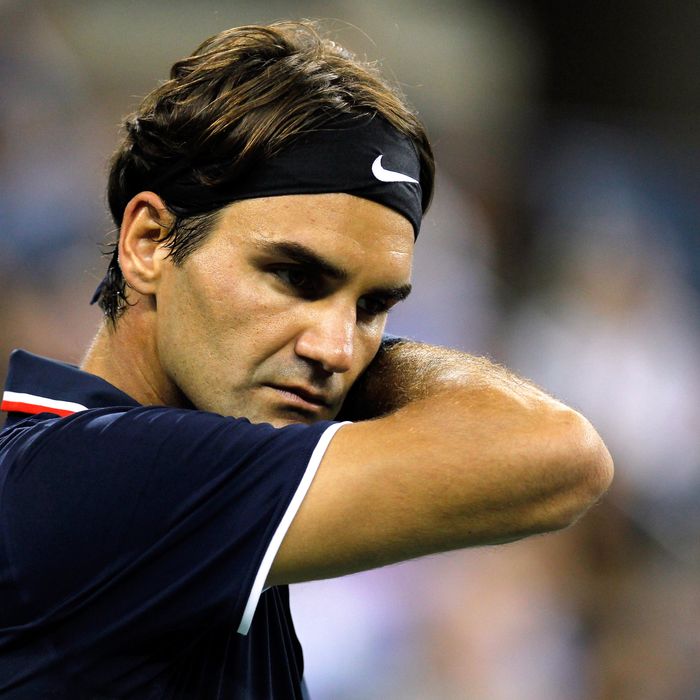 Roger Federer says that, unlike other tennis players on the tour, he has no superstitions. But there he was last night, down two sets, down a break in the third, motioning to the ball boy. Federer had just cranked a forehand winner — perhaps his trademark shot — and even though he wasn't serving, he was asking the ball boy to pass him the ball he just hit. He touched the ball and held it his hands, perhaps so the magic of that last winner would rub off on him and carry him onwards to another incredible comeback and improbable victory.
The magic did not rub off. Despite a late push in the third set, Federer was beat by Tomas Berdych last night, making an unusual early quarterfinal exit from the U.S. Open, and a "setback" to an incredible year where he's won so many tournaments that he was able to reclaim his No. 1 ranking. After winning Wimbledon, Federer was so hot on hardcourts that he'd won his last nine matches with relative ease and was looking to do the same against Berdych. Not so.
"I just couldn't come up with the goods," he said.
Not surprisingly, Federer was in a glum and morose mood after the match. He walked to the press conference alone, leaving his family and coaches behind, and kept pawing at his eyes trying to explain away the loss. When Federer has lost in early rounds in majors, like last year's Wimbledon quarterfinal loss to Jo-Wilfried Tsonga, he has typically attributed his loss to the exceptional play of his opponents. But despite Berdych's almost flawless match, pounding serves with an average speed of 128 per hour, and consistently defending and keeping the ball in court with pace, Federer seemed miffed as to how this one got away.
Was it the coin-toss, which Federer won and opted to return instead of serve, seemingly forcing him to play behind Berdych the entire match? No, he said. Did he feel rusty and was his timing off after having an extra day of not playing when his round of sixteen competitor Mardy Fish pulled out? "I don't know," he said, and pawed at his eyes and adjusted his nose and waited for the questions to end.
Federer had started the match beautifully, nimbly breaking Berdych in the first game. Federer was cruising along with such ease that a three-set victory felt inevitable until at 3-2 in the first he quickly got broken back without winning a point. Berdych had gotten Federer's attention, and after blowing that service game so severely Federer seemed to lose confidence in his first serve. He was broken in the tie-breaker, broken in the first game of the second set, and seemed to mentally disappear.
Then the magic started to dust off. Instead of ending rallies with his deadly forehand, he was shanking balls out. Instead of hitting through the backhand, he was running around it to hit the shaky forehand.
There was a pervasive feeling of sadness in the crowd in the fourth and final set as Federer couldn't stage any kind of comeback.
"Come back!" one lady behind me screamed.
"Come back to life!" another hollered, as if trying to pump Federer on the court with air. He looked tired. He looked deflated, annoyed that in the moment where he has so accustomed to having the magic in his hands it wasn't there.
What makes the upset a tragedy is that we won't have a chance to see Federer play Andy Murray in the semifinals in a repeat of the Wimbledon-Olympics rivalry, and if he won that match perhaps square off against Novak Djokovic in the finals and seek his revenge from a crushing five setter he lost last year.
Don't feel too bad for Federer though. In a week the Open will be over. Federer will be on vacation, looking ahead to China to play the Master's.
When the rankings are computed there won't be much of a change. At 31, Federer will still be No. 1.