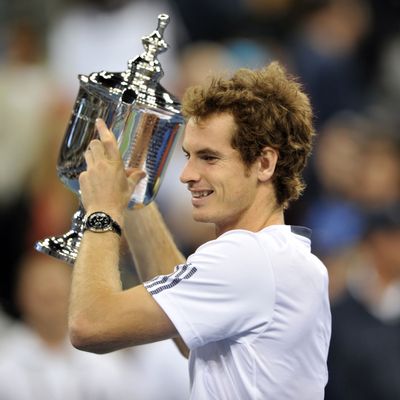 The U.S. Open may have come to a close on Monday night, with both Andy Murray and Serena Williams the victors for 2012, but the results have interesting, lasting implications for the sport. Both the men's and women's tours continue through at least the end of October, and, before you know it, the season will start again in January. (That's right; tennis has, at most, a two month off-season.) The U.S. Open is the last Slam on the calendar, so it sheds light upon who will end the year on a high at the tour finals, and who might begin the next season with a bang. Happily, our hometown tournament has provided us with some hope for a captivating new year.
Since Serena Williams has now racked up fifteen Slam titles over her career, we are rarely shocked to see her raise a trophy above her head. However, it was refreshing and encouraging to see her challenged in the final against Victoria Azarenka. Despite losing the first set, Azarenka remained solid (that is, until she nervously failed to serve it out), giving us our first three-setter in a U.S. Open women's final since 1995. An overwhelmingly dominant leader can be good for the sport, especially since the women's tour was declared broken for so long, but it becomes more interesting when there's a regular competitor that's able to consistently present a challenge. After all, doesn't part of Roger Federer's myth rely upon his rivalry with Rafael Nadal? Azarenka's confidence against Williams is obviously growing, and it will be fascinating to see if she can emerge next year as the David to Serena's Goliath.
Although the men's side has long been heralded for its depth of competition at the top, Murray's victory also suggests that delightful complexities are in our future. Despite his persistence in the top four for the past few years, the major tournaments have been dominated by Roger Federer, Rafael Nadal, and Novak Djokovic. (Before the U.S. Open, the trio had won 29 of the last 30 Slams.) Many believed Murray deserved to join the club, but usually a mental wall seemed to inhibit him. His win in Flushing is thus a sign of maturity and belief.
Murray's reaction to the win, however, was curious. He didn't look overwhelmed with joy, and he barely cracked a smile in the immediate aftermath; in his interviews, he mainly expressed relief. This is unlike the reaction we're accustomed to for Slam champions, which is more along the lines of the boisterous leaps Williams exhibited a day earlier. But we must remember that Murray's win comes with a higher significance, beyond the player himself. He ended a title drought for a country that clearly cherishes the sport unlike any other, and he was expected to do it.
In his interview with CBS This Morning, Murray tellingly said the following about the pressure for him to break the curse: "I've been asked about it so much over the last four or five years, and you know with each year that passed I was wondering if it was ever going to happen. So I'm glad that I did it for myself last night, but also for the country [so] we can move on." He laughed after that last bit, but you can't write it off. This win was a hurdle he needed to overcome. Hopefully, should New York's reigning champion win again, his response will be more personal.
With both of these victories comes fantastic news for those who want to see tennis exceed in this country. This year, the men's final received 16 million viewers, the highest number since 2007, up from 11.8 million last year. The ladies then outshone the men to the tune of 17.7 million, a heartening result as the women continue to be slammed with suggestions that they don't deserve equal pay in prize money.
Perhaps these increasing numbers will finally persuade CBS to cease its habit of rushing players through their hard-earned celebrations. On Monday the network cut away from Murray just after he started sprouting tears, and Williams was denied the right to speak further when she asked. This isn't the first time the network and its partners have cut the cord too early, either.
Yes, we know there are people out there who are really annoyed that tennis is bumping reruns of How I Met Your Mother. But if the station is going to bother to buy the rights to the event, as least do it justice. What's an extra ten minutes of live programming when those that you're honoring have just spent three to five hours pushing their bodies to the limit, for the benefit of our entertainment? Hopefully by this time next year, we'll actually be able to languish in the glory of New York's crowned elite, before Bob Saget's narration ushers them out.