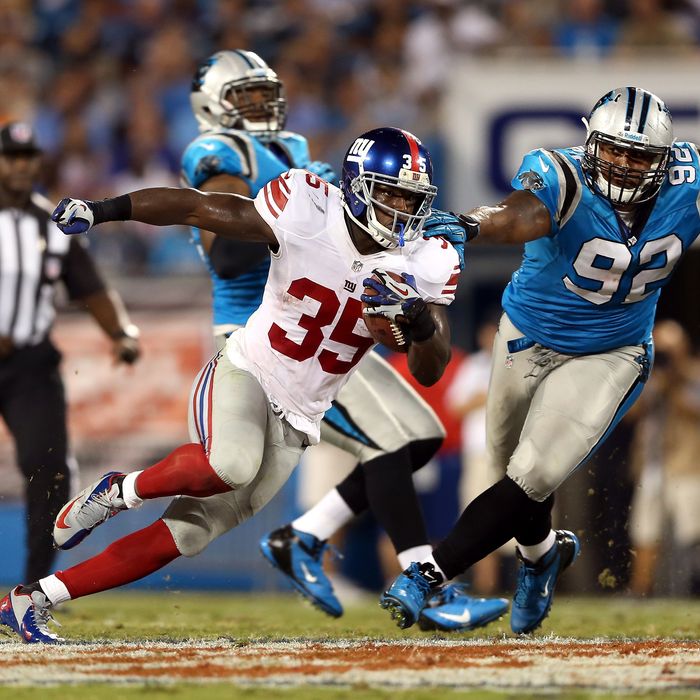 So much for the Giants being in trouble last night because of injuries to some key starters. With Ahmad Bradshaw out, Andre Brown — whose claim to fame, at least prior to a solid game last weekend, was the video of him leading the team in song on the plane after the Super Bowl earlier this year — ran for 113 yards and two touchdowns. And with last week's star Hakeem Nicks out, Ramses Barden — the third-round pick in 2009 who had all of fifteen receptions in his first three NFL seasons — caught nine passes for 138 yards. Last night really couldn't have gone much better for the Giants.
The Giants would beat the Panthers 36-7, and they controlled the game from the opening drive, which ended with a touchdown from Bill Nye the Science Guy–fan Martellus Bennett. (We're going to keep referring to him that way until we're confident everyone's read the piece on him in Wednesday's Times.) The Giants would score early and often; they didn't punt for the first time until late in the second quarter. And if there was any fear that the Panthers would wake up after halftime — against a Giants team that certainly capable of playing half a good game and half a sloppy one — it was erased when the Giants recovered a fumbled kickoff to open the second half.
Eli Manning, thanks to his offensive line, had plenty of time to operate, and the passing game was fine even without Nicks. The Giants ran the ball effectively, and the emergence of Brown  these past couple of weeks has been an encouraging sign for a team whose running game was something of a question mark to open the season. On defense, the Giants contained Cam Newton and picked him off three times. Perhaps the best way to sum this game up is to say that David Carr got to play. The Giants' backup quarterback only gets onto the field if something very good or very bad is happening. Last night, it was the former. Next up: a prime-time game against the Eagles, nine days from now.