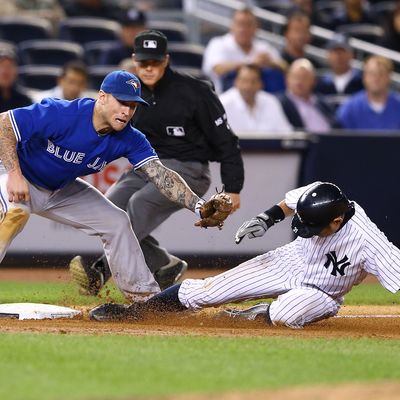 Ichiro stealing third last night.
Almost two months after his arrival in New York, it's still kind of weird to see Ichiro Suzuki in a Yankees uniform. He'd put together a Hall of Fame career in Seattle and had become such an icon in that city that seeing him in pinstripes has taken some getting used to. And it's possible, years from now, we'll all look back on the months he spent in New York as little more than a footnote on a great career, like Ivan Rodriguez's forgettable tenure here in 2008. But one doesn't necessarily need to spend a long time in New York to be remembered. The whole concept of "True Yankeeism" is nonsense, but there are certainly such things as memorable moments, which is why no Yankee fan will ever forget, say, Aaron Boone, who played all of 71 games for the Yankees between the regular season and the playoffs.
And so, perhaps Ichiro's big day in the Yankees' doubleheader sweep of Toronto yesterday didn't come in such a high-profile situation that it will go down in Yankees lore. (Hopefully, unlike for Pudge, there will be playoff games for Ichiro as a Yankee.) But as far as regular season games go, yesterday's were pretty important. And after going 3-for-4 in the first game of the day-night doubleheader, Ichiro went 4-for-4 in the nightcap, including an eighth-inning single to drive in the go-ahead run in the Yankees'$2 2-1 victory. Last night's was a vintage Ichiro game: He also stole four bases — not that his teammates were able to drive him in, thanks to more RISP woes.
Of course, these games are so important for the Yankees because the Orioles won't go away. Last night, Felix Hernandez held them to one run over eight innings — but Orioles starter Joe Saunders held Seattle to the same. And a night after beating the Mariners in an eighteen-inning marathon, the Orioles won last night in eleven, extending their winning streak in extra innings games to a ridiculous fifteen. In doing so, they finished the day trailing the Yankees by a half-game in the American League East. The Yankees have been winning ballgames in recent days (they've won six of seven), but they still can't shake the Orioles. (The Yankees have fourteen games left; Baltimore has thirteen.)
One more thing about Ichiro: It might be too early to think about potential postseason story lines — to repeat, the Yankees only lead the division by a half-game, and settling for a Wild Card means playing a scary one-game playoff for the right to advance to the ALDS. (There's also the possibility, of course, that they miss the playoffs entirely.) But if the Yankees get into the real playoffs — the ones that begin with the ALDS — expect to hear a lot about the great Ichiro seeking his first World Series title. A pursuit of a championship won't necessarily turn Ichiro into the 2004 version of himself — we don't expect 4-for-4 games to become the norm — but pitching in during a potential playoff run would help turn his tenure in New York something more than the answer to a trivia question years down the line.